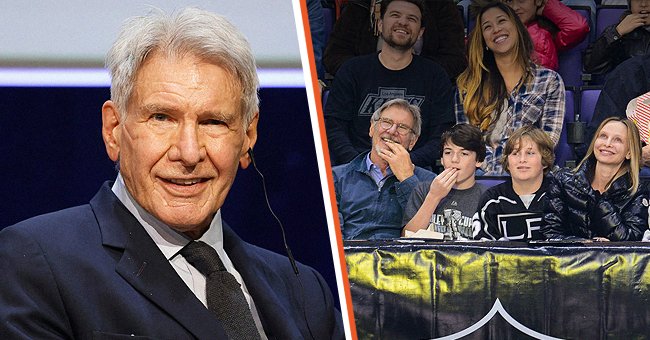 Getty Images
Harrison Ford Is a Proud Father-Of-5 Who Is Happily Married to the Woman He Proposed to on Valentine's Day
Harrison Ford has one of the most colorful careers in Hollywood that spanned over five decades. Still, he takes the most pride in being a father of five and husband to actress Callista Flockhart. Here's a glimpse into his life behind the scenes.
Throughout his career, Harrison Ford starred in several blockbuster films and brought iconic movie characters to life, including "Star Wars'" Han Solo, "Tom Clancy's" Jack Ryan, and the titular star "Indiana Jones." However, his most significant role to date is being a father and husband.
Harrison was first married to Mary Marquardt from 1964 to 1979, with whom he shares two children. Sadly, they divorced after news broke out regarding Harrison's affair with his co-star, Carrie Fisher. He later married Melissa Mathison and had two children together, but they ended in divorce after 14 years.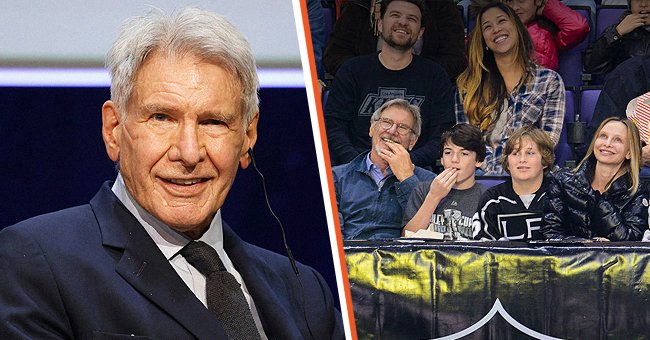 Harrison Ford, Liam Flockhart and Calista Flockhart during a hockey game between the Carolina Hurricanes and the Los Angeles Kings at Staples Center on March 1, 2014 in Los Angeles, California. | Source: Getty Images
THE RIGHT WOMAN
In 2019, the actor tied the knot with fellow actress Calista Flockhart, whom he dated for over seven years. Ford proposed on Valentine's Day while they were on a family vacation. Together, they have a son, Liam, who Calista adopted before forming a relationship with Ford.
When Ford is not working in front of the cameras, he spends quality time with his wife in his Wyoming ranch, where they can do several activities together. He previously shared some of the things he enjoys doing in his spare time. Ford said:
"Well, if my chores are done, and there's nothing more pressing, and the weather's good, I'll go flying – I love to fly up there – or walk in the woods, do some work, ride my road bike, or mountain bike."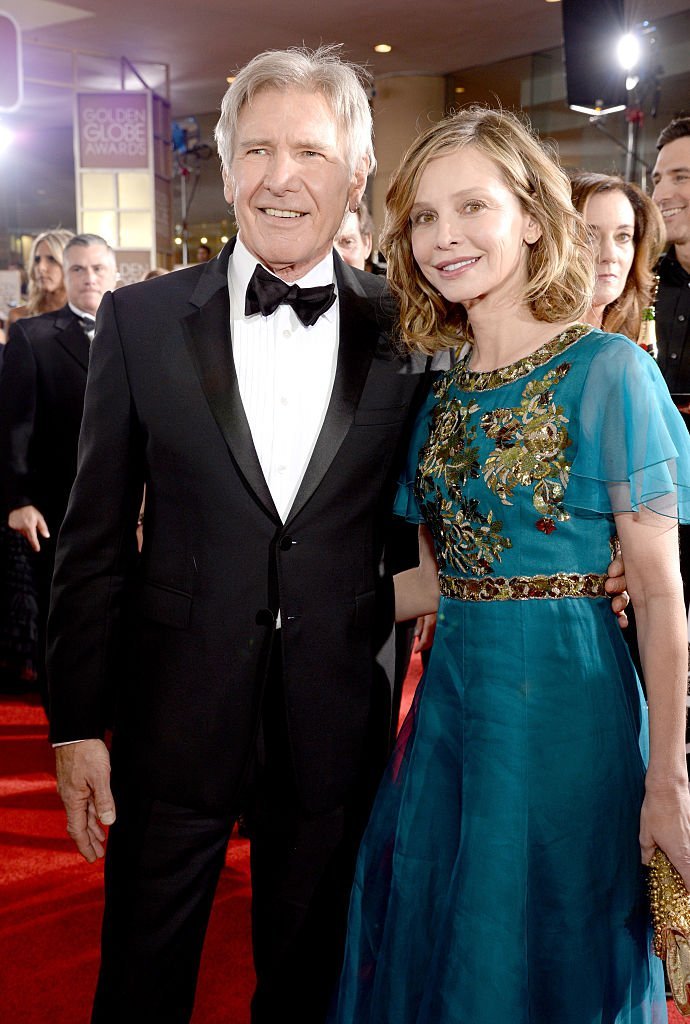 Actors Harrison Ford and Calista Flockhart during the 73rd Annual Golden Globe Awards held at the Beverly Hilton Hotel | Photo: Getty Images
A LICENSED PILOT
In fact, Ford, a licensed pilot for 25 years, usually flies his family to their Wyoming residence. His interest in flying began at a young age, but he put his passion on hold when he couldn't afford aviation lessons in college.
Benjamin was also present during his father's 2003 Hollywood Walk of Fame ceremony, along with his wife and kids.
The next time he flew, Ford was already much older. Eventually, he received his license in his 50s, which according to him, felt like "an earned freedom." Although none of his kids showed interest in taking up aviation as a career, some followed Ford in the entertainment industry.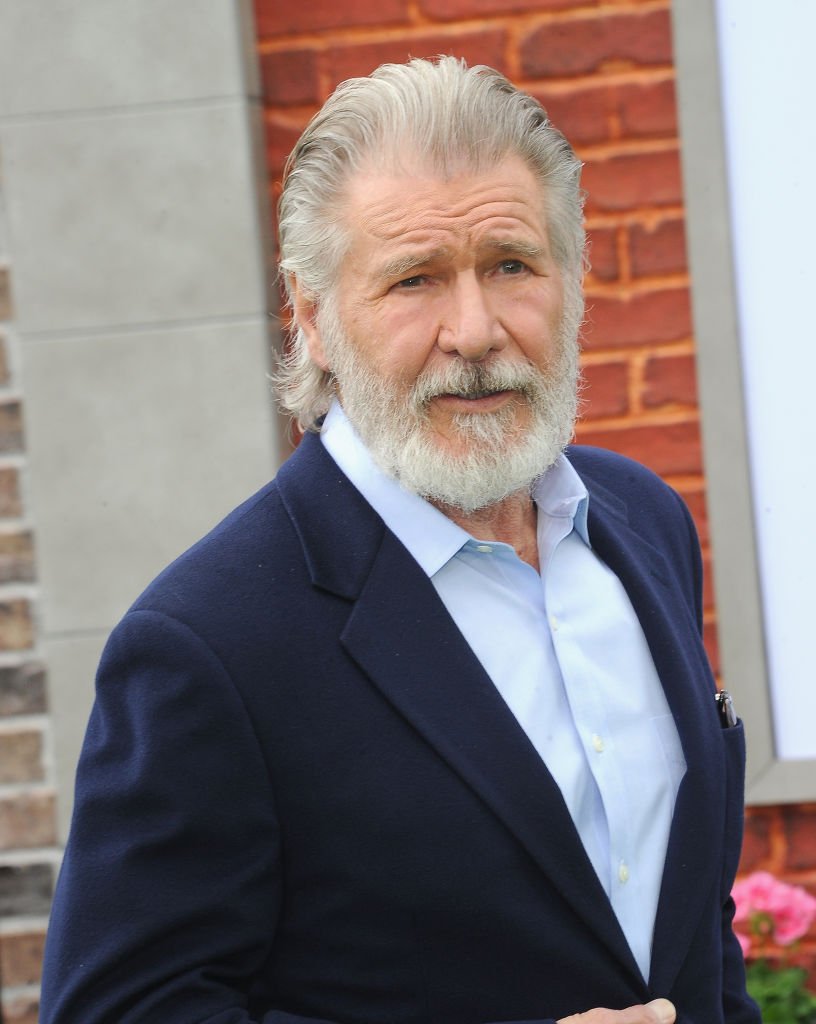 Harrison Ford during the Premiere Of Universal Pictures' "The Secret Life Of Pets 2" held at Regency Village Theatre | Photo: Getty Images
BENJAMIN'S CAREER
Although Ford's eldest son didn't follow in his footsteps, Benjamin became a star in his own right as a professional chef and restaurant owner. Born on September 22, 1966, the Ford Filling Station founder is a father of two, Waylon and Ethan, with his wife, Emily Tomerlin.
Benjamin credits his father for teaching him the values he upholds today and supporting him in pursuit of his dreams. Benjamin said:
"My dad or pops (newly adapted). He taught me resiliency as a young father and later helped give me the courage to pursue my dreams."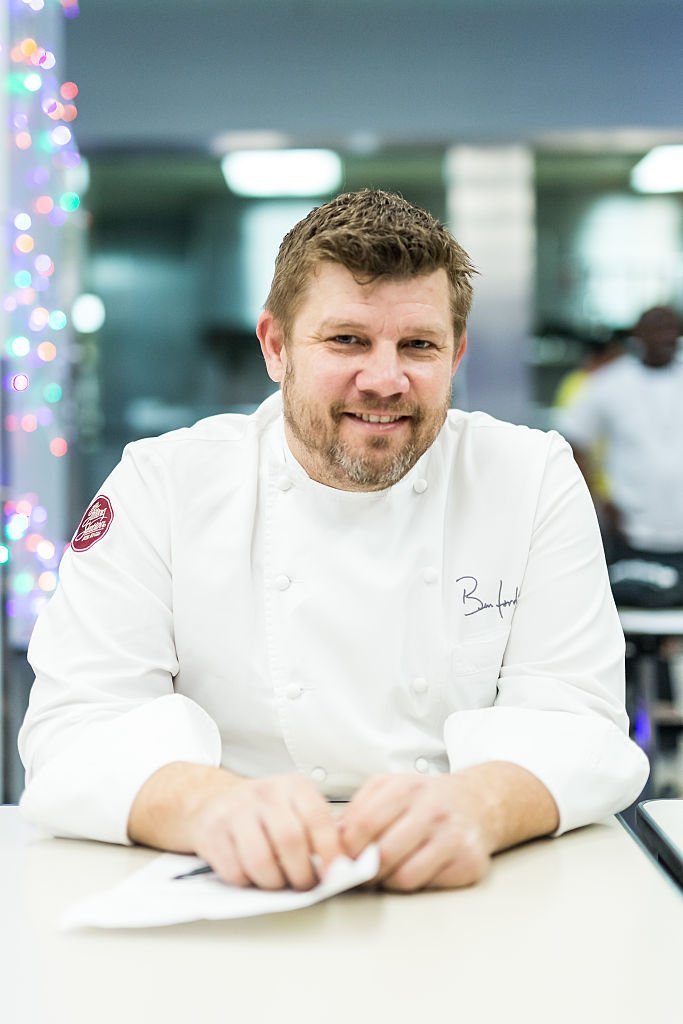 Chef Ben Ford during the Los Angeles Mission Christmas Celebration at Los Angeles Mission | Photo: Getty Images
SUPPORTING EACH OTHER
Like his father, Benjamin also supported Ford in many ways, including his relationship with Flockhart. At the time of their wedding, Benjamin was happy to have them legitimize their union.
Benjamin was also present during his father's 2003 Hollywood Walk of Fame ceremony, along with his wife and kids. At that time, Ford shared:
"When I came to Hollywood, bearing the name I was born with, I went to register at the Screen Actors Guild, and they told me – and it was new to me – that there was already a Harrison Ford and that I couldn't use that name."
WILLARD'S CAREER
Like his older brother, Willard, Ford's second son from his first marriage, ventured into opening his businesses, Ludwig Clothing Company and Strong Sports Gym.
Ford revealed that having a child with epilepsy is no easy feat, but they made it work.
Unfortunately, like many other businesses, they folded amidst the COVID-19 pandemic in 2020. With Willard's determination, there's no doubt that he will bounce back from this setback.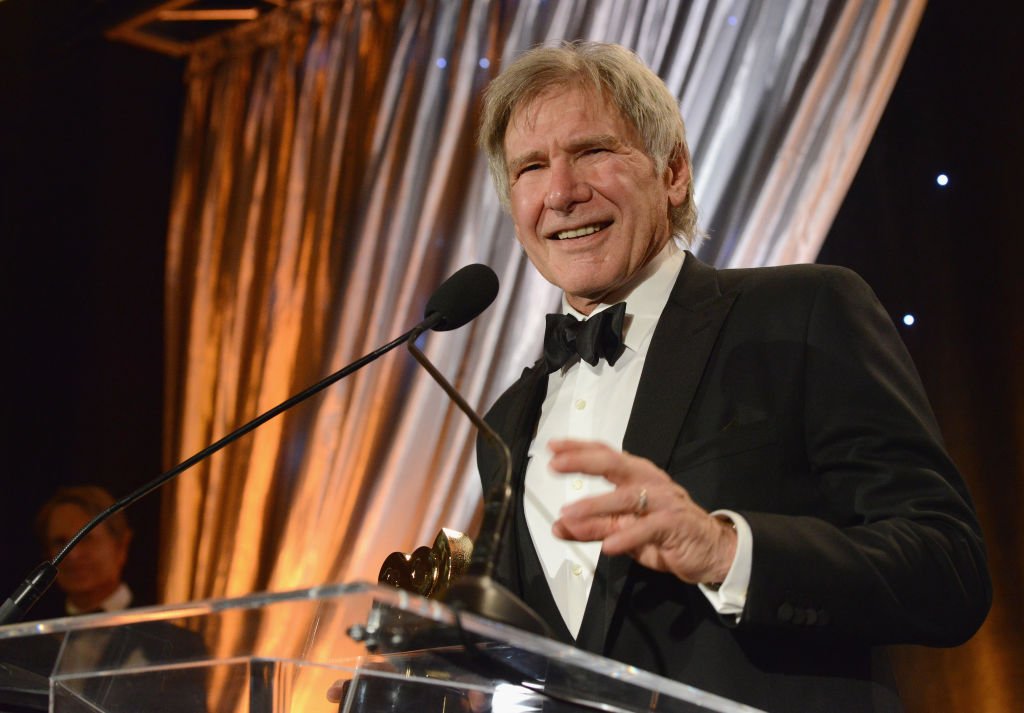 Actor Harrison Ford during the acceptance of his SOC President's Award at The Society Of Camera Operators 40th Annual Lifetime Achievement Awards held at Loews Hollywood Hotel | Photo: Getty Images
MALCOLM'S CAREER
Ford shares Malcolm during his second marriage and shares similarities with him. Malcolm took after his parents' creativity and entered the entertainment industry as a musician, playing with a punk rock band called "The Dough Rollers."
"I didn't grow up with music in the house like every kid had "Blackbird" playing when they got home from school or something," Malcolm said. "My mom would have Wagner on sometimes, but I got into punk music first. My first cassette was Green Jelly."
Malcolm also had his taste of Hollywood life when he appeared in the 2004 film "Water to Wine." However, it seemed that he liked focusing on music more.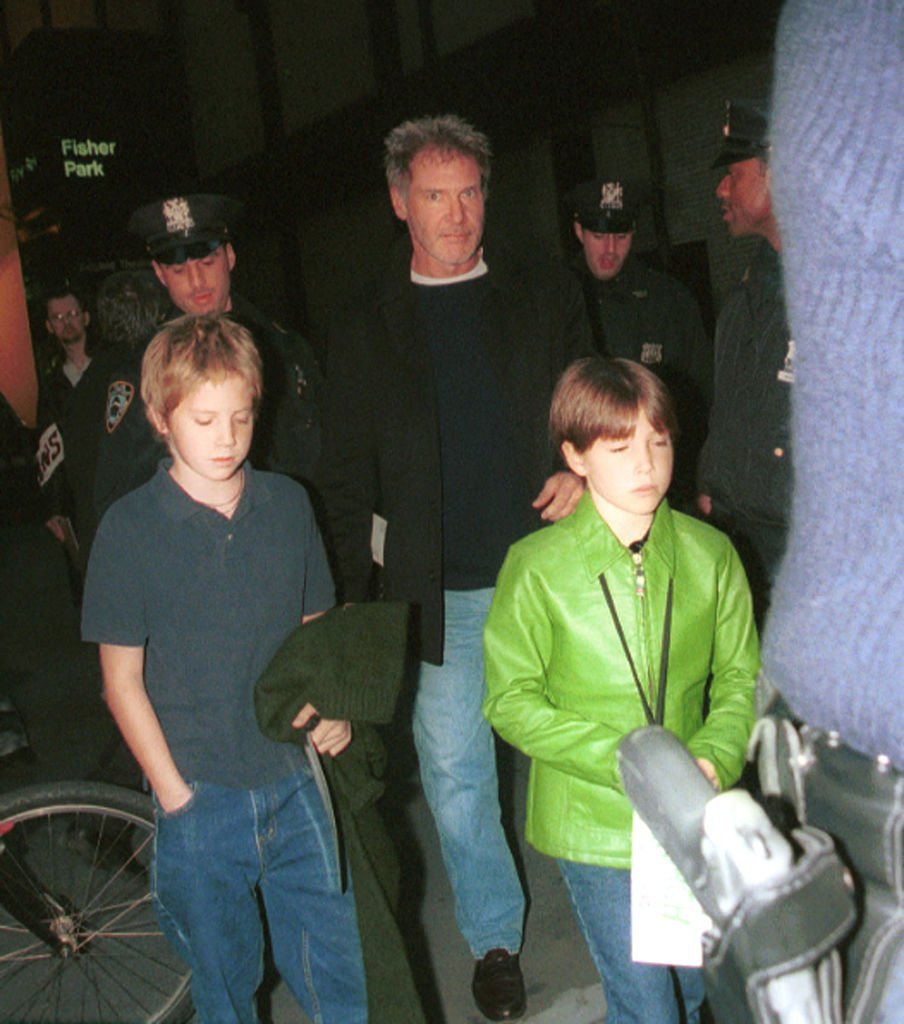 Harrison Ford with his children, Malcolm and Georgia. | Photo: Getty Images
GEORGIA'S CAREER
Georgia, Ford's only daughter, followed in his footsteps as an actress and model. She has since appeared in movies such as "American Milkshake," "True Story," and "The Visitor."
Born on June 30, 1990, Georgia lives with epilepsy. Previously, Ford revealed that having a child with epilepsy is no easy feat, but they made it work. "I admire a lot of things about her," Ford said of his daughter. "I admire her talent, her strength. She's my hero. I love her."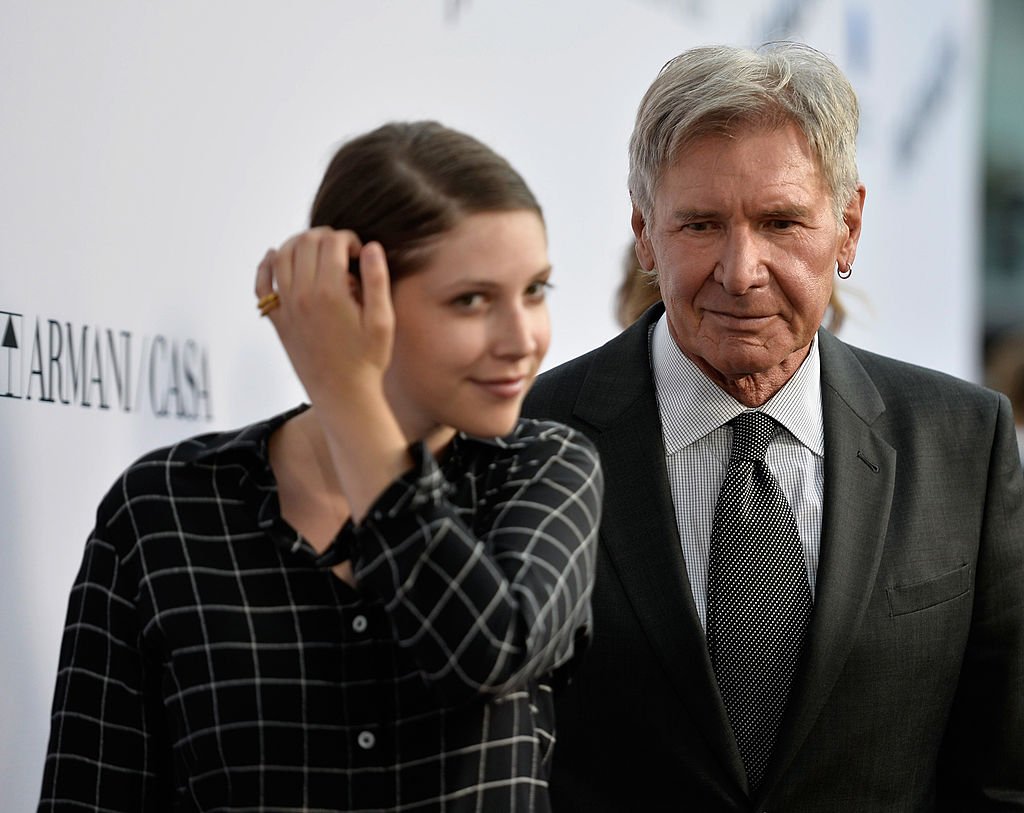 Actors Georgia Ford and Harrison Ford during the premiere of Relativity Media's "Paranoia" at DGA Theater | Photo: Getty Images
LIAM FLOCKHART
Although he isn't one of Ford's biological children, the actor has been the father figure to Liam. The actor has been spotted with Liam and his wife several times in the past, showing that they are a happy family.
Now grown up, Liam is a college student who began his higher education in liberal arts in August 2020. Although it is unsure if Liam will follow as an actor, he definitely has his parents' creative talent.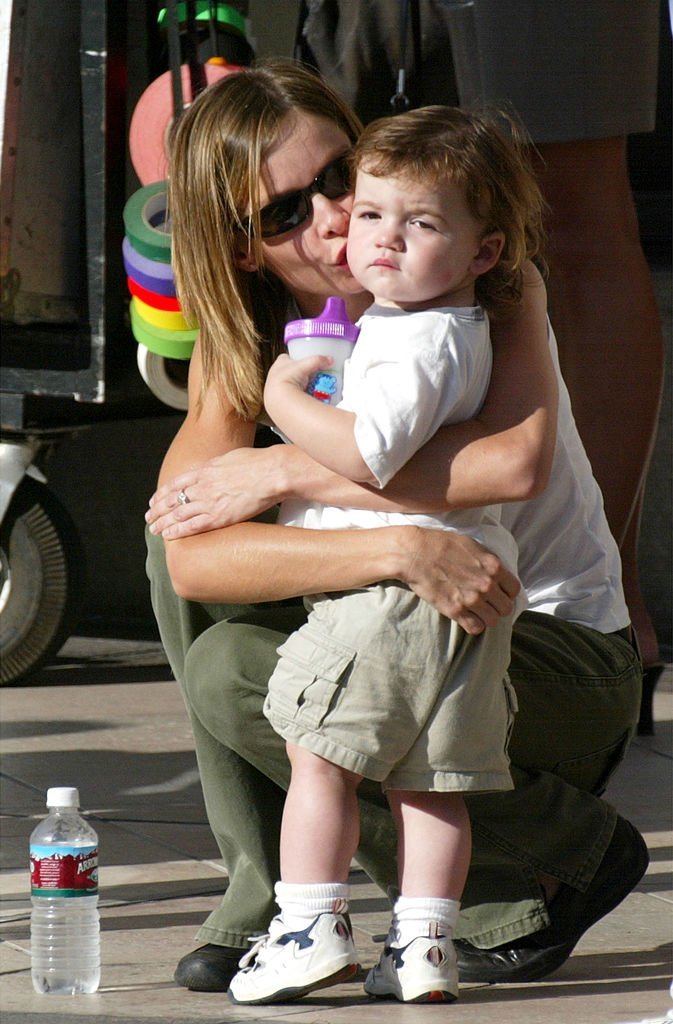 Calista Flockhart kisses her son, Liam, on the set of "Two Cops" on Rodeo Drive. | Photo: Getty Images
It seems that Ford is living his best life with his kids and wife. According to the star, he maintains a happy marriage by staying quiet and nodding his head — that way, all arguments can be avoided – which, of course, is his way of humoring Lockhart.
Please fill in your e-mail so we can share with you our top stories!