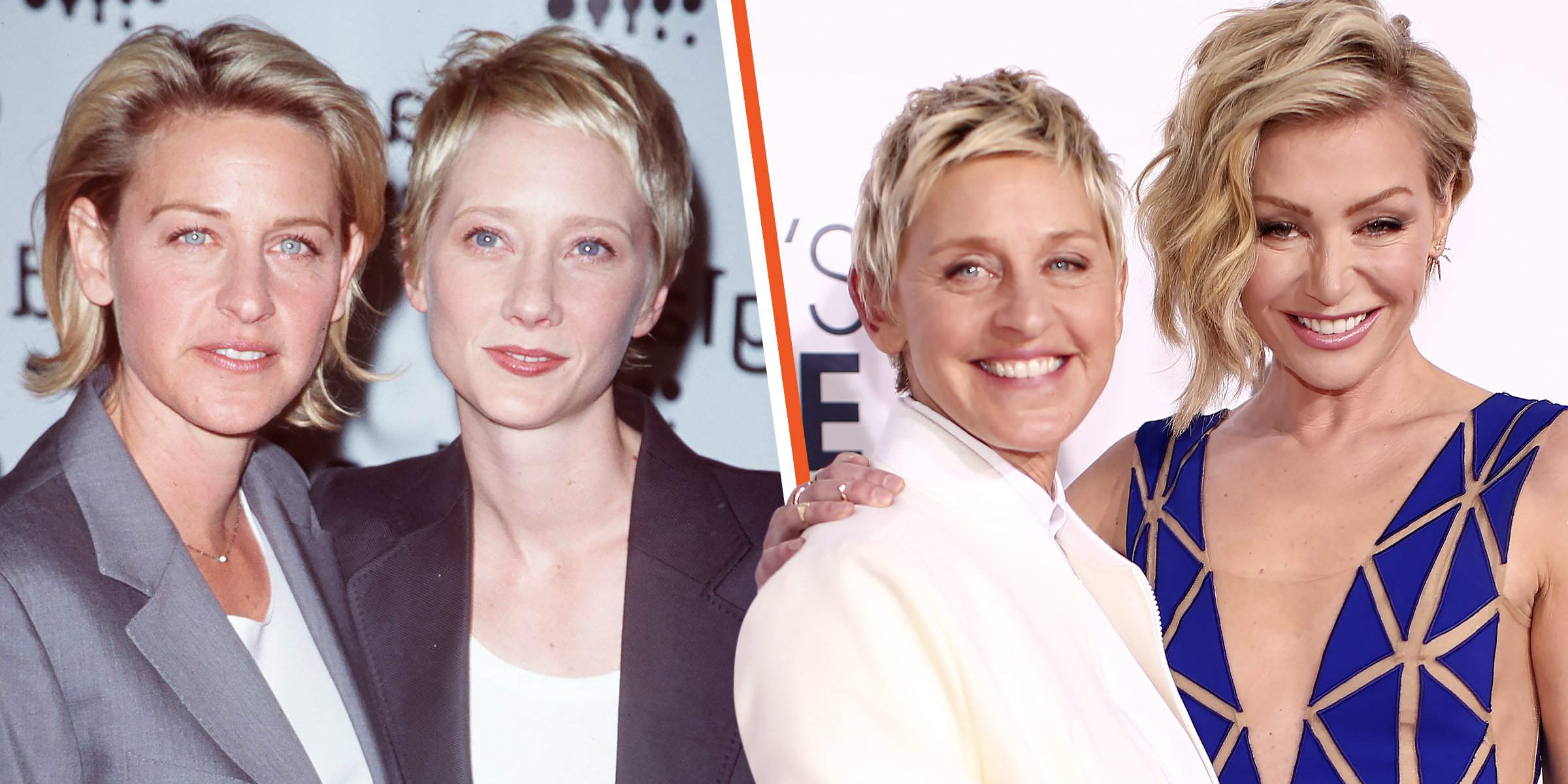 Getty Images
A List of Ellen DeGeneres' past Girlfriends Including Kat Perkoff & Anne Heche Who Both Suffered Untimely Deaths
Ellen DeGeneres has had her share of lovers. Very few, however, know that the tragic loss of one of her past girlfriends is one of the things that shaped her career.
Ellen DeGeneres is one of the few notable celebrities that have boldly declared their sexual orientation to the general public despite being famous figures.
Currently very happy in her relationship, DeGeneres continues to make headlines for other things, like her personal opinions on social issues and her former popular talk show.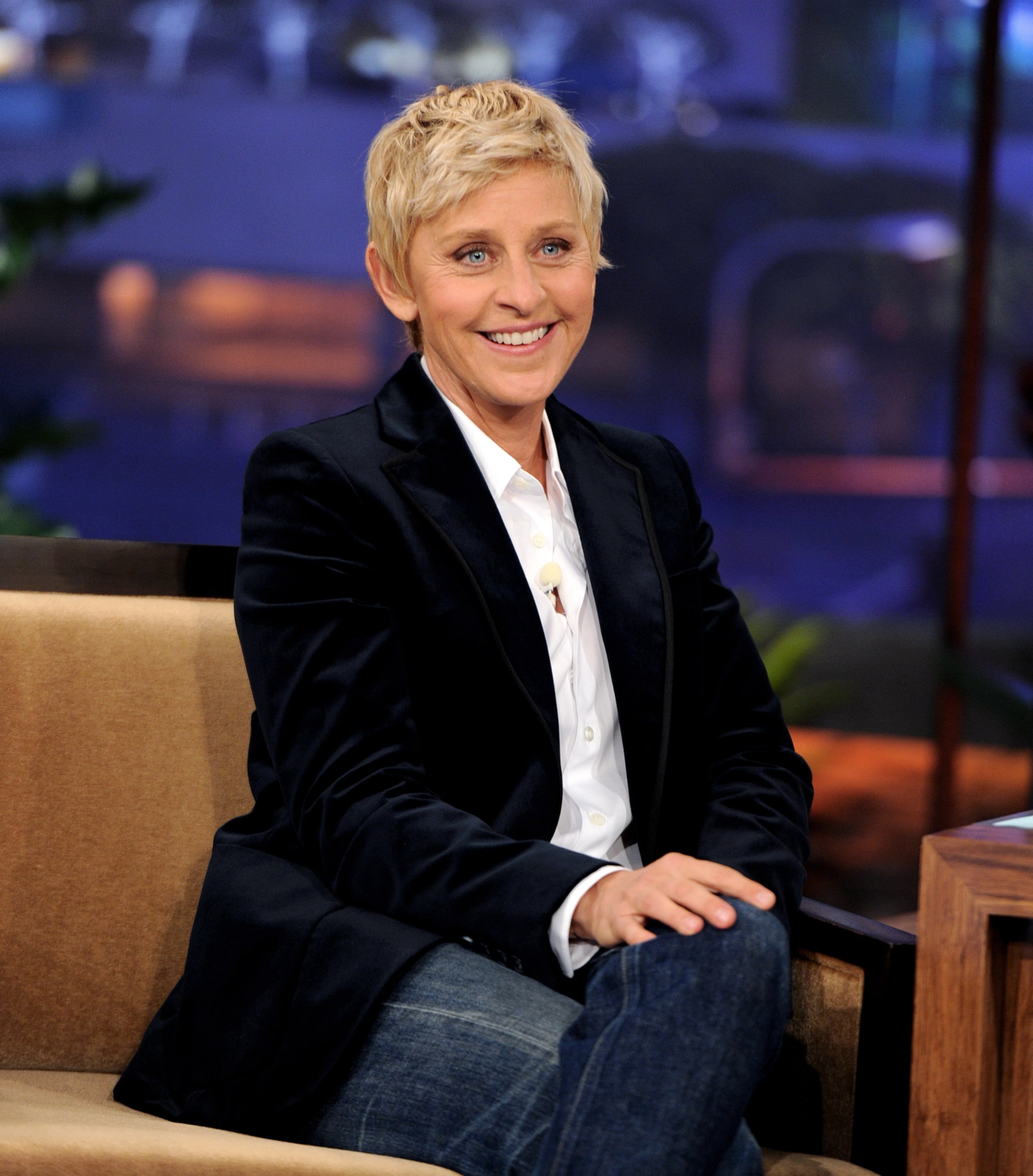 Ellen DeGeneres appears on the Tonight Show With Jay Leno at NBC Studios on September 13, 2011, in Burbank, California. I Source: Getty Images
Sadly, one of Ellen's former girlfriends, award-winning actress Anne Heche, died in August 2022 after a car accident.
KAT PERKOFF AND ELLEN DEGENERES'S RELATIONSHIP ENDED TRAGICALLY
One of Ellen DeGeneres's relationships was with Kat Perkoff. The pair dated while she tried making a name for herself in the entertainment industry. At the time of their relationship, the two were more or less the same age, with DeGeneres being 22 years old and Perkoff, 23. The affair, initially damaged by Perkoff's infidelity, ended rather tragically.
According to reports, DeGeneres had moved out of their home despite harboring thoughts of reconciling later. On the night of Perkoff's demise, she had gone to beg DeGeneres to reconcile, but her pleas were ignored.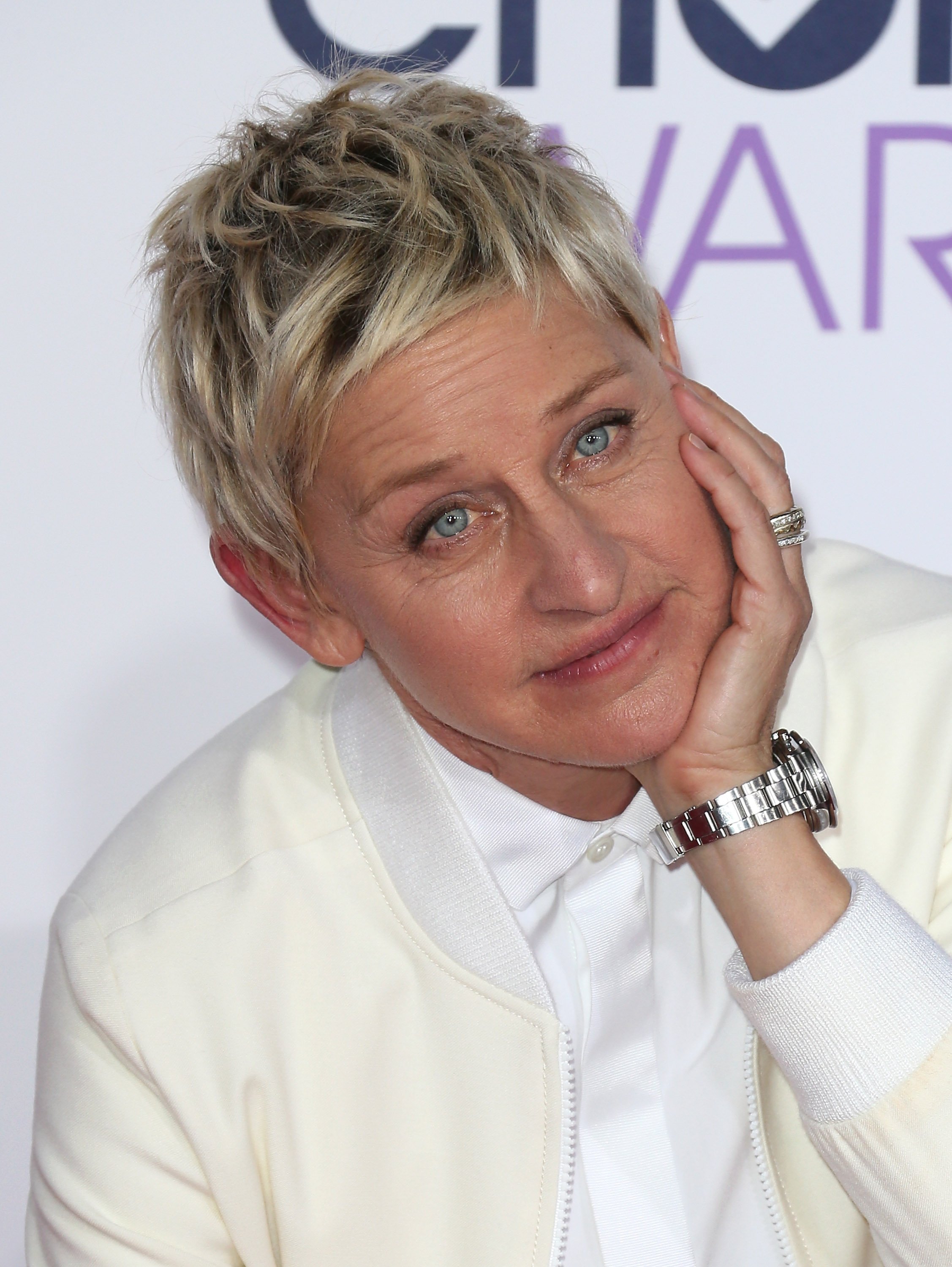 Ellen DeGeneres attends the 2015 People's Choice Awards at the Nokia Theatre L.A. Live on January 7, 2015, in Los Angeles, California. I Source: Getty Images
Hours later, when DeGeneres left an event, she drove past a car accident. It wasn't until the next day before she discovered that Perkoff died in that very accident. For DeGeneres, Perkoff's death was "devastating," and her grief inspired her very first comedy monologue, "Phone Call to God."
The comedy sketch slowly brought DeGeneres fame and earned her the title "Funniest Person in America" in 1982.
The American Producer Teresa Boyd dated the award-winning comedian for about eight years. Little is known about the women's relationship thanks to their love for stealth, as it came way before DeGeneres publicly came out.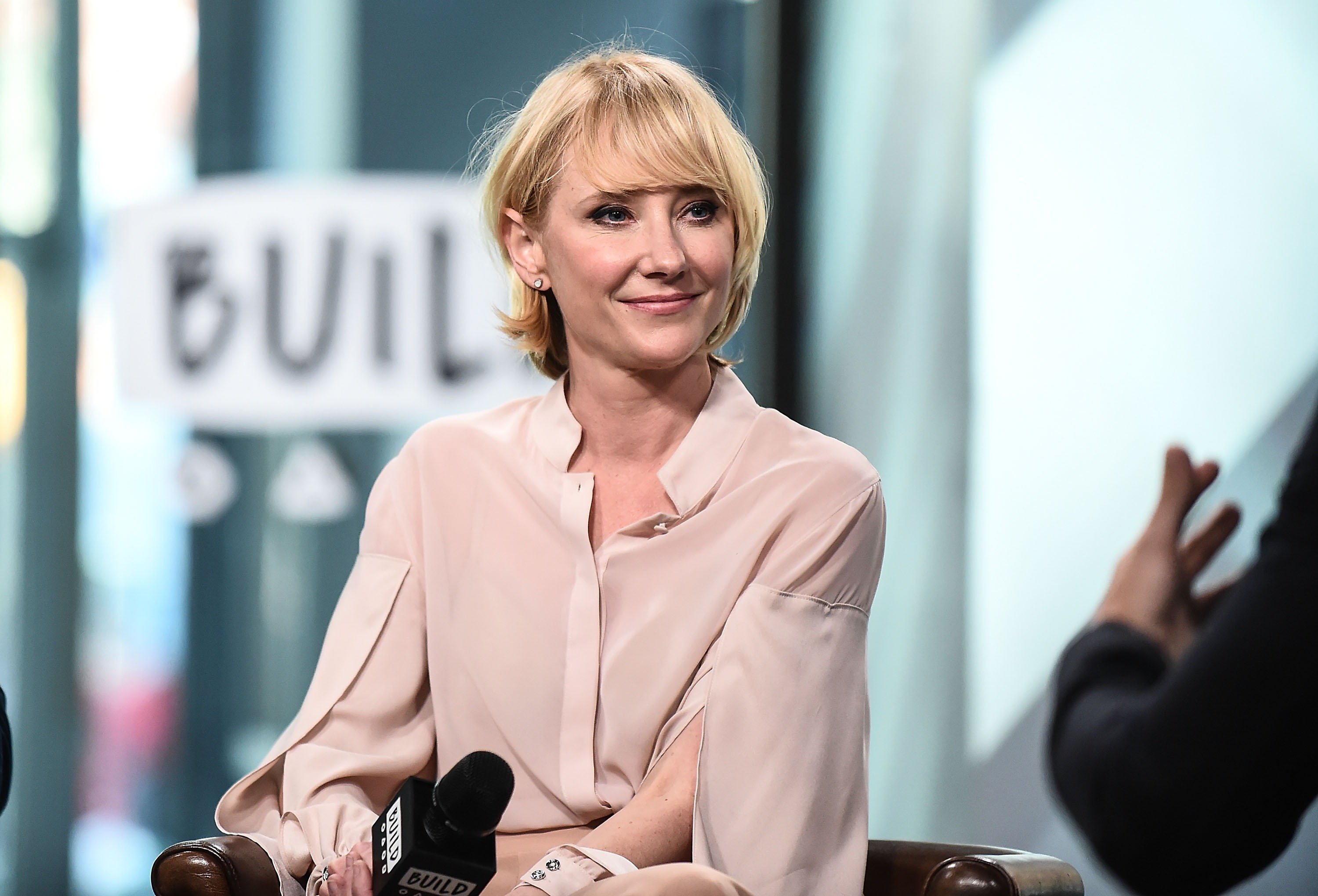 Anne Heche attends the Build Series to discuss the new show 'The Brave' at Build Studio on September 25, 2017 in New York City. I Source: Getty Images
ANNE HECHE'S RELATIONSHIP WITH ELLEN DEGENERES HAD A SAD ENDING
Anne Heche was DeGeneres' first girlfriend after the TV personality came out in the late 90s. The relationship kicked off sometime in March 1997 but, like Hedison, only lasted for about three years. The pair made a rather beautiful couple in those days, and many were saddened when news of their breakup hit the media.
The highly publicized breakup with DeGeneres threatened to ruin her career, but she has continued to put forth her best foot. Following her relationship with DeGeneres, all of Heche's romantic relations have been with men.
Heche has always loved talking about how she and DeGeneres met. The award-winning star and DeGeneres met at a Vanity Fair Oscars party soon after Heche ended her two-year relationship with Steve Martin. The actress said she didn't want to get married to Martin because of their vast age difference; Martin was in his 50s, and Heche was in her mid-20s.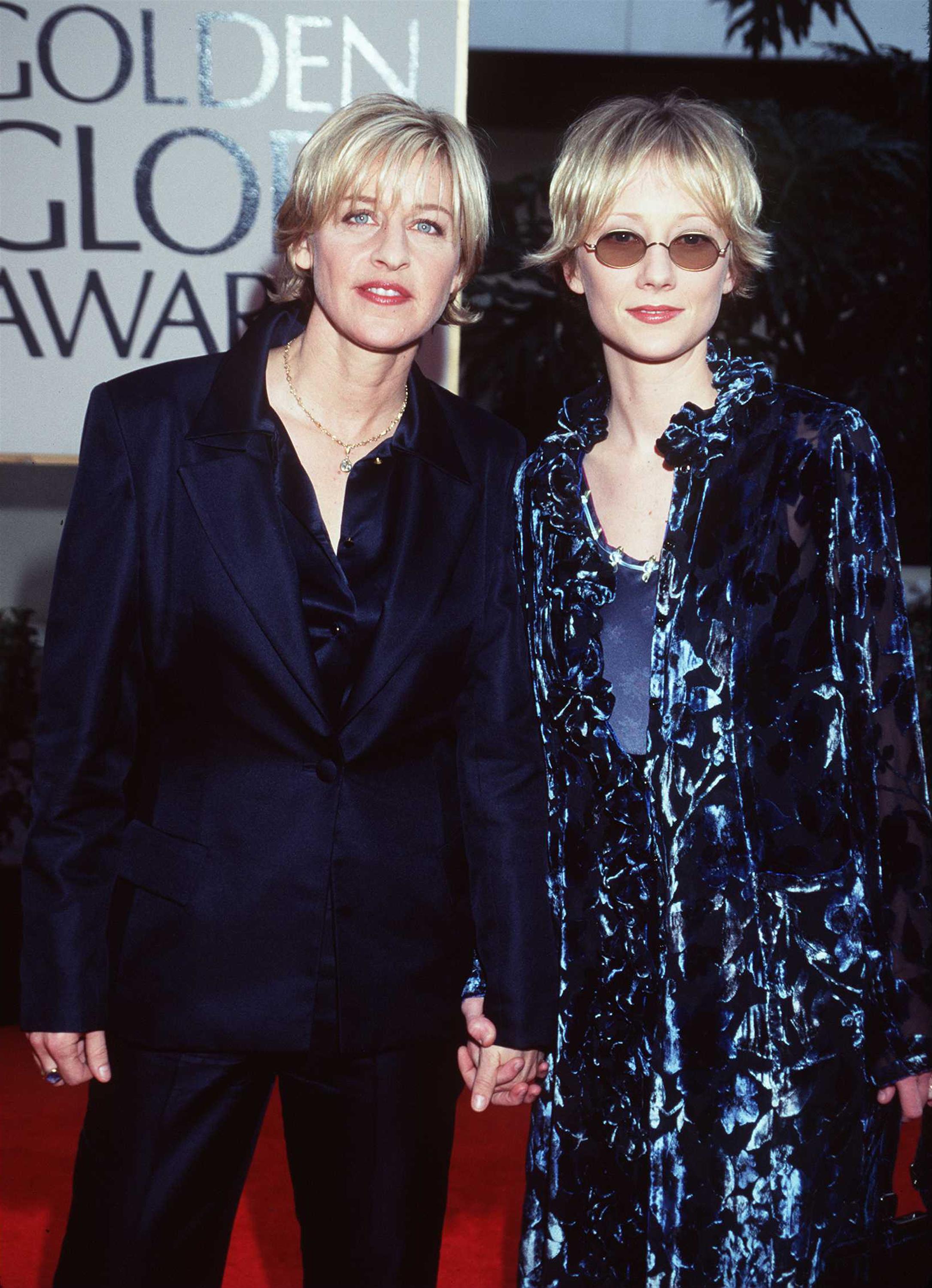 Anne Heche and Ellen DeGeneres attend the Golden Globe Awards held on January 18, 1998, in Beverly Hills, CA. I Source: Getty Images
The actress's book detailed how she felt the first time she met DeGeneres. It seems to be love at first sight for the actress, and she said she knew she "had to spend more time with her" when she first saw DeGeneres.
She also said DeGeneres told her she's "not into straight women" and that she shouldn't use her as an experiment. The pair eventually left the party and spent the night together, with Heche bragging about it to her agent the next day and saying that she was "so in love."
From then on, Heche and DeGeneres became icons in the gay community. However, things fell apart between the lovebirds when Heche decided she wanted to work away from home and have more friends. DeGeneres reportedly disagreed with the idea, and Heche walked away from the relationship in 2000.
Heche tragically crashed her car in Los Angeles on August 5, 2022. She sustained severe injuries following the crash and had to be put on life support.
The award-winning actress died at 53 after being taken off life support. DeGeneres posted a tweet after news of Heche's death broke, saying she was sad.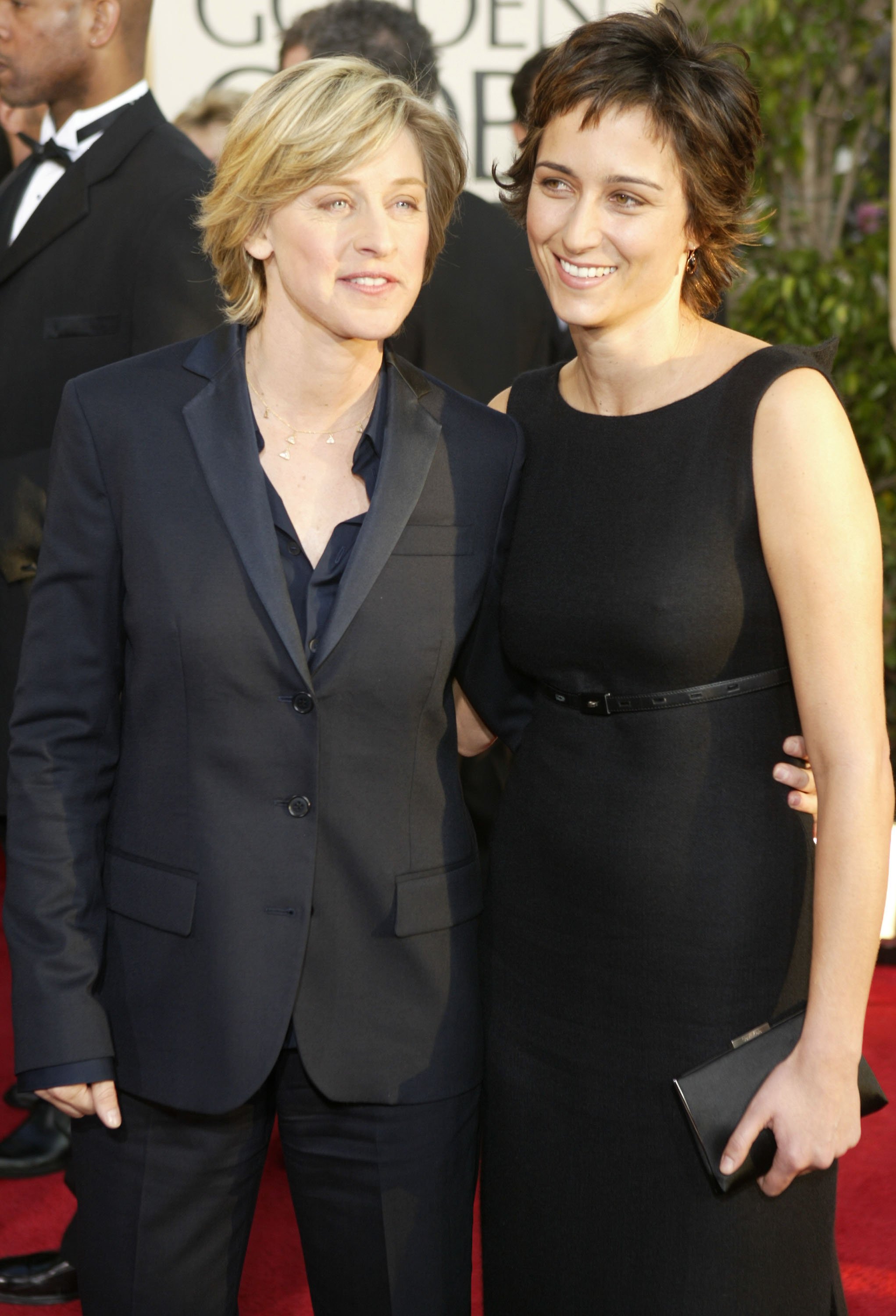 Ellen DeGeneres and Alexandra Hedison arrive to the 61st Annual Golden Globe Awards on January 25, 2004, in Beverly Hills, California. I Source: Getty Images
ALEXANDRA HEDISON MARRIED JODIE FOSTER ELLEN AFTER HER RELATIONSHIP WITH DEGENERES
Ellen DeGeneres was also in a relationship with Alexandra Hedison, an American photographer and actress. Her relationship with Hedison wasn't that long, with the pair only being together for three years, from 2001 to 2004.
Because of DeGeneres' love for privacy, very little is known about the relationship. Hedison has since moved on and is now happily married to the legendary actress Jodie Foster.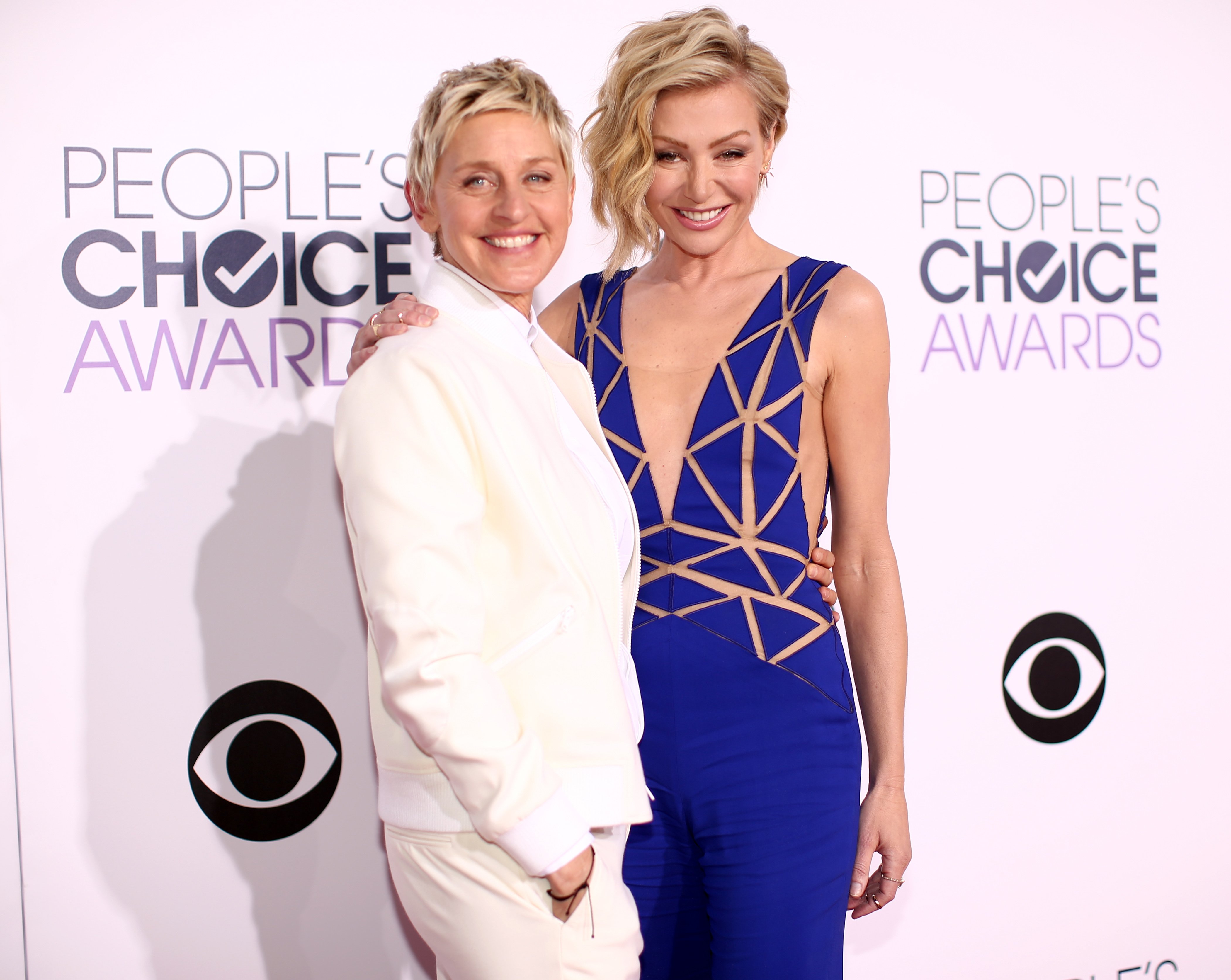 Ellen DeGeneres and Portia de Rossi attend The 41st Annual People's Choice Awards on January 7, 2015 in Los Angeles, California. I Source: Getty Images
PORTIA DE ROSSI AND ELLEN DEGENERES HAVE BEEN MARRIED SINCE 2008
Portia De Rossi, an Australian-American model and actress is currently married to DeGeneres and has been for over a decade. The svelte beauty first met DeGeneres in 2004 at the Shrine Auditorium in Los Angeles and quickly hit it off.
Some four years later, on August 16, 2008, DeGeneres and De Rossi tied the knot in their Beverly Hills home. The couple wore Zac Posen on their wedding day and kept their wedding small and private, inviting only a small group of their tight-knit relations present.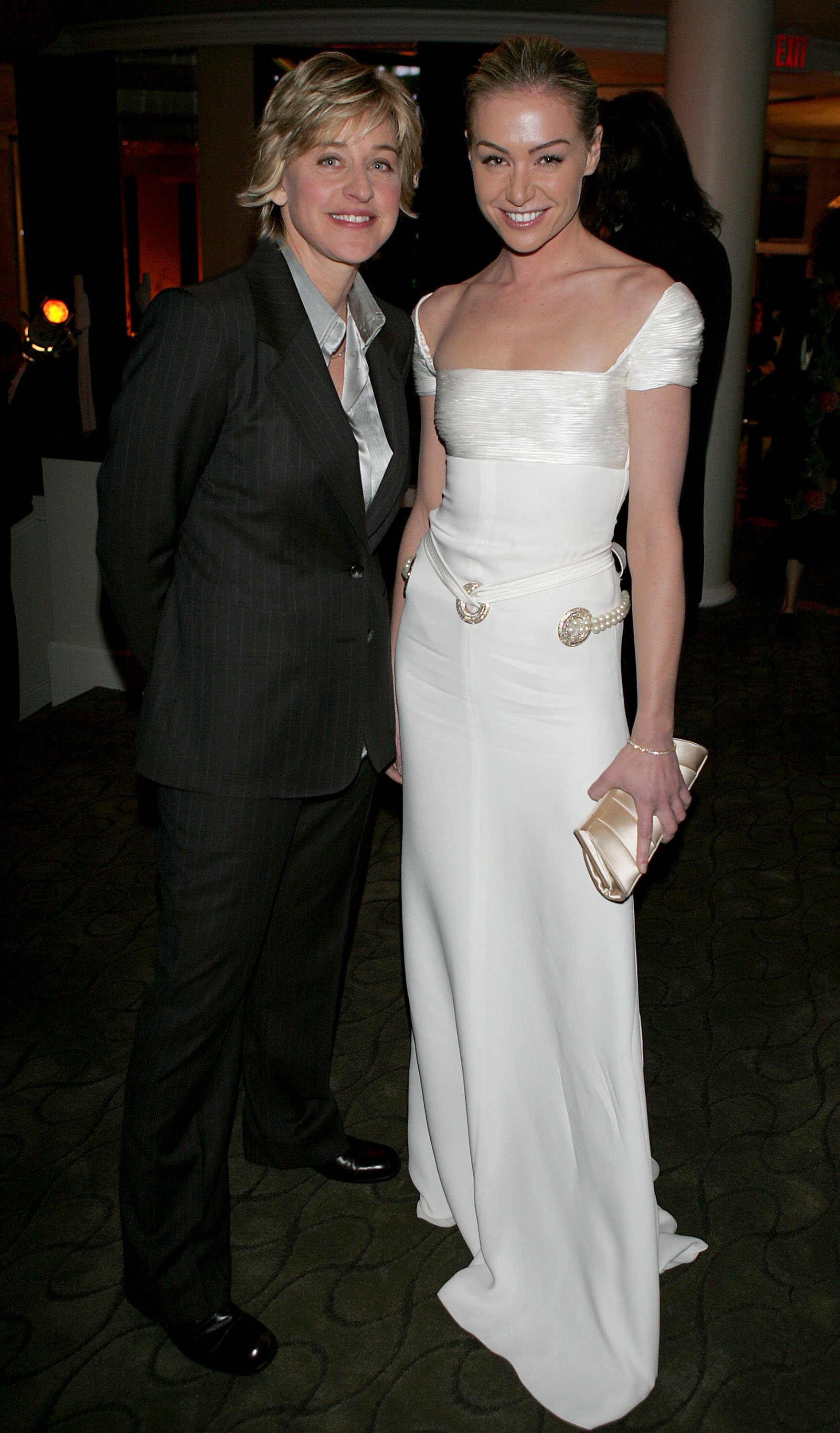 Ellen DeGeneres and Portia de Rossi pose at the Fox Golden Globe After Party on January 16, 2004, in Beverly Hills, California. I Source: Getty Images
DeGeneres and De Rossi's relationship has continuously blossomed, making it one of the few celebrity marriages that seem trouble-free. In 2010, the 46-year-old star legally changed her name to Portia Lee James DeGeneres.
Fourteen years after walking down the aisle, DeGeneres and De Rossi are still going strong and building a happy home. From her dating history, it can be seen that DeGeneres has a thing for svelte beauties. If nothing else, it is intriguing to know that she is doing well and is happily married to her wife, De Rossi, after years of a failed relationship.
Please fill in your e-mail so we can share with you our top stories!