The Secret Life Of Dutch Van Der Linde: After Finishing RDR2
For those gamers who love 'Red Dead Redemption 2', we will be discussing those important details and a bit of background that will help you along the way in finding out all you can about Dutch Van Der Linde.
The graphics are amazing, and the storyline and interaction are worthy of non-stop action play. So, take some notes because this will enhance your gameplay and perhaps clear a few things up. Let's dive straight into it!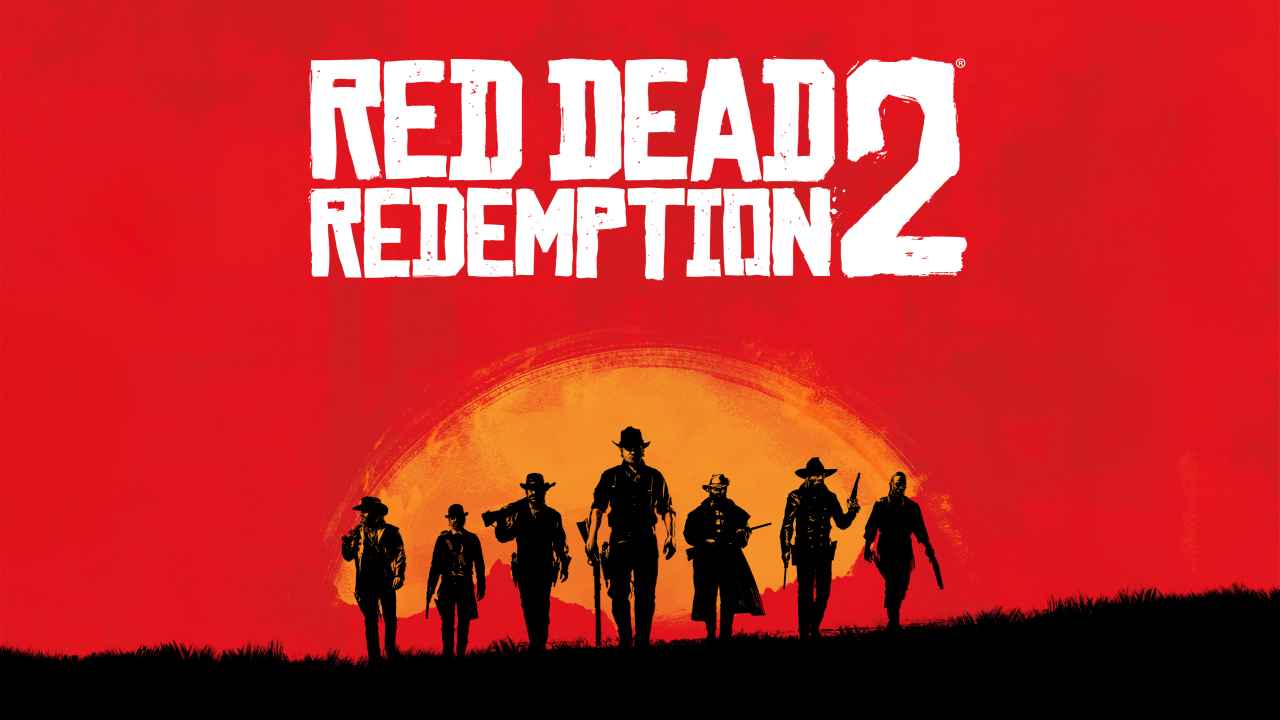 Let's begin with the history
He was born in 1859 to an unnamed father who actually fought for the Union in the Civil war, and he died at the Battle of Gettysburg, and a woman named Greta was apparently by his side.
Now, not much is known about his younger days, but he seemed to have developed a grudge against Southerners because of his father's death. 
This might indicate why he dislikes being in San Denis and Lemoine, which you'll find out when you reach the later chapters of the game.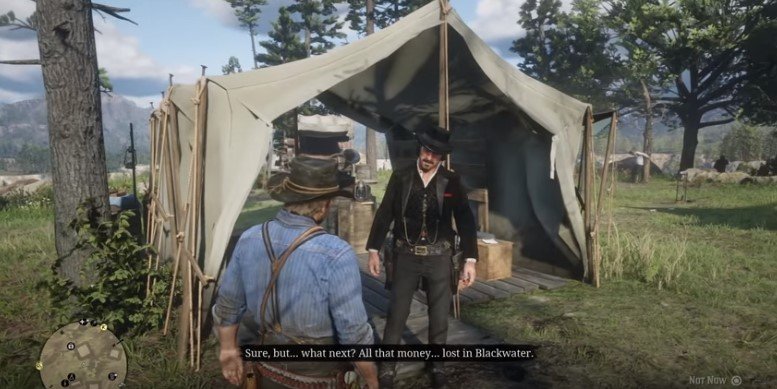 Now, Dutch also mentions that he left his home when he was around 15-years-old because he rarely got along with his mother, whose death Dutch only found out several months from his uncle. 
This troubled childhood actually causes Dutch to form his own gang after befriending Hosea Matthews. Matthews is a con artist who tried to rob Dutch, and funny enough, Dutch had the same intentions. 
Both Dutch and Hosea are the gang's founding members, and then Arthur eventually joined them very early on. When it comes to mysteries, the infamous Blackwater ferry heist is something we need to delve into.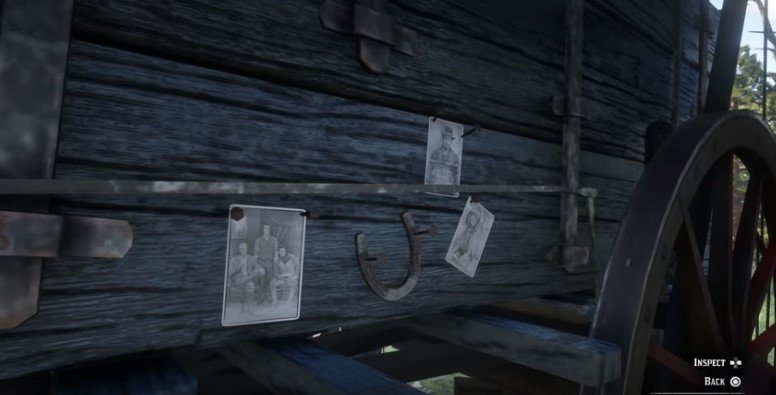 References throughout the game
This is referenced quite a lot throughout the game, but we don't have much detail on this actual heist itself, so the Van Der Linde gang led by Dutch attempted one last big score at Blackwater. 
However, it ended in disaster and forced the gang to flee into the Blizzard Lee mountains of Amerarino to escape the heat. Dutch ended up killing a defenseless young woman named Heidi McCourt.
The Blackwater heist's events shook Hosea's faith in Dutch, although he admits a bit later on in the story that their mission had been dead for a long time before this.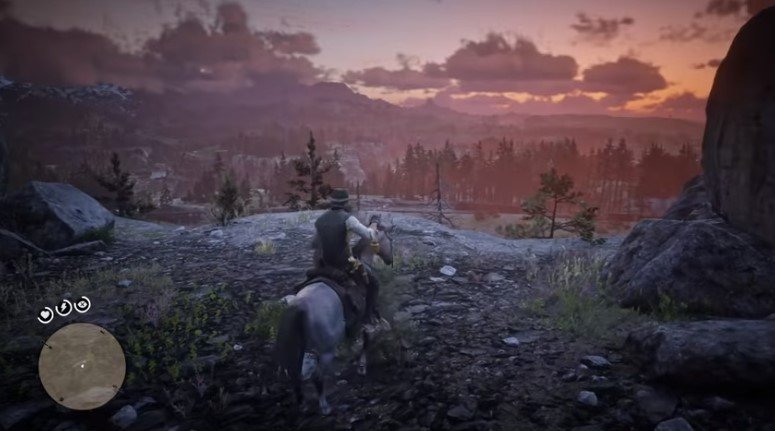 There isn't a lot of information known on Heidi McCourt. In fact, she's never seen during "Red Dead Redemption 2," even though she's mentioned numerous times throughout the game. 
After Chapter three, you can find out more information regarding the Blackwater heist if you visit Micah's camp, North of Strawberry.
There you'll find a newspaper scrap that says: "May 1899 outlaw gang wanted over the heist. Pinkertons increase search".
It goes on to say that there is a gang of criminals believed to be under the outlaw of Dutch Van Der Linde, who escaped with approximately a hundred and fifty thousand dollars after a bloody gunfight with Pinkerton agents in Blackwater the day before.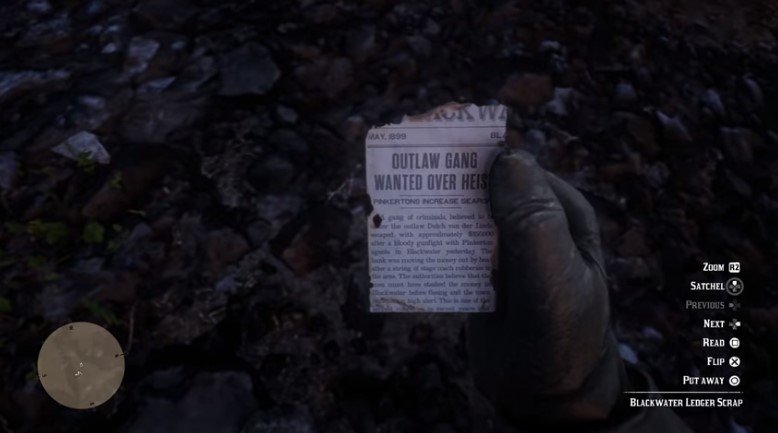 The bank moved the money out by boat after a string of stagecoach robberies in the area. Authorities believe that the men must have stashed the cash in Blackwater before fleeing, and the town remains on high alert.
This is one of the largest robberies in recent years, and that's basically where it cuts off, and you can't read the rest.  So, back in 1899, 150 dollars is undoubtedly the equivalent of multi-millions of dollars today.
This would make it an insane robbery, and this is why they are on the "Wanted" list. Now, you can also see a "Wanted" poster for Dutch at that very same location.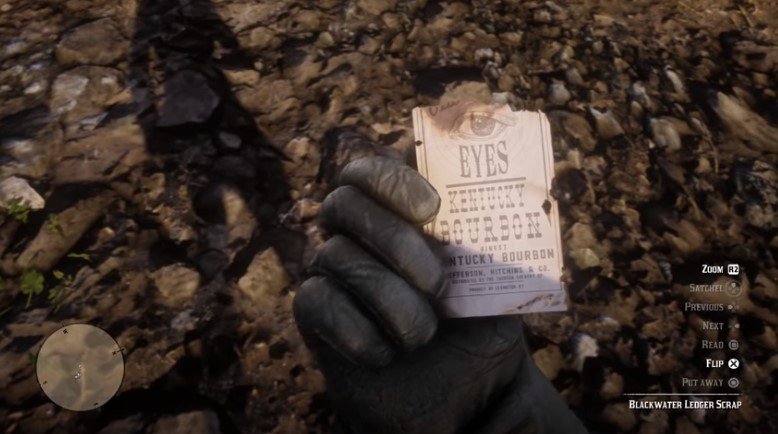 Dutch's bounty
His award was apparently 1,000 dollars, and he is wanted dead or alive for robbery and murder. So having a 1,000 dollar bounty on his head is actually one of the highest bounties you can achieve in the game. 
If you read the first newspaper you can acquire, and it may be The Saint Dennis Times N° 43, you can actually figure out more details on that Blackwater heist. It says:
"Blackwater lock down bank boat heists largest robbery in years. Duchess boys accused bounties placed."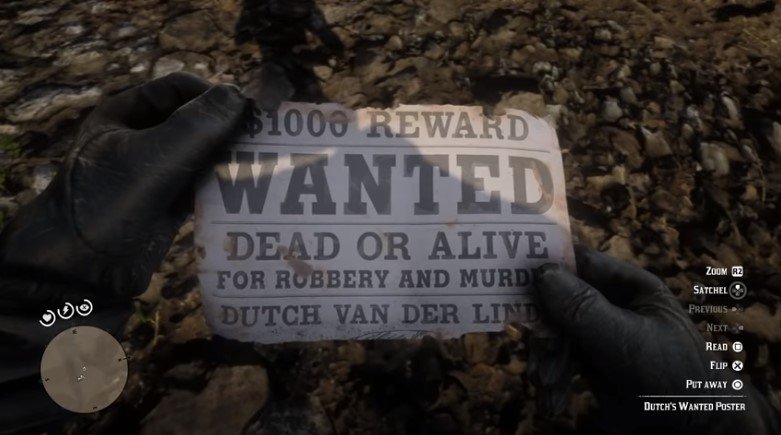 We get more details on ultimately what happened in that situation. Throughout the game, we see our two main characters John and Arthur, have entirely different views on Dutch.
Since Arthur was relatively young when he met Dutch, he thought that he had changed and even held out hope to his last breath that Dutch was still a good guy and would do the right thing.
However, John had a much different opinion and thought that Dutch was always this way and that his mask eventually slipped.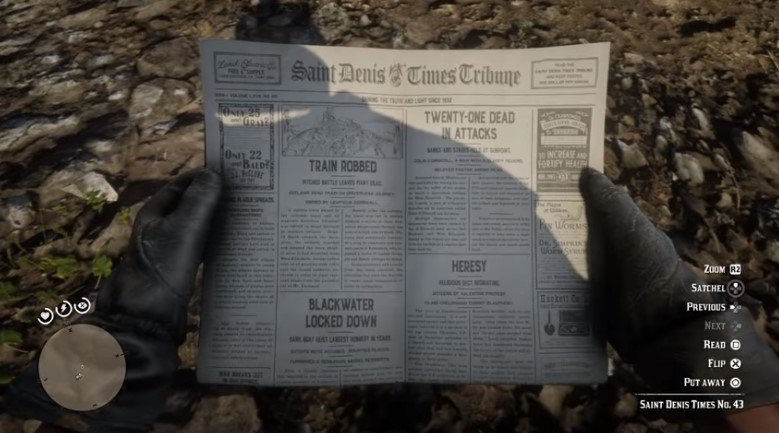 All the pressure with running from the law and continuously moving cause him to be this way, whereas Arthur thought something snapped inside Dutch to make him change. It's great to see the varying views of these characters.
After chapter six, we don't actually see Dutch until the very end of epilogue two, although he can be read about in one of the newspaper reports.
You can check that out in the "Notorious Bad Man Alive" article. So this report confirms that he is still alive, and you can find him the last mission of the game, "American Venom," at Micah Bell's hideout at the top of Mount Hagen.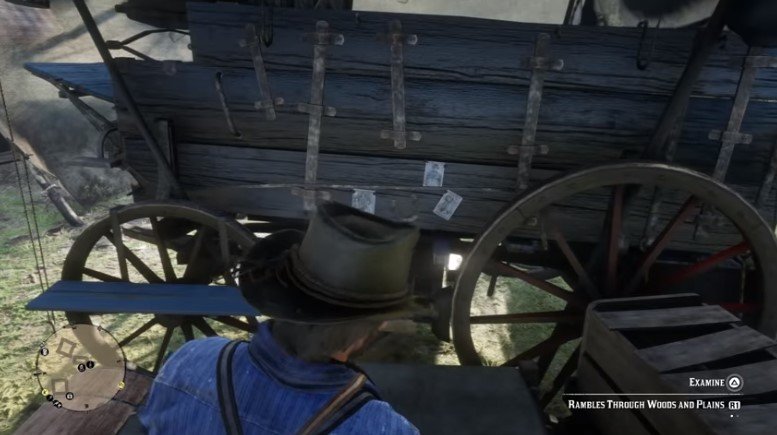 The strange and bitter end
In the end, Dutch was at a loss for words, possibly because he realized working with Micah was a bad choice, but we end up seeing him save both John and Sadie's life by shooting Micah, then mysteriously walks away.
It seems rather strange because he doesn't respond to John's "thank you" or even go back for the money. Regarding the money, Dutch does not even bother with the stash; he just lets John take the remainder.
It does not make sense, and we clearly know that he's a big part of the storyline in the first "Red Dead Redemption" game, but where does he go in the end? He certainly didn't just wander off into the sunset.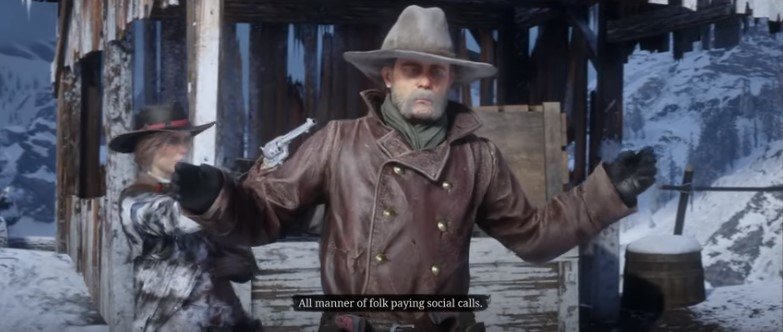 There is about a four-year gap between the end of epilogue two, which is in 1907, and then 1911 when RDD takes place. So, the question is: "Where does Dutch go for those four years?"
Some people say he may have even gone back to Blackwater, but we find this highly unlikely. He could have also visited his mother's grave. 
The dates possibly are 1835 to 1881, meaning she would have died about 18 years before the start of "Red Dead Redemption 2." If one looks a little closer at her grave, there's a quote that says:
"There was grace in her steps. Love in every gesture..." 
Now, we aren't sure if you've figured out where they hid the money, but a guess would be that this is actually where they stashed the loot. If you remember what the newspaper article said about them digging up gardens and public spaces, graveyards would be included.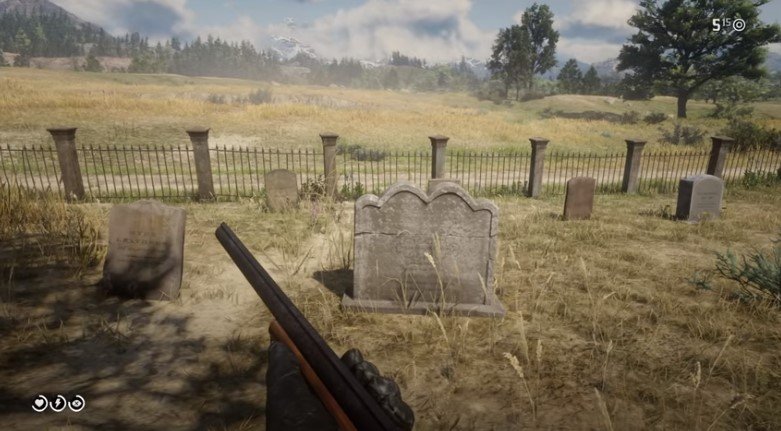 A possible love affair
To end, Molly O'Shea seems to be Duchess's romantic love interest, but throughout the game, you hear a character that is commonly mentioned, named Annabelle. 
There are no pictures or last name or hints about who she is, and you don't even see her in the game. She may have been a member or associate of the Van Der Linde gang and had a very close relationship with Dutch. 
Now, at some point before our started game in 1899, Dutch killed the brother of his one-time associate, Colm O'Driscoll, who, in return, took Annabelle's life.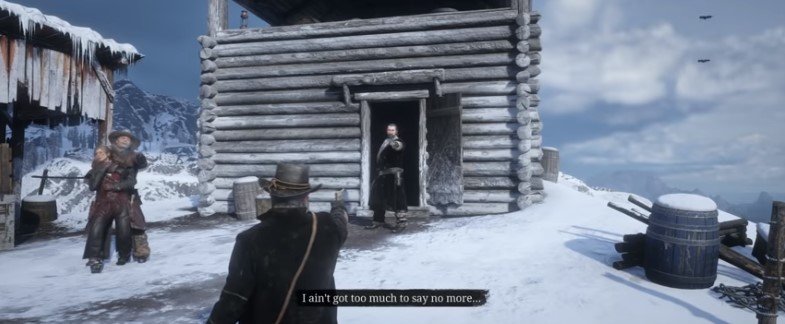 Her death started the long-standing feud that we see between the O'Driscolls and the Van Der Linde gang throughout the game, and Dutch clearly mentioned several times throughout the game that he had strong feelings for Annabelle. 
So, was her death one of the reasons for the unraveling of his character? It may have been a small part of the game's lore, but it significantly impacted what Dutch does and how the rest of the events unfold. 
Did you know about his history? Are there other facts you may have come across during your gameplay? Feel free to tell us in the comments section below.