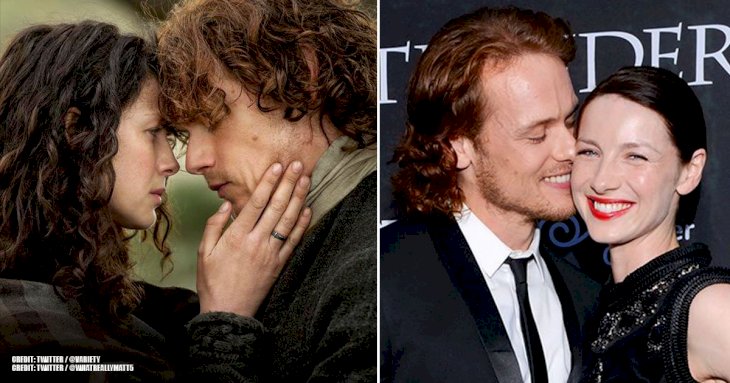 'Outlander': The Real Life Partners Revealed

"Outlander" has been delighting viewers with the romantic, time-traveling tale of Jamie and Claire for many years, leaving fans interested in the real-life partners of the actors and actresses.
"Outlander" has grown to become a fan-favorite, and while you might be enamored with the story on the screen, the actors who portrayed these roles have their own love lives.
Some fans even dream that Sam Heughan and Caitriona Balfe are dating in real life, so let's dive in and see who's dating who.
View this post on Instagram
Tobias Menzies - Frank Randall/Johnathan Randall
The actor who portrays Claire's adoring husband Frank in the '50s and the evil villain, Johnathan, in the past is not forthcoming about his personal life.
It's almost impossible to find anything about Tobias Menzies' love life online. He was linked with Kristin Scott Thomas in 2005-2006, but that is all you would be able to find out about him.
If you have been missing the actor after he stopped appearing in "Outlander," get ready to see him in Netflix's third season of "The Crown," where he will play an older version of Prince Philip, replacing Matt Smith.
Thanks everyone for the brill questions, apparently we even trended, yikes! Enjoy the second half of the season. pic.twitter.com/dkRD3Vgm0u

— Tobias Menzies (@TobiasMenzies) March 13, 2015
Graham McTavish - Dougal McKenzie
Graham McTavish is undoubtedly perfect for the rough-looking Highlander, with most people believing that he is Scottish, but in reality, he is from New Zealand.
However, McTavish revealed that he fell in love with Scottish culture. He lives in Central Ortega, New Zealand, with his wife Gwen and their two daughters.
McTavish often posts a bunch of cool pictures on his Instagram account, and there is nothing more attractive than a man that loves his family.
View this post on Instagram
Lotte Verbeek - Geillis Duncan
Lotte Verbeek is another professional that likes to keep her private life out of the spotlight, and she is focusing on her career instead of finding love.
She has posted several romantic things on her Instagram, but there is no partner in sight, so it is hard to say whether she is with someone right now or not. Sometimes, it's better to do things that way.
View this post on Instagram
David Berry - Lord John Grey
David Berry portrays a gay man on the show, but in real life, he has been married to Kristina Tesic since 2012, and they have a son named Alexander, who was born in 2016.
Alexander was born the day after he finished filming his scenes for season three. David started calling his kid "Little Lord Berry," and they are still calling him that nowadays.
View this post on Instagram
Laura Donnelly - Jenny Murray
A year ago, during an interview, the actress talked about not wanting a relationship with someone who could not understand her career or any of her creative pursuits.
She was dating Nathan Connolly, the lead guitarist of Snow Patrol back then, but they broke up, and in 2015, she revealed that there was another man.
View this post on Instagram
Steven Cree – Ian Murray
Unfortunately for all the ladies out there, this actor has been married to Kathleen Crawford, the famous casting director.
Steven even revealed that their wedding ceremony took place two days after filming, and he looked like a World War II soldier.
View this post on Instagram
Sophie Skelton - Brianna Randall
No one is sure who Sophie Skelton is dating now, but rumors state that she might be in a relationship with her on-screen husband, Richard Rankin.
They have never said anything that might reveal the truth, but fans hope that confirmation will come soon because they have been spotted traveling together on several occasions.
View this post on Instagram
Stanley Weber - Comte de St. Germain
Female readers should rejoice because this actor is currently single, or at least, there is no indication that he might be in a relationship. There were rumors about him and Karen Gillam possibly dating in 2013 but eventually broke up.
View this post on Instagram
Nell Hudson - Laoghaire McKenzie
Nell Hudson is an adorable-looking actress who has been in a relationship with Will Taylor, the lead singer of Flight, for a while.
They met in 2011 when his band was playing at the Jericho Tavern in Oxford, and Hudson decided to make the first move despite knowing that Taylor was broke at the time because his band had not acquired fame yet. They are very open about their relationship on social media.
View this post on Instagram
Sam Heughan and Caitriona Balfe – Jamie and Claire
No one can deny that these two actors have a sizzling hot connection on the screen, so many fans have been wondering whether they are together in real life.
In an interview with E!, Caitriona Balfe said, "We're not together. It's funny. We've always said from the get-go that we're incredibly great friends." They also stated that it would be hard to play lovers and date.
View this post on Instagram
Heughan is allegedly dating actress Amy Shields from "Twin Peaks," who attended the premiere of the actor's film "The Spy Who Dumped Me."
However, they were not photographed together though they have been friends for more than ten years. Meanwhile, Balfe has been in a relationship with Tony McGill for a while, though they kept it a secret from everyone. In January, the actress revealed their engagement at the Golden Globe Awards.
Please fill in your e-mail so we can share with you our top stories!