Superheroes Fusion: what would Marvel & DC characters looked mixed up
If you have ever wondered what a fusion between two superheroes or supervillains would look like, then look no further and be amazed by the creativity.
We have found the amazing creations by DeviantArt user RobertMacQuarrie1, who has reimagined several characters from Marvel and DC together. Let's take a look!
1. Robert created a hero who is a fusion between The Thing from Marvel's "Fantastic Four" and Namor from DC Comics. He calls this new character The Invincible Orca. What do you think?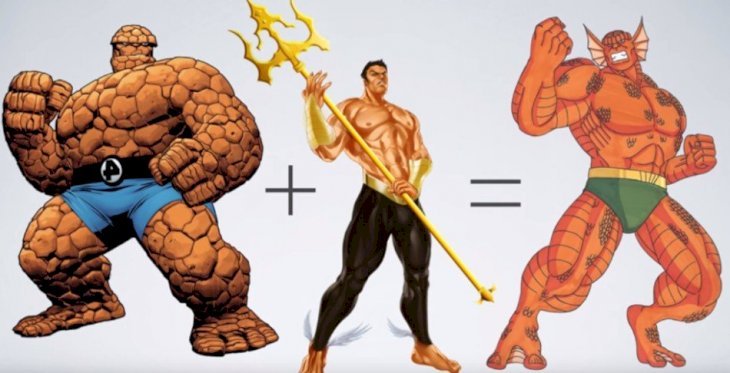 2. Here we have a fusion between Marvel's Apocalypse and DC Comics' Vandal Savage, who first appeared on their pages in Green Lantern #10.
This creation has been named Vandal Sa'Vag Nur. A mutant who can strategize like Vandal Savage would be unstoppable!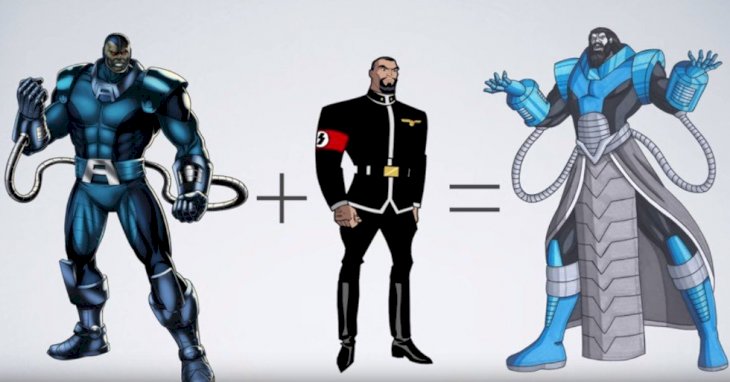 3. Robert's drawing skill is showcased in the next fusion. You probably recognize Marvel's Venom and DC's Bane, who made his first appearance on the pages in Batman: The Vengeance of Bane #1.
The new villain goes by the name Toxin. This fits perfectly because Bane enhances his body with a steroid called "venom."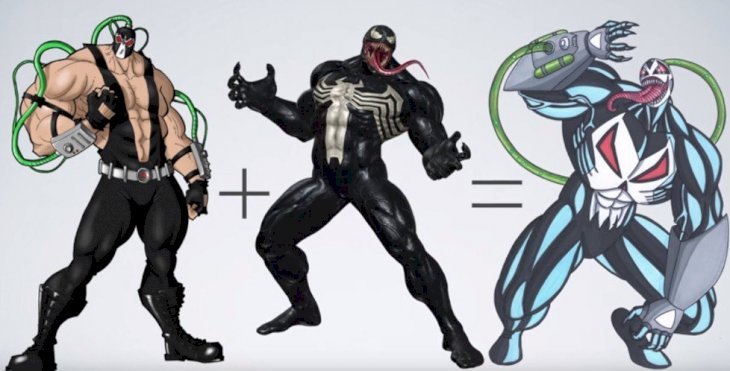 4. A fusion between Marvel's Iron Man and DC Comics' Batman? The result is rather extraordinary looking by superhero standards.
We know that this new character would be super rich, and the DeviantArt user has dubbed him The Dark Knight, which might be a bit confusing, but it works.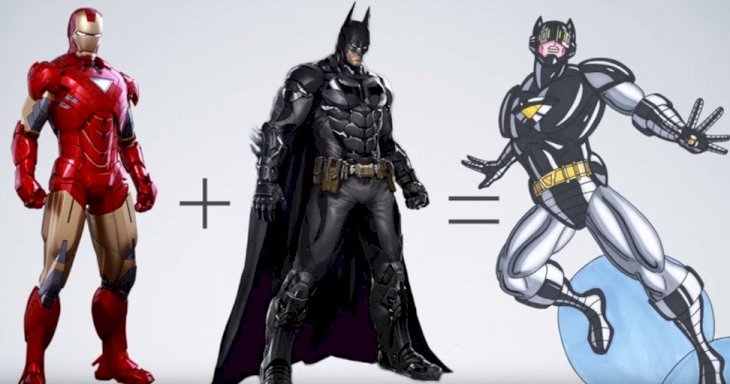 5. A superhero with the power of DC's The Flash and Marvel's Spider-Man? We cannot imagine who would be able to overcome this agile superhero.
The user has named his new creation The Scarlet Speedster. Do you agree with the name? Double the red trouble, on the double!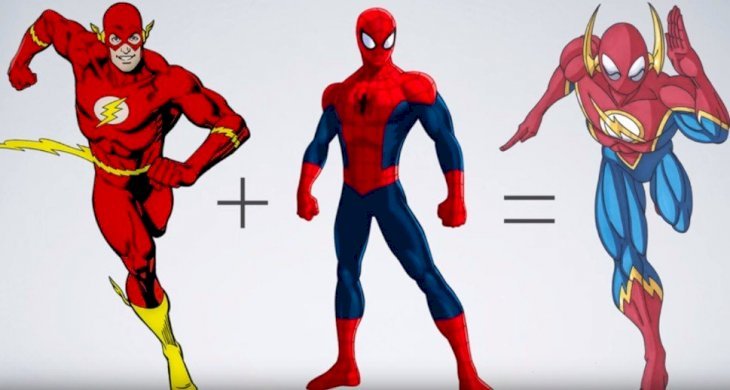 6. Here, we have a fusion between some of the most important characters in both companies—Marvel's Captain America and DC's Superman, otherwise known as the Man of Steel.
Robert's new creation cannot look more American, so his name SuperPatriot works perfectly for this blended superhero.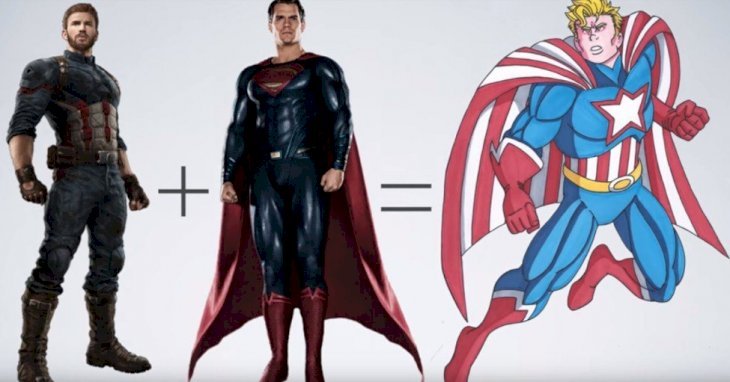 7. A villain with the talents of DC's The Joker and Marvel's Green Goblin? That's just insane and even laughable, which suits his name, The Laughing Man.
We wonder what kind of havoc this creature would cause and if he would fight against Batman or Spider-Man. Maybe he is SuperPatriot's nemesis.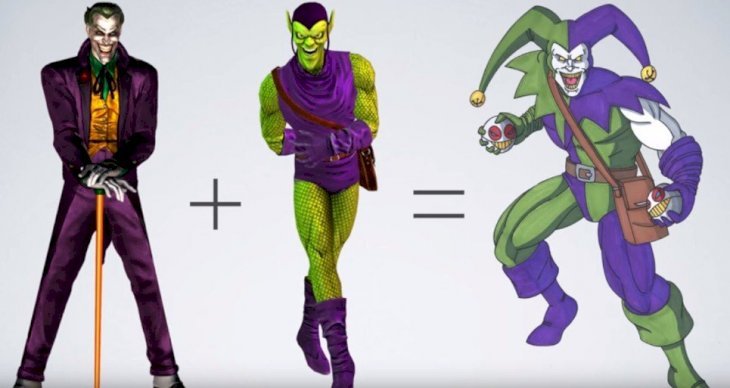 8. This supervillain, which Robert has named Ra's Al Magnus, is the fusion between DC's Ra's Al Ghul and Marvel's Magneto.
Can you imagine what a terrorist with the power to control magnetic fields would do to the world? We can all agree that he would be fearsome!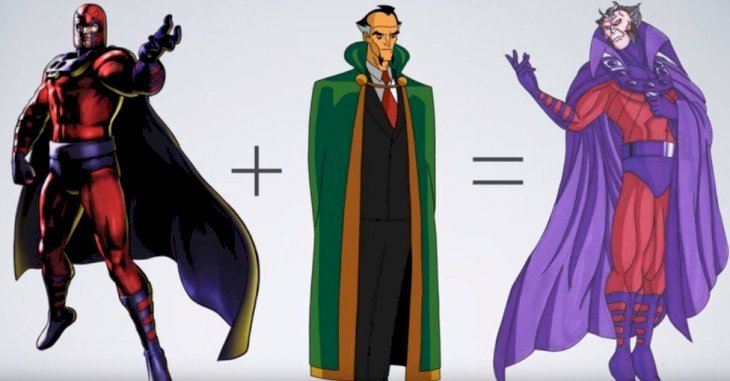 9. A mixture between Marvel's Deadpool and DC Comic's Harley Quinn is the best thing we can think of, and we love that the result, which the DeviantArt user has dubbed Jester, is also female.
This sexy lady would be a deadly, sarcastic superhero not to be crossed. Perhaps her jokes have potent powers as well.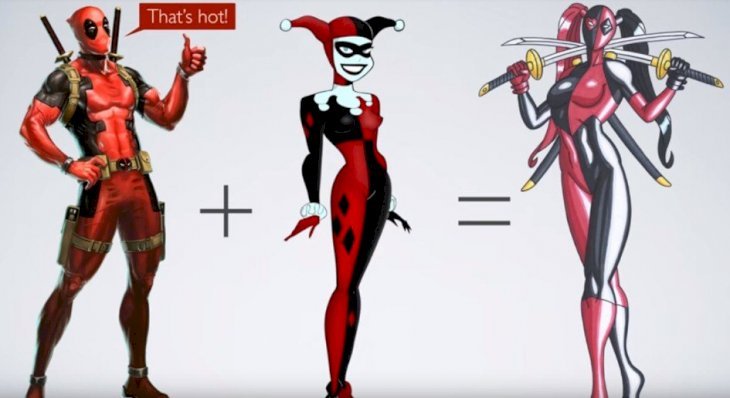 10. A mixture between Marvel's Dr. Strange and DC's John Constantine would be perfect as we know that Stephen is also a bit of an anti-hero, though, in the end, he saves everyone.
This new creation is called Dr. Constantine, and it looks like his moral compass can deviate easily. What would sway his morality one way or another?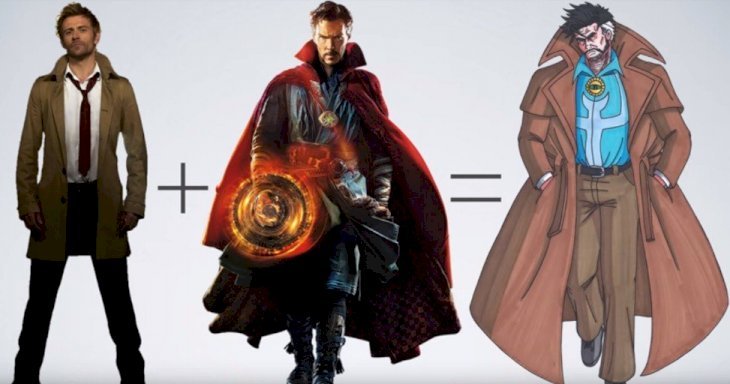 11. This new character named Darkskull is a fusion between Marvel's Red Skull and DC's Darkseid with bulky but interesting consequences.
It's probably safe to say that the new villain is even more obsessed with power than the original bad guys, and he has the body to back up his tyrannical ways.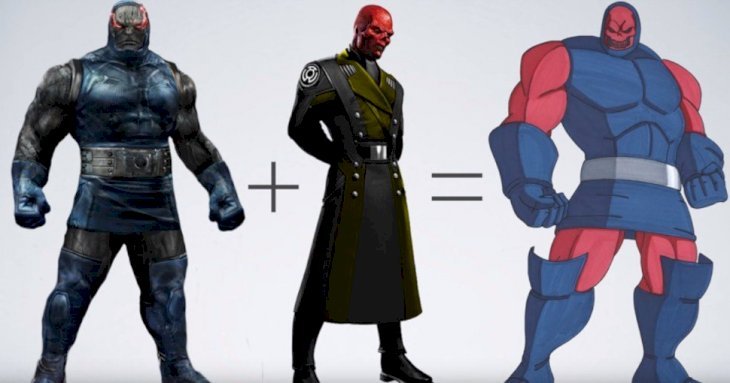 12. A mixture between Marvel's Loki and DC Comics' Circe? That's just insane, but fantastic at the same time. A colorful amalgamation, especially because the result is a girl with purple hair.
Robert named her The Sorceress. A witch with a pinch of trickery and lethal horns. Now that's a character we want to see!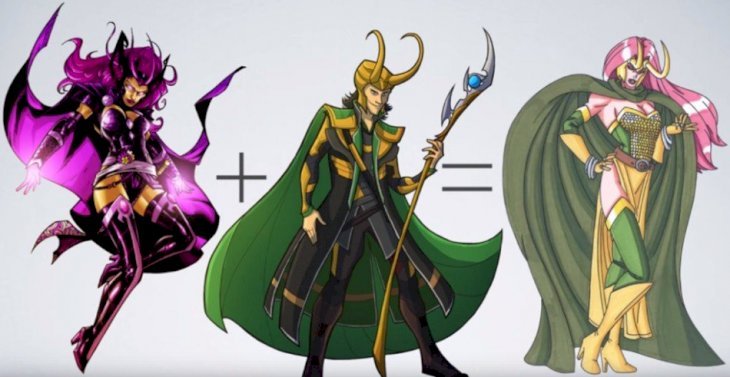 13. This new character, named The Changeling, and she is a mixture between DC's Catwoman and Marvel's Mystique.
This sexy femme fatale is not to be messed with like both the characters she was based on. What do you think her power would be? Trickery? Seduction? Ruining men?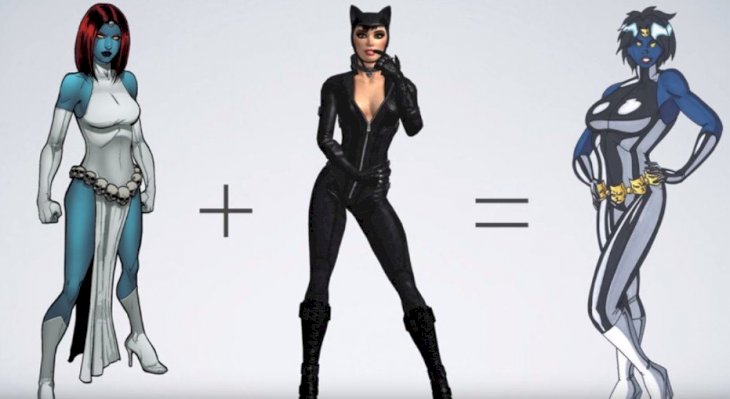 14. This is a fusion between Marvel's Wolverine and DC's Deathstroke the Terminator, who Robert has named Deathclaw the X-Terminator.
It's hard to imagine a character based on a hero and a supervillain, but Wolverine has always been a bit of an anti-hero. However, we wonder if Deathclaw would lean towards the dark side.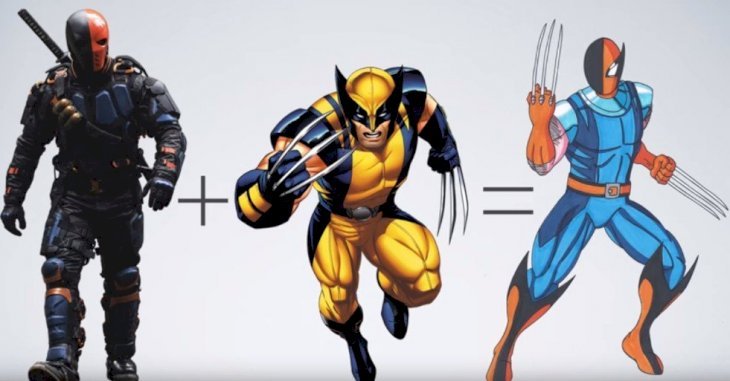 15. This new character is the fusion of Marvel's Thanos and DC's Mongol, and Robert named him Manos, who came out the other end looking like a dangerous block of purple.
He seems like a perfect amalgamation of the originals, and maybe even Thanos' child with a green alien female. We wish we were as talented as the DeviantArt user.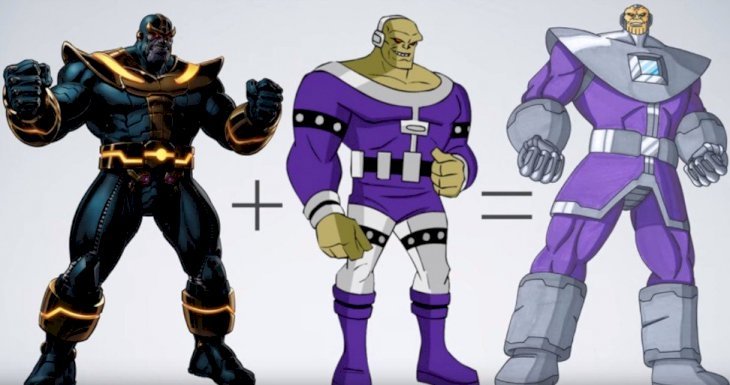 16. This new character named Ultriac is a mixture between Marvel's Ultron and DC's Brainiac to create a rather scary looking character.
Ultriac is just as stand-out as the originals, and a being that is half A.I. would be an interesting addition to the comic world. 
17. Robert also has a series called "Mystique Change of Face," where he places Mystique in mid-turn with characters from DC Comics.
This version is half Black Cat, and it's almost as if she's a 50% split down the middle between the two female DC Comics characters.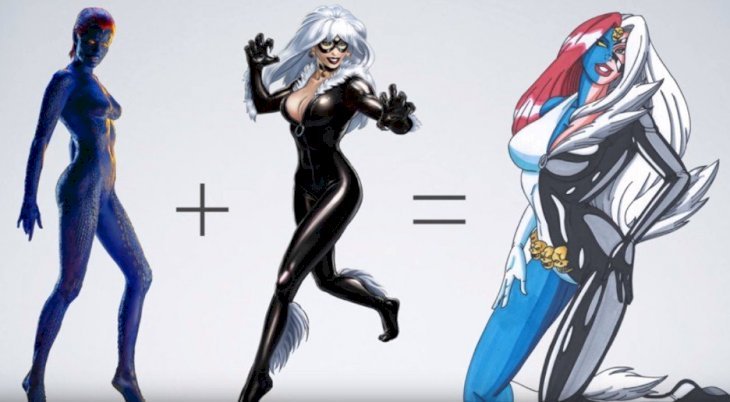 18. This new superhero, which Robert has named The Silver Lantern, is the perfect mixture between DC's Green Lantern and Marvel's Silver Surfer.
Even his name is entirely suitable for the character. No one in the galaxy would be able to get away with nefarious activities when this hero is around.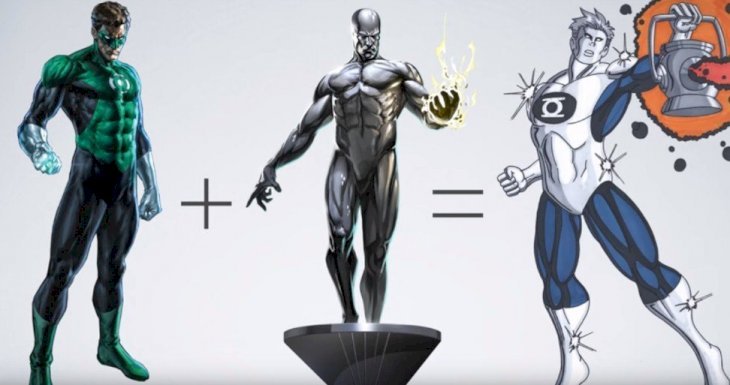 19. This is another hero with an appropriate amalgamation, who has been dubbed The Crimson Arrow after being design based on DC's Green Arrow and Marvel's Daredevil.
The idea of a blind superhero with the perfect aim is absolutely amazing, and we love how Robert covered his eyes.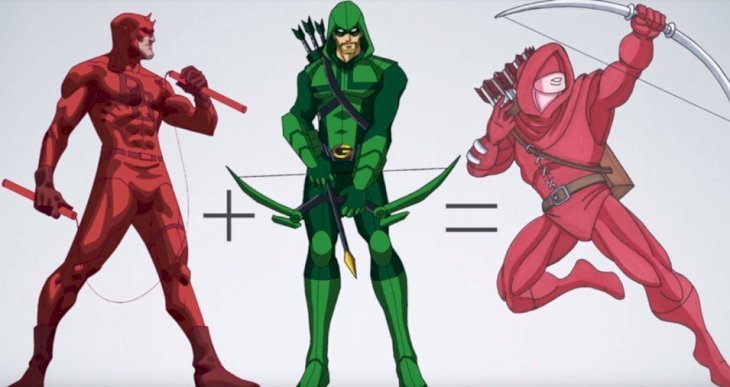 20. A female superhero inspired by Marvel's Spider-Woman and DC's Batgirl makes an interesting purple and yellow fusion.
Now, she would be awesome as well, and we bet she would be a great female counterpart for The Scarlet Speedster. Having the power of a bat and a spider would come really useful while fighting crime.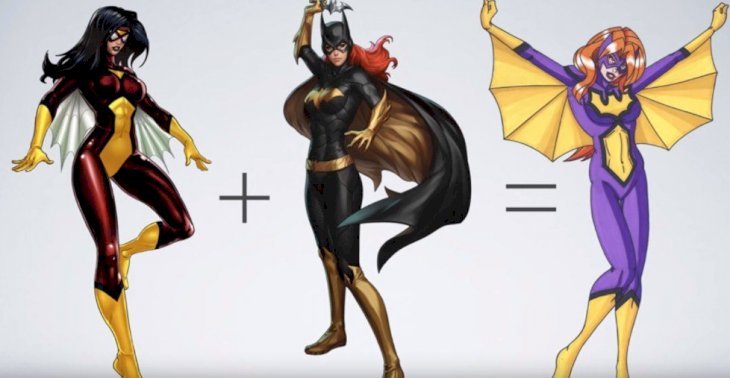 What did you think of this list of character fusions? We love how creative Robert Macquarrie is, so be sure to check out his DeviantArt page, where you will also find the compelling backstories he created for most of these characters.