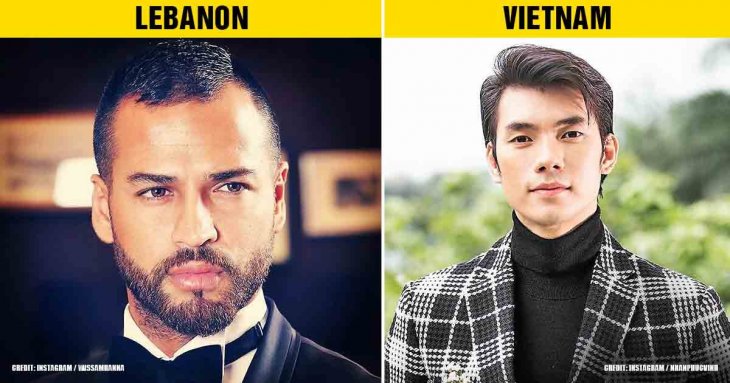 15 Countries Famous By Their Handsome Men
It is common to see beauty contests where the ladies compete to see who is the most beautiful of all but, what about men? Which countries have the most good-looking men? Let's have a look.
On television, on social media, in the fashion world, and in every corner of the globe, hunks can be found. Even though beautifulpeople.com reportedly dismisses that likelihood in Ireland.
Even so, we rounded up fifteen countries, in no particular order, where handsome men are best known to be found. From Sweden to China, check out the yummy list.
15. THE PHILIPINES
As one of the most popular tourist destinations in Southeast Asia, The Philippines offer more than an idyllic beach vacation with plenty to do and amazing sunsets.
Filipino men with their tanned skin tones and unique features offer ample eye candy while enjoying the forest or beach attractions the islands have to offer.
View this post on Instagram
14. FRANCE
This country is famous for having the most romantic men in the world. But the key for a perfect man is no only being handsome (which they are) but also being kind, passionate, and gentlemanly like French!
13. SWEDEN
They have won the Manhunt Contest several times, and it is nothing to surprise us because the men from that country are totally beautiful. Much of them have blue eyes, and that's a not very common trait.
With its commitment to public service in its various forms and sustainability, Sweden is also ranked among the top 10 countries providing the highest quality of life.
View this post on Instagram
Committed to sustainability, human rights, and public service; equal wealth distribution; free healthcare and college education
12. TURKEY
Their Arabic traits are alluring to women all around the globe. These men have a deep look and enchanting eyes that make them stand out from the rest of the men.
11. THE CZECH REPUBLIC
The men from this country tend to be very photogenic with unique features. Also, the Czech Republic has won in different Mister Global contests.
View this post on Instagram
10. LEBANON
Another Arabic country packed with gorgeous hunks. Maybe it is the contrast between their dark eyebrows and light eye color combined with charm makes them irresistible.
9. CHINA
Men from this Asian country have more refined features than the average men, often giving them a striking appearance with a unique and elegant look.
View this post on Instagram
8. MYANMAR
The men Maynmar are just as exotic as their beautiful country, and they have a beautiful skin color. Their thick eyebrows are definitely a plus that not many men have.
7. SOUTH AFRICA
South African men are blessed with great physiques among the diverse mix of races. Some of them have very dark and captivating skin, and others are blonde or bronzed.
View this post on Instagram
6. SPAIN
Who doesn't love Spanish men? They are mostly black-haired and are too handsome for the rest of the mortals. Also, have you heard their accent? It is so sexy!
5. VIETNAM
Vietnamese men look tender and manly at the same time, an alluring combination that women all around the world find attractive. Could they be more perfect?
View this post on Instagram
4. INDIA
Indian men are very exotic. Their most popular characteristics are their beards and thick eyebrows. They definitely look like princes from an adventure movie.
3. AUSTRALIA
Sunny Australia is known for its tanned hunks. The Hemsworth brothers and Hugh Jackson all hail from the hot continent. And Australian men reportedly also live longer than those from other countries.
The country also snagged titles in contests including Mister International, Mister Global, and Manhunt International, impressive for the land down under.
View this post on Instagram
2. VENEZUELA
Everyone knows that Latin men are the sexiest of all. This country is famous for having the "most beautiful women" of all, but their men are handsome too!
1. BRAZIL
Does even exist something sexier than a Brazilian boy? If Latin men already are handsome, Brazilian men are double!
Now that you have seen all, can you decide which one is the country with the more handsome men? Of course, every man is unique and special in his own way, and we are sure that are many countries with handsome men!
Please fill in your e-mail so we can share with you our top stories!