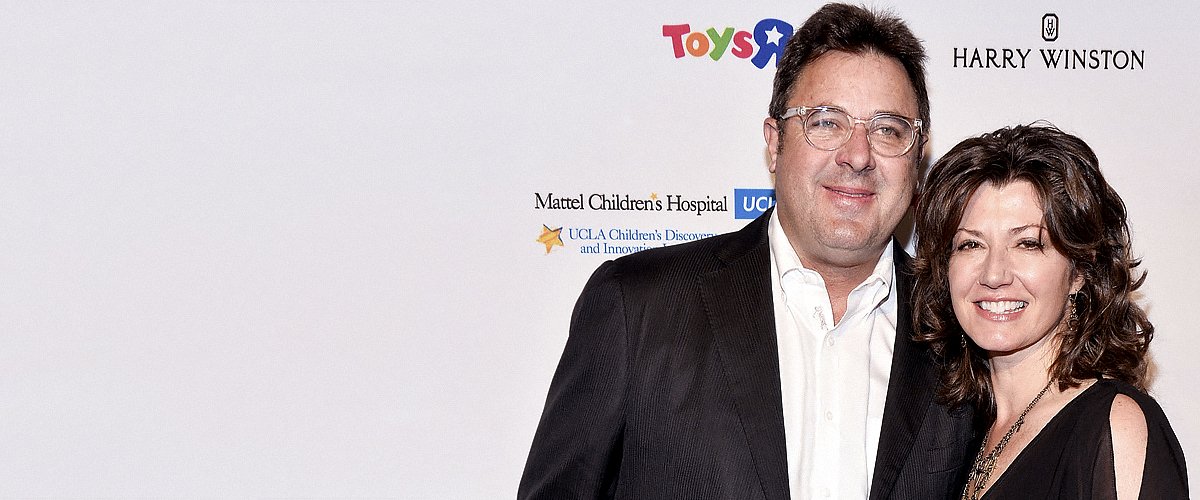 GettyImages
Inside Vince Gill and Amy Grant's Love Story and Blended Family — It Will Inspire You
Singers Amy Grant and Vince Gill have been married for over two decades and share a beautiful blended family of five children. Take a look at their inspiring and heartwarming story.
Nothing warms the heart more than the occasional beautiful love story. Singer-songwriters Vince Gill and Amy Grant have a love story like no other that is worth hearing a thousand times over and worth telling a thousand more.
Both musicians were previously married before they found each other, and today, they proudly share what many would term a perfectly blended family. Take a look at Gill and Grant's inspirational fairytale love and the family borne of it.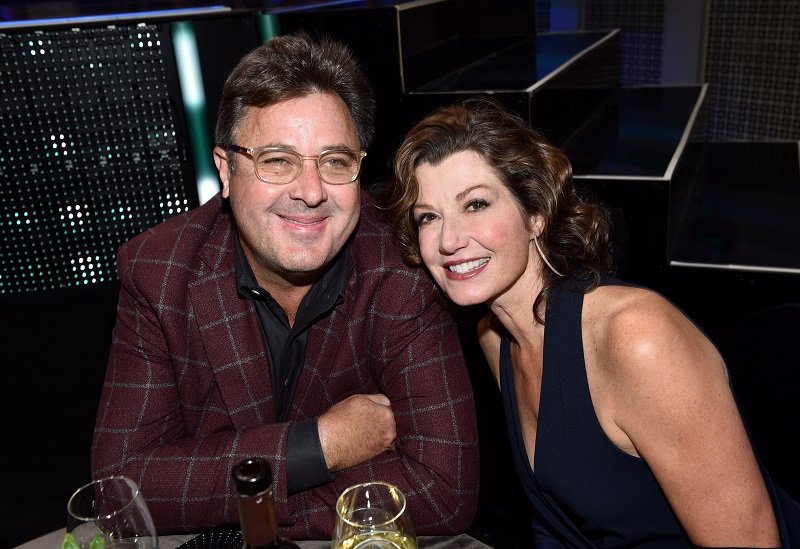 Vince Gill and Amy Grant on October 18, 2017 in Nashville, Tennessee | Photo: Getty Images
THEIR PAST MARRIAGES
Gill and Grant's relationship started with the end of two marriages. In 1980, country music singer Janis Oliver became Vince Gill's wife. Two years after they tied the knot, the now-former husband and wife welcomed their daughter, Jenny.
This was the same year that Grant got married to fellow Christian musician Gary Chapman. In their 17 years of marriage, they had three children.
However, they finally filed for divorce in March 1999, citing irreconcilable differences. Gill had already parted ways with his wife, Oliver, in 1997.
THE BEGINNING OF A FAIRYTALE
Grant and Gill first met in 1993 when he asked the Christian singer to perform in his first televised Christmas special dedicated to his brother.
According to Gill, the secret to their happy marriage lies in forgiveness, respect, and patience.
They soon became good friends and formed a relationship that would eventually transform into more. In 2000, a year after Grant's separation from Chapman, the two singers tied the knot.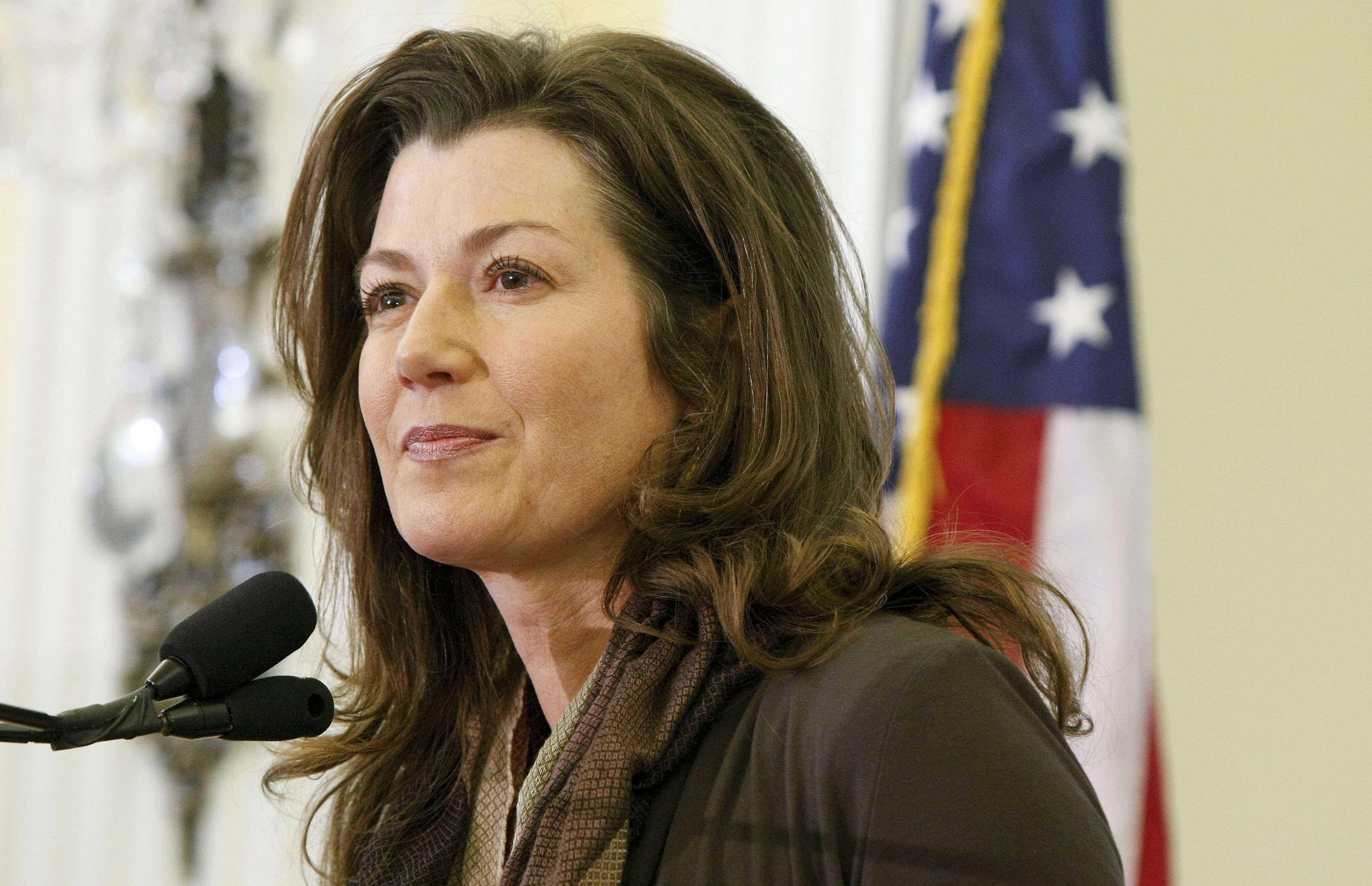 Amy Grant attends the 2010 Holiday Mail for Heroes program launch on November 11, 2010, in Washington, DC. | Source: Getty Images.
Thus their beautiful relationship began. In an interview, Grant reminisced about their first meeting and how she knew he was special. The singer said:
"I knew from the tips of my toes that he was unlike anybody I had ever met and that I related to him on such a cellular level."
Despite the connection that they felt, both Grant and Gill emphasized that they never cheated on their partners. They were married to other people and remained loyal until they could finally be together.
Grant first discovered that Gill was getting divorced in a newspaper. At the time, her marriage with Chapman was already fractured, and it became even more so when he realized how infatuated she was with Gill. Soon after, their own divorce came.
THEIR BEAUTIFUL BLENDED FAMILY
After Grant and Gill's beautiful hillside wedding, they set about blending their families — Gill's daughter, Jenny, 17 at the time, and Grant's children, Matt, Millie, and Sarah. They settled down in Nashville and started building a life together.
Two days after the singers celebrated their first anniversary, they welcomed their first and only child together. Amy Grant and Vince Gill's daughter, Corrina, was born on March 12, 2001, as the second of Vince Gill's children and the fourth of Grant's.
A HAPPY EVER AFTER
Today, after years of waiting for the right time to finally be together, Gant and Gill now have their beautiful family of stepkids and their precious daughter, Corrina Grant Gill.
Although the siblings might not be related by blood, they love each other as though they were. In a People exclusive, Grant opened up about the dynamics of their blended family and said:
"The one thing you have to require in a family is that everyone is respectful. But you can't require closeness. That comes in its own time."
In an interview with Closer Weekly, Grant proudly revealed to the interviewer that Corrina is following both her parents' footsteps in music. She shared:
"Our youngest, Corrina, is studying music performance in college. She's a great singer. We're a blended family of five."
As her mother said, Corrina's passion for music is indeed promising. The now-20-year-old has shared her beautiful voice with many people online.
One of the times she did was back in 2016 when she posted a video of herself singing a cover of One Republic's hit song "Apologize." the video has since garnered tens of thousands of views and several likes.
Corrina's parents have been married for over two decades. According to Gill, the secret to their happy marriage lies in forgiveness, respect, and patience.
Per Grant, their marriage's success lies in being present and cherishing the lives that they have together. This beautiful story of love and patience is rather unique and one for the books.
Please fill in your e-mail so we can share with you our top stories!