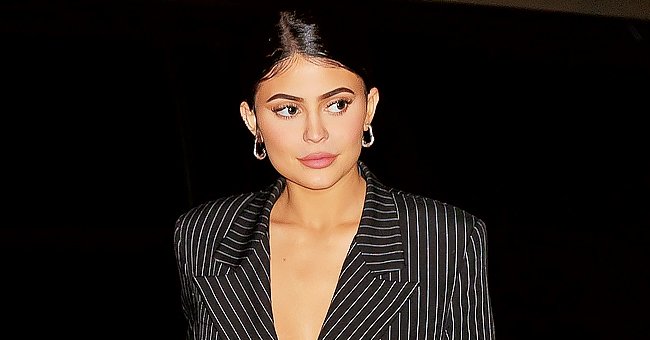 Getty Images
Kylie Jenner Leaves Little to the Imagination in Awesome Pic Flaunting Curves in a Blue Unitard
Always the fashion and beauty mogul, Kylie Jenner took to Instagram recently, sharing a snap of herself in yet another gorgeous outfit and showing off her gorgeous hourglass shape.
Taking to Instagram, "Keeping Up With The Kardashians" star Kylie Jenner posted a fashion-forward pic of herself. In the snapshot, the reality TV star leaves little to the imagination, showing off her curves in a blue unitard.
Looking downwards in a sultry manner, Jenner opened her black jacket to show off a revealing blue dress. This does not come as a surprise, as it appears that the mogul is unafraid to flaunt her gorgeous body.
Kylie Jenner at the 2nd Annual Diamond Ball on December 10, 2015 in Santa Monica. | Photo: Getty Images
MISS JENNER
Jenner's dress has cleverly cut holes running straight down the top of it, showing off her cleavage and part of her chest which she unabashedly sticks out. Taking to the caption, the gorgeous reality television star wrote:
"Miss jenner."
The comment section went absolutely wild for the photo, remarking on how gorgeous the young businesswoman looked with one follower stating that Jenner is a Queen. The post has received nearly 9 million likes in total.
THEM LIPS
The light blue dress not only showed off her bust but was figure-fitting, flaunting off her hourglass shape from top to bottom. Parts of the dress were also slightly see-through, giving viewers even more of a look at Jenner's figure.
She also pointed out the importance of self-care on a physical as well as external level.
The jacket oozed biker glam as it matched her sleek, high top and purposefully messy bun, with wavy strands cleverly falling into her face. As always, the beauty queen's make-up was on point with red lipstick highlighting those famed lips.
THE MAIN CHARACTER
This wasn't the only model-like snapshot Jenner took of herself in the eye-catching attire. She posted a line of pictures in a previous share, modeling the outfit in different poses while captioning the post with these confident words:
"The main character."
In the first photo, Jenner can be seen posing sexily on the couch while giving the camera a "come-hither" look. On the other hand, the second photo of the bunch chopped part of her face off, only showing off her fab figure.
LIVING CLASSY
Jenner is, in no way at all, a stranger to posting fashion-forward snapshots online. Near the end of last year, she took to Instagram again, showing off her brown crocodile Birkin bag and matching nails.
The adorned diamond bag went for a whopping amount of $300,000 in total. If that's not enough, her nails were just as high class, having been painted by the highly talented nail artist Chaun Legend.
Jenner is known around the world for her body, fashion sense, as well as beauty. Recently, she spoke about skincare and beauty, admitting that despite appearances, she does not, in fact, have perfect skin all the time.
Continuing to open up about her opinion on these topics, the celebrity expressed that it is important to feel good in one's own skin. She also pointed out the importance of self-care on a physical as well as external level.
Please fill in your e-mail so we can share with you our top stories!