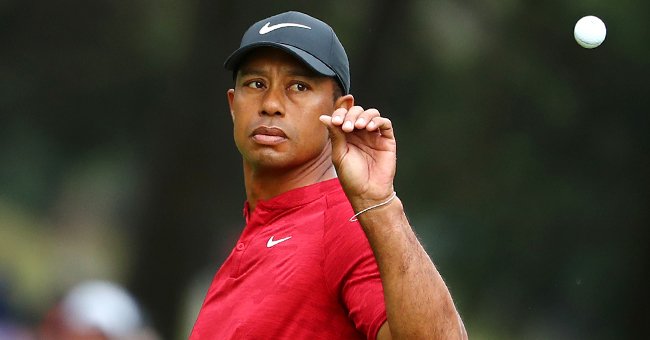 Getty Images
Tiger Woods Releases Personal Health Update Reveals He's Back at Home & Focused on His Recovery
Tiger Woods is back at home, working on getting stronger, as he shared a health update via a statement on his Twitter account.
Golfer Tiger Woods released a health update to Twitter on March 17. It stated that Woods is now recovering from home and is focused on getting stronger.
The pro golfer is recovering after being involved in a one-vehicle accident. He sustained severe injuries to his right leg, including breaks in his foot, ankle, and tibia bone in his leg.
Tiger Woods pictured at the trophy presentation ceremony after winning the TOUR Championship at East Lake Golf Club, 2018, Atlanta, Georgia. | Photo: Getty Images
The accident occurred on Hawthorne Boulevard. Luckily Woods was the only person in the car. The crash was so bad that he had to be extracted from the wreckage.
The deputy of the LA County Sheriff's department, Carlos Gonzalez, was the first person on the scene on the day of the crash, had reported that he was lucky to be alive. Gonzales said:
"I will say that it's very fortunate that Mr. Woods was able to come out of this alive."
Woods was transported via ambulance to Harbor-UCLA Medical Center, where he underwent extensive surgery to fix the comminuted fracture in his leg.
Dr. Anish Mahajan, the interim medical chief at Harbor, said Woods is facing a long recovery time and is unsure when or if he can return to his beloved sport. However, the athlete is now at home.
His accident comes a few months after he had undergone surgery for his back in December 2020.
He released a statement this week in which he shared that he was happy to be at home. He expressed his gratitude for the support and encouragement he had received from fans.
He made sure to mention and thank the staff who had taken care of him during his recovery at Harbor-UCLA and Cedars-Sinai medical center. Woods ended the statement with:
"I will be recovering at home and working on getting stronger every day."
During his time in the hospital, he took a moment to admit that he was touched that his golf colleagues, Rory McIlroy, Cameron Champ, Phil Mickelson, and others, had worn red shirts at the first WGC event of 2021.
The golfers and fans all wore red shirts and black pants to honor Woods after his accident, as it is an outfit he regularly wears on the golf course.
His accident comes a few months after he had undergone surgery for his back in December 2020. He had been hoping to return to his activities as he was hosting the Genesis Invitational that weekend.
It was the second day of the event when he was involved in the crash. Woods had a rod inserted to fix the fractures in his tibia and pins in his feet and ankle to correct the breakages.
Please fill in your e-mail so we can share with you our top stories!