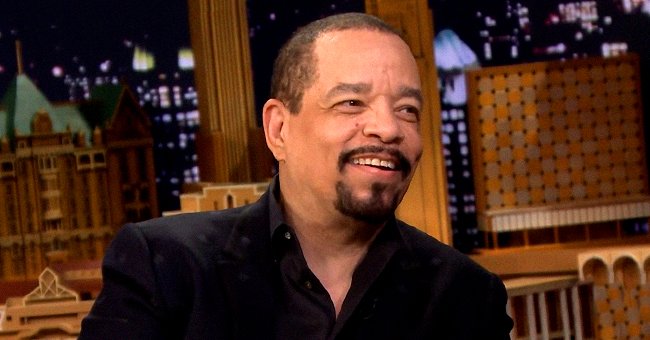 Youtube/The Tonight Show Starring Jimmy Fallon
Ice-T's Daughter Chanel Shows Cute Smile in Snaps on St Patrick's Day Posing in a White T-Shirt
Although her mother Coco doesn't want little Chanel to become a model when she grows up, Ice-T's little daughter, who took gorgeous snaps on Instagram recently, may just end up defying her mother's wishes.
Rapper Ice-T's wife and model Nicole "Coco" Austin recently took to her official Instagram account to share the cutest pic of their daughter. Chanel Nicole showed off her adorable smile while posing in a white T-shirt on St Patrick's Day.
In all of the post's photos, the little one seemed to be thoroughly enjoying herself, almost as if she was having a party just for one. Her bright smile shone through the camera, lighting up the entire room.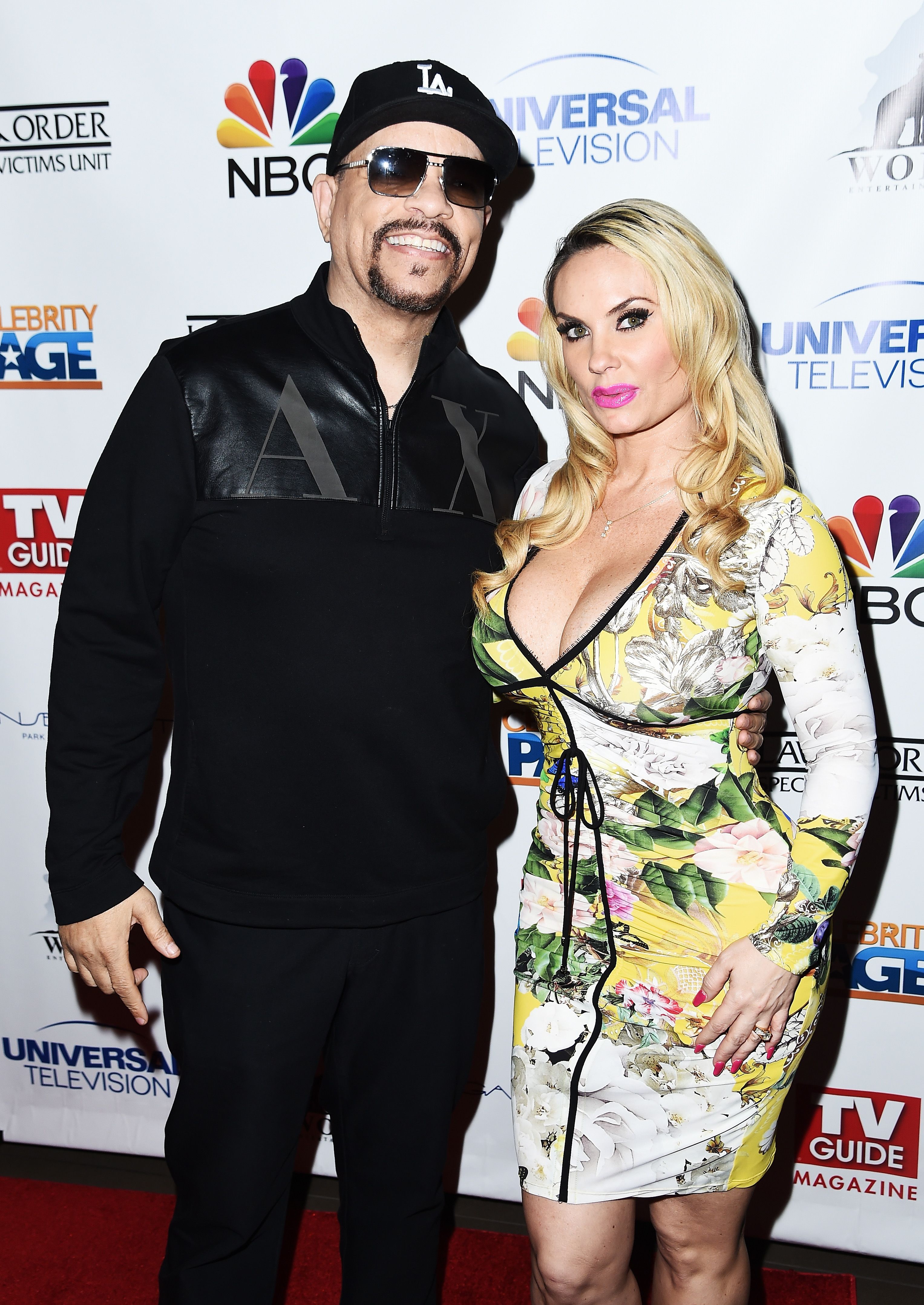 Model Coco Austin and Ice-T at "TV Guide Celebrates Mariska Hargitay" on January 11, 2017 in N.Y. | Photo: Getty Images
A MODELING CAREER?
In one of the pictures, Chanel stood in front of the fireplace, cocking her head to one side and sporting a smirk, getting ready to show off all her teeth. The child's cute poses could mean a modeling career in the future but Austin has expressed:
"I'm going to try and push her away from the modeling. It's going to be hard."
In the following pics, the little girl begins smiling widely, looking deep into the camera with her beautiful light brown eyes that match her messy yet adorable curly hair. The blue bow in her hair kept part of it pulled back, showing off her cute face.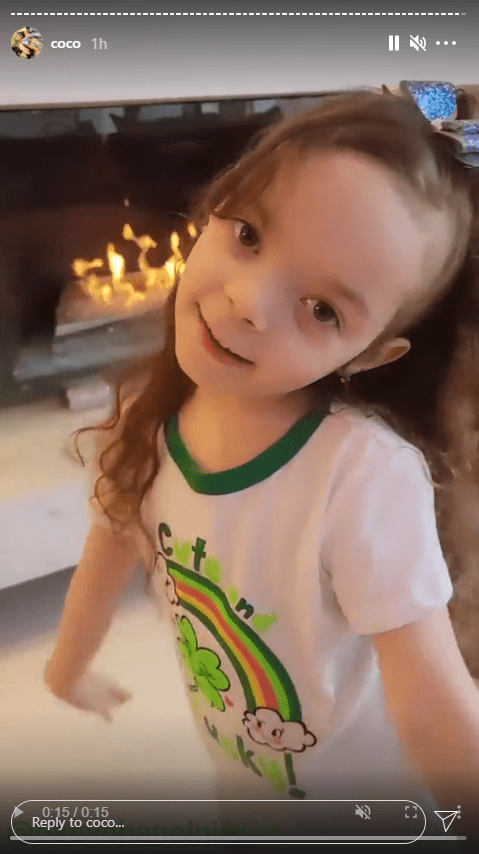 Chanel posing for her mother Coco Austin's Instagram. | Source: Instagram/coco
THE LUCK OF THE IRISH
Chanel was also wearing a white T-shirt with many green pictures in the middle, presumably there to celebrate St Patrick's Day. The shirt had a four-leaf clover, a rainbow, and words that stated that the little girl is adorable and fortunate.
The pair waited a long time before they eventually decided to have a child.
Her pants were full of four-leaf clovers as well, with blue and pink shades, almost done in a tie-dye manner. Dancing by herself and covered in green, it seems like this five-year-old knows how to channel "the luck of the Irish."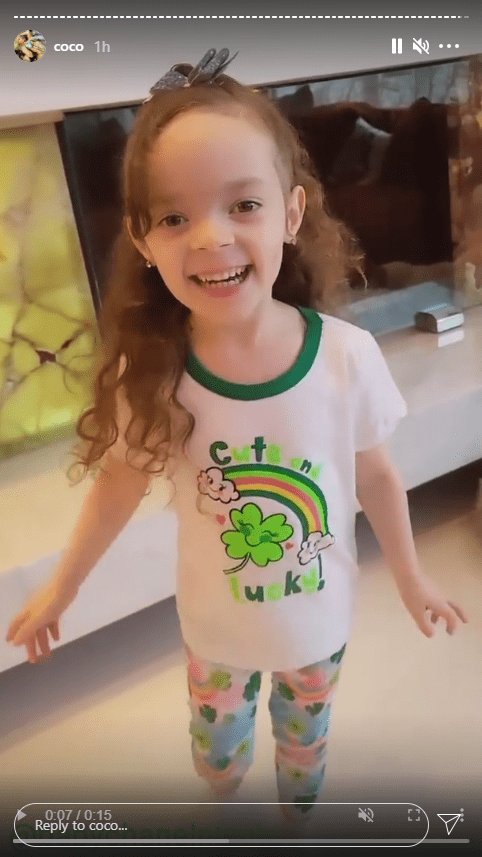 Chanel posing for her mother Coco Austin's Instagram. | Source: Instagram/coco
FAMOUS SINCE BIRTH
This toddler has had a large Instagram following from birth. Ice-T's co-star on "Law & Order" Mariska Hargitay shared an Instagram picture with the four-month-old Chanel a few years ago, where she captioned the snapshot:
"Ohhh now this is a pretty lady..I like her.. my parents say her name is @therealmariskahargitay? ..nice."
At the time, the tiny Chanel had already amassed quite a number of followers on her own Instagram account. To be more specific, the then-newborn had around 246,000 followers in total.
BIG GIRL!
Last year in November, the father and rapper took to Instagram to show off Chanel's fifth birthday celebrations. Her parents made sure that the little girl's special day was perfect, filling it up with pink from balloons to tutus to crowns.
In the caption, Ice-T expressed the happiness he felt surrounding his young one's fifth year on earth. However, as many parents do, he also wrote about how quickly time passes when bringing up children.
Although they are intensively committed parents right now, the pair waited a long time before they eventually decided to have a child. According to Ice-T, it was Austin who made this call, wanting to live her life a bit more before settling down.
The rapper added that he had complete respect for her decision. However, once she gave birth to little Chanel, the model was enamored, expressing that she now felt as though motherhood was always her true purpose.
Please fill in your e-mail so we can share with you our top stories!