Venus Williams Displays Her Enviable Legs as She Dons a Black Dolce & Gabbana Dress (Video)
As a fashion design graduate, Venus Williams knows almost too much about style, made clear in a recent Instagram photo of her showing off her gorgeous legs in a short clip. 
Taking to her Instagram account, championship tennis player Venus Williams chose to flaunt her enviable legs in a new video. In the shot, the star sports lady rocked a beautiful black Dolce & Gabbana dress. 
"These Walls" by Kendrick Lamar was playing in the background as her photos in the D&G dress flipped through one by one. She rocked it stylish-vintage, holding and assumably playing the related vinyl record of Lamar's "To Pimp a Butterfly."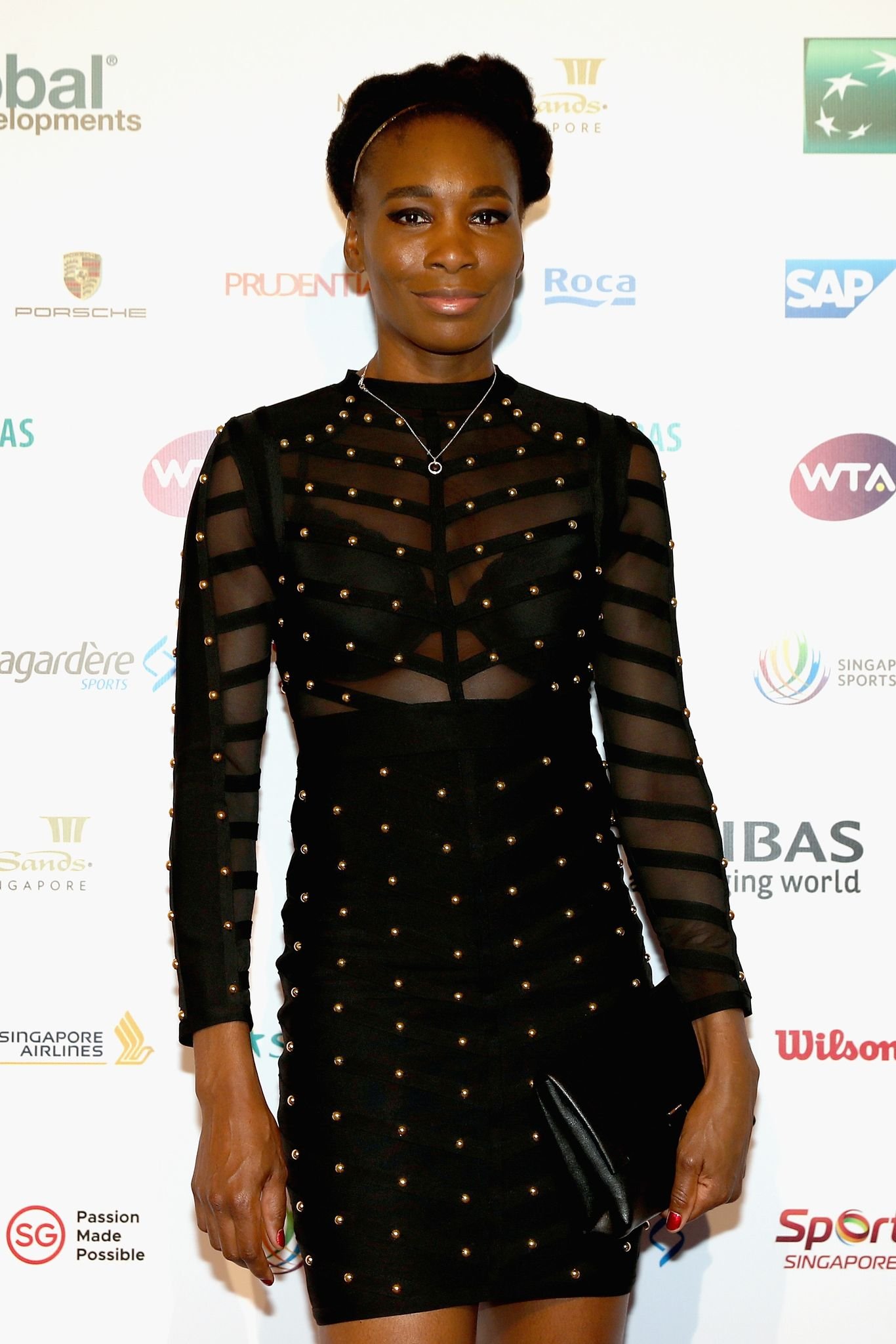 TALENTED BEYOND TENNIS
It is easy to see why Williams has her own interior design business, as the colors of the room and the art within it were inspired. However, she has complemented her sister Serena William's architectural talents, saying: 
"She has a knack for it and creating spaces and connections. It's pretty cool."
This tennis star also has an educational background in fashion design made crystal clear by her style choices in the photos.       The tight black D&G dress was perfect for her shape and matched with her beautifully accessorized black heels. 
FIERCE FASHIONISTA
In each snapshot, this famed celebrity looked like she just walked off the tennis court, having won a savage match, fierce confidence in her eyes. This self-assuredness is emphasized by the straight and sleek black fringe cut. 
This tennis player turned activist has a history of fighting for equal pay for women players.
Her toned tennis legs glowed in the light, with the light brown colors in the background emphasizing her gorgeous skin tone. The photo's whole aesthetic was a feast, with perfect lines and the brown, white, and black shades combining perfectly. 
STRUT THEM LEGS
Williams doesn't only carve out those gorgeous legs from running around a tennis court. She also makes a priority to work out at home, sharing personal workout videos on Instagram Live during the quarantine, wherein one post she wrote: 
"Working out Abs, glutes and arms with one of my best friends on tour and in life :)"
Of course, she does nothing small, working out in branded activewear such as Nike and K-Swiss clothes. Previous guests on the show included Caroline Wozniacki, Olivia Culpo, and of course, her famed sister, Serena Williams.
SISTERS IN ARMS
When it comes to her sister, Williams has always been incredibly supportive on and off the court. This year, she took to Instagram, fashionista to fashionista, complimenting her sister's outfit that she wore on the court. 
It was the Australian Open, and Williams reshared a photo on Instagram of her sibling sporting gorgeous Nike tennis wear. She included many fire emojis on the post and wrote about how proud she is of her baby sister. 
Not only does Williams support her blood-related sister but extends that towards all "sisters," especially those she shares the court with. This tennis player turned activist has a history of fighting for equal pay for women players. 
After winning Wimbledon for the fourth time in 2007, this gifted lady was the first woman to receive equal pay for the first prize. Williams admitted that she never thought this was a battle she would take on, just wanting to focus on her game.