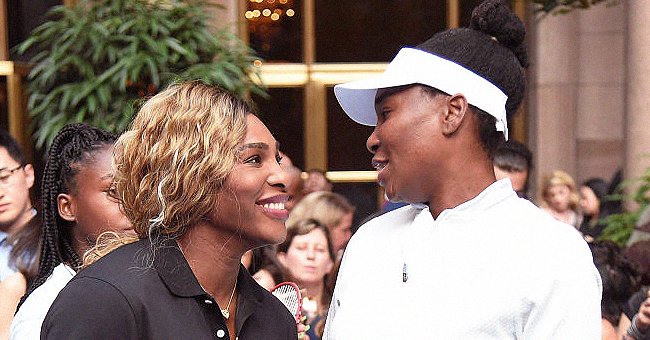 Getty Images
Venus Williams Reacts to Sister Serena's Iconic Outfit at the Australian Open
Tennis star Venus Williams reacts to her younger sister Serena Williams' fantastic outfit at the Australian Open with a picture reshared onto her Instagram story on Tuesday.
Venus Williams was impressed by her sister Serena Williams' iconic look at the Australian Open recently and took to Instagram to show her baby sister some love and support.
Serena looked athletic and robust in the pink, red, and black Nike sportswear. The outfit exposed her muscled leg and defined her biceps under its material.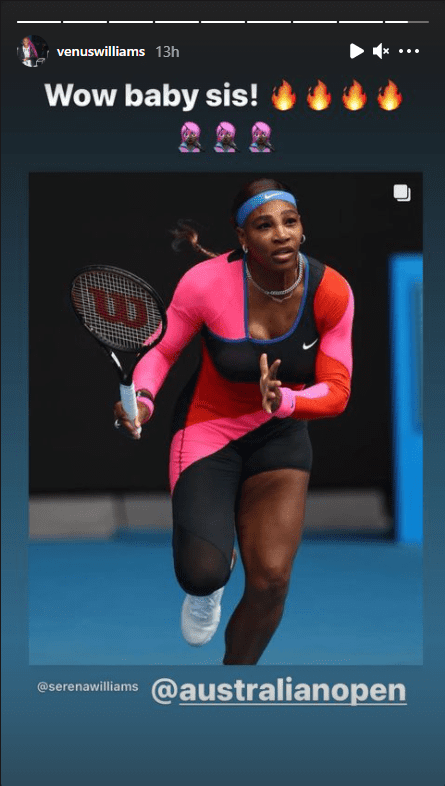 Screenshot of Venus Williams' Insta story showing her sister Serena Williams | Source: Instagram/venuswilliams
Serena was in the middle of serving the ball, with her racket in one hand. She looked powerful and entirely in control. She also had on a blue Nike headband and several chains around her neck.
Venus was proud of her sister's achievement and praised her on Instagram by reposting the picture to her story. She tagged Australia Open's official account and added text over the photo saying:
"Wow baby sis!"
Both Serena and her sister Venus were victors in the Australian Open's first round earlier this week. Serena won against Laura Siegemund 6-1 6-1, and Venus defeated Kirsten Flipkens 7-5 6-2.
Although Serena is recovering from a shoulder injury, she was not hindered and remained in top form. She has only ever lost one first round of the 77 that she has participated in.
Richard Williams pushed them to become the tennis superstars they are known as today.
Venus and Serena are well known for their success on the courts and their close relationship. Between them, they have accrued 30 Grand Slam singles titles and nine Olympic medals.
But some of the best matches they have played have been against each other. Last year in August, they played for the 31st time at the WTA stop in Lexington, Kentucky in which Serena won 3-6, 6-3, 6-4. Venus recently said:
"I think that no matter what happens to you in life, you always hold your head up high, you give a hundred million percent."
Serena and Venus's father Richard Williams pushed them to become the tennis superstars they are known as today. Venus, who is one year older than her sister Serena was given her first tennis lesson at four-years-old.
Their father, who was motivated by tennis competitions' prize money, was determined to make them successful. He put them through grueling training with long hours of practice and severe discipline and criticism.
In the 1980s, Venus and Serena's tennis was impacted by the tough neighborhood of Compton. Richard would sometimes have to fight with gang members physically for time on the court.
But all the hard work paid off, and over 30 years later, Richard's wish has come to fruition. His daughters are tennis legends. Outside of that, they are just regular siblings who even occasionally work out together.
Please fill in your e-mail so we can share with you our top stories!