Son of Atlanta Shooting Victim Recalls Happy Last Moments He Spent with His Mom Hyun Jung Grant
23-year-old Randy Park recalled the last moments spent with his late mom, Hyun Jung Grant, who was one of the victims of the Atlanta shooting.
Last week, eight people's lives were cut short after a shooter went from spa to spa in the Atlanta area, shooting sporadically. Last Friday, the Fulton County Medical Examiner's Office identified four of the deceased. 
One of those identified was Hyun Jung Grant, a 51-year-old mother of two who worked at Gold Spa. Her older son, Randy Park, 23, has opened up on her death.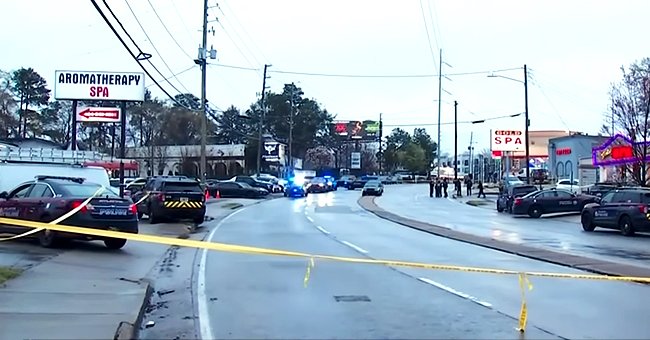 He said his late mom spent her life working and did all she could to support him and his younger brother, Eric Park. Due to the long hours she committed at work, she never had time to travel and was scarcely at home with them. 
In a chat with NBC News, he narrated how his mom moved him and his brother to the south for a better life. However, the new place meant she had to work more and spend less time with her kids. He said: 
"Obviously, she didn't have much money when she came. For at least a year, she had to leave us with another family. We never saw her... "
He and Eric saw their mom every now and then, but such times were super spaced out. Grant usually slept through the night at her spa job to avoid driving the long journey to Duluth every evening.
Sometimes, their mom would relax by enjoying disco music, which she loved. On such rare occasions when she got to relax, she would dance the night away or watch Korean drama and horror movies.
Randy wondered how Long could blame it on sex addiction yet chose to target specifically Asian locations.
Randy described his late mom as a big kid, saying she behaved like a teenager. The grieving son recalled their last moment together, which came about ten days ago.
Grant had found an electronic music song called "The Business" by Tiesto. He knew about the song beforehand. Together, mother and son danced to the song, laughing and smiling as they did.
They did not know it would be their last time doing so. When asked what he would say to his mom this day, Randy replied: "You did a good job. You've done enough and finally, get some sleep and rest."
Authorities have arrested a suspect in the shootings, Robert Aaron Long, 21, who told investigators he did not target Asians but attacked the spa because they provided an outlet for his sex addiction. 
However, Randy questioned the suspect's explanation for the shooting. Speaking to ABC, he stressed that two of the locations were next to each other down the street while another was in another county. 
Randy wondered how Long could blame it on sex addiction yet chose to target specifically Asian locations, with most of the shooting's victims being of Asian descent. 
Atlanta shooting update:

We have just verified this fund for the family of Hyun Jung Grant—a single mom who leaves behind 2 sons.

The GoFundMe, written by the oldest son, speaks for itself. No child should have to write these words after losing a parent: https://t.co/4C1sVN6Glq

— GoFundMe (@gofundme) March 19, 2021
The 23-year-old hoped his younger brother could learn to live with their mom's death as it is just the two of them who are left in the US, while the rest of their family are in Korea. 
He started a GoFundMe page to raise $20,000 for his mom's funeral expenses and a one-month payment of his and Eric's rent. The fundraiser has raised over $1.6 million. 
Randy is grateful for the donations and said it shows people want to see his mom put to rest easily, and he and Eric get another start in life. He also hoped people could appreciate their parents for their sacrifices in catering to their needs.