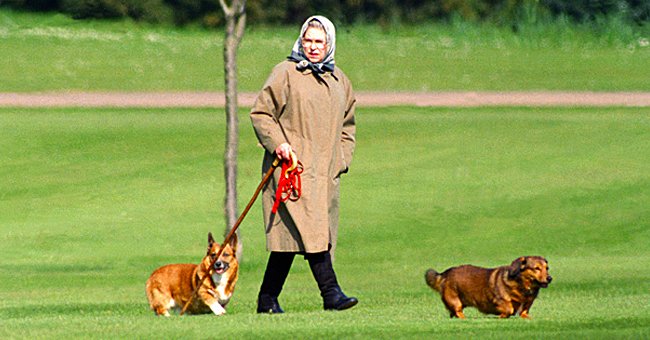 Getty Images
Queen Elizabeth's New Corgis Reportedly Get Poignant and Dear Names — Here's Why?

Queen Elizabeth II has two new puppies, and their names are very dear and special to her and the royal family. Check out the details of the Palace's new pets below.
Queen Elizabeth, a known corgi and dorgi lover, just got two new puppies, and she chose names that are poignant and have great significance for her.
The two new additions to the royal family are Fergus and Muick. Fergus is named after one of the Queen's ancestors, while Muick is the name of a beautiful Loch on one of the royal estates.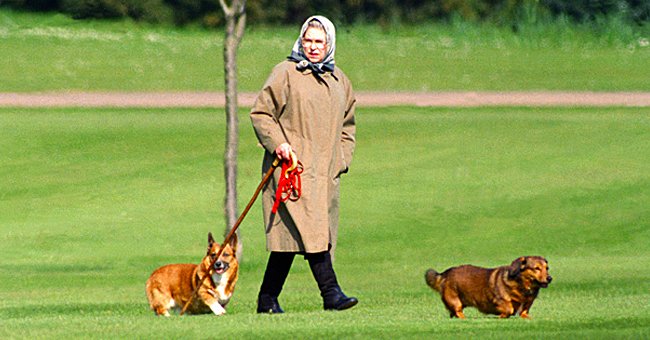 Queen Elizabeth II pictured walking her two dogs at Winsor Castle, 1994, UK. | Photo: Getty Images
Dorgi puppy Fergus is named after an uncle, Fergus Bowes-Lyon, who was killed in World War 1 in France in 1915. While Muick, pronounced Mick, was named after Loch Muick, from the Queen's Balmoral Estate in Scotland.
A source revealed the names to The Sun and shared that the names are dear and incredibly personal to the Queen and the royal family. The source shared:
"Both name choices are extremely poignant and dear to the Queen. Loch Muick is one of her favorite places on the Balmoral estate."
The insider shared the Uncle Fergus is still honored by the royal as the Queen Mother started a tradition 98 years ago, where royal brides leave their bouquet on the Unknown Warrior's grave at Westminster Abbey.
Outlets previously reported that the Queen would not get more pets after her beloved Vulcan passed away, leaving her with her last dog, Candy.
The Queen even took Susan, a corgi she was gifted for her 18th birthday, on her honeymoon with Prince Philip.
However, the new puppies have definitely been able to cheer her up amid Prince Philip's health concerns and her grandson, Prince Harry, and Meghan Markle's dramatic interview.
Her Majesty is a true dog fanatic as she has had 30 dogs over the years. Her first corgi was Dookie, which she had at 11-years-old, and the family corgi, Jane. In 1937 The Time reported this about young Elizabeth:
"Princess Elizabeth has a Welsh corgi, from which she is seldom parted."
She would continue to have a strong bond with all her puppies. The Queen even took Susan, a corgi she was gifted for her 18th birthday, on her honeymoon with Prince Philip.
Susan was a special dog, as the Queen started breeding her pets, starting with Susan. In fact, most of her future dogs would be descendants of Susan. Candy is the last dog that is related to Susan.
A few of her dogs over the many years include Crackers, Range, Sugar, Smoky, Holly, Tinker, Pickles, Pipper, Chipper, Harris, Berry, and Cider.
Between the great lawns of her many residences and Buckingham Palace's designated corgi room and meals of steak and chicken, Muick and Fergus are definitely set up for a great life.
Please fill in your e-mail so we can share with you our top stories!