Instagram/katehudson
Kate Hudson & Daughter Rani Get into a Tug-of-War as the Toddler Fights for Her Ice Cream
Actress Kate Hudson shared a hilarious video showing her and her daughter Rani Rose engaged in a tug-of-war over an ice cream bowl.
If there is one thing Kate Hudson's daughter Rani Rose does not like to share with anyone, it is her ice cream bowl, and the actress found out the hard way in a video she shared with fans on Sunday.
In the video, Rani, 2, clad in a Fleetwood Mac T-shirt, was snacking on a bowl of chocolate chip ice cream for dessert before bedtime. However, when her mom reached out for the spoon to enjoy the dessert with her, Rani gave her a confused look.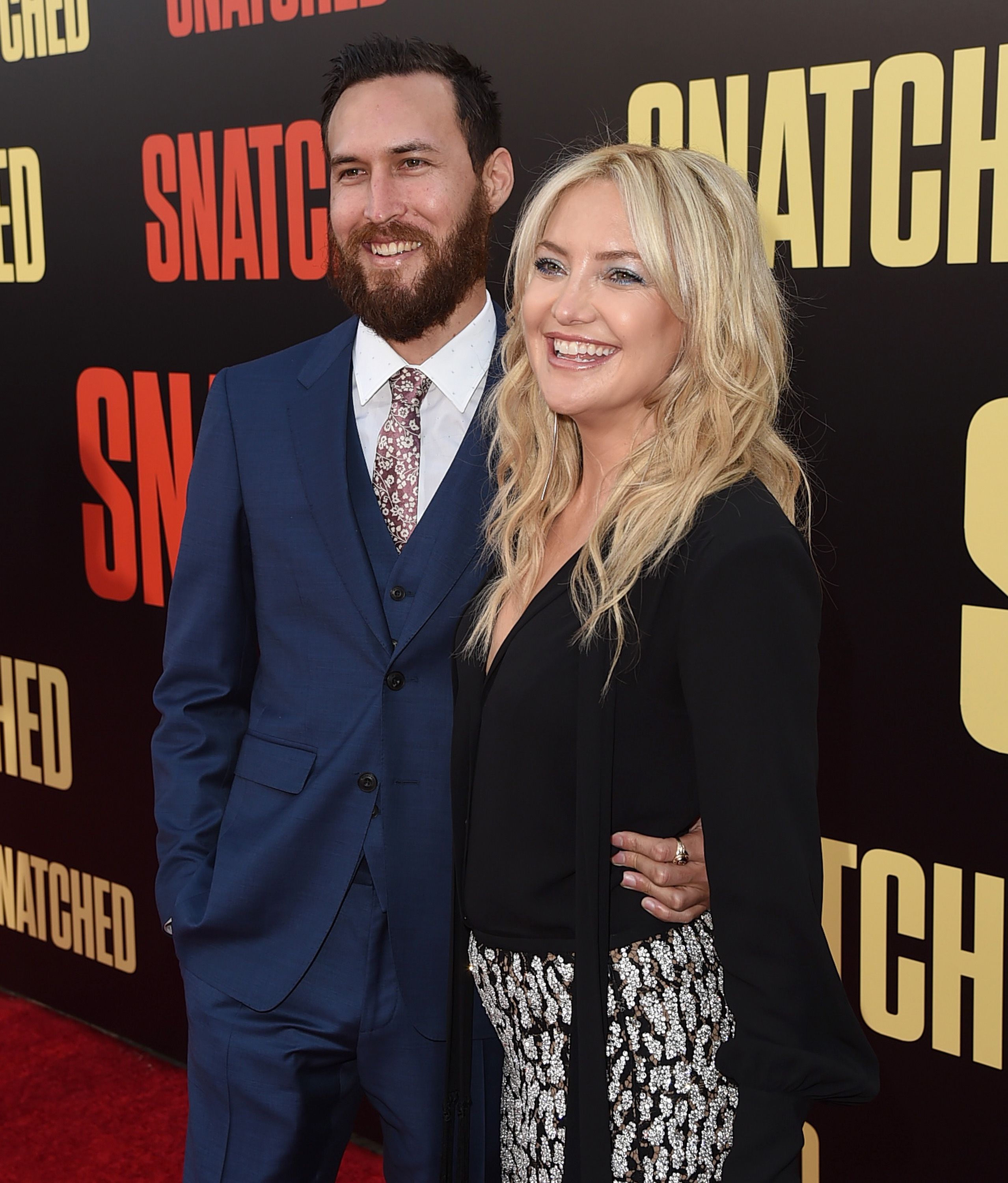 Danny Fujikawa and actor Kate Hudson at the premiere of "Snatched" at Regency Village Theatre on May 10, 2017 | Photo: Getty Images
The little tot struggled to take back the spoon from her mother, showing that she was unwilling to share her precious ice cream. Towards the end of the video, Eminem's hit song "The Real Slim Shady" played in the background.
Hudson also wrote, "It was all going so well" in the video at the part where Rani was enjoying her ice cream, before adding "Oh boy," when the cute girl gave her a confused look, and "Time for bed" at the end of the video. The actress captioned the post:
"?‍♀️ Night night time ?."
Many of the actress's fans found the post hilarious and commented on it, gushing on the adorable Rani. One fan said they were joining Rani's team.
She attended the awards ceremony from her home and appeared during the broadcast surrounded by family.
Some other fans gushed about Rani's shirt, with one fan saying they love the shirt while another fan shared a similar sentiment and commended Hudson for a job well done.
Hudson shares the adorable Rani with her husband, Dani Fujikawa. She also has two older sons, Ryder Russell, 17, and Bingham Hawn, 9½, from previous relationships.
Besides loving ice cream, Rani also loves music and showed her love for it in a sweet music video her mom shared earlier in the month. In the video, Fujikawa carried Rani in his arms as they danced to Al Green's song, "Call Me [Come Back Home]").
The cute Rani showed off a series of adorable moves while in her father's arms, twisting her upper body while he swayed along with her. Hudson captioned the video:
"Rani grooving ? #shedigsvinyl ✨."
Hudson was nominated for Best Actress in a Motion Picture for her role in "Music" at the recently held Golden Globes Awards. She attended the awards ceremony from her home and appeared during the broadcast surrounded by family.
Hudson's family members who appeared for the broadcast with her included her mom Goldie Hawn, her longtime partner Kurt Russell, Hudson's brother, Oliver, and many more.
Hudson's husband, Fujikawa, and her three kids, Bingham, Ryder, and Rani, also graced the event. Many social media users could not get enough of the adorable gathering and took turns to gush over Hudson and her family.
Please fill in your e-mail so we can share with you our top stories!