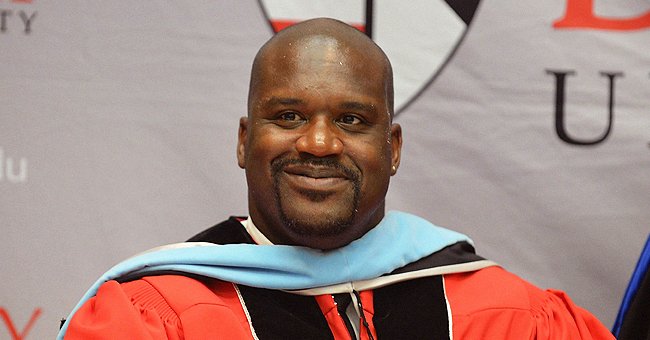 Getty Images
Shaquille O'Neal Grabs Fans' Attention in a Video Dancing in Skates with Son Shaqir & His Pals

Shaquille O'Neal showed that he can keep up with the youngsters as he flauned his dance skills in the rollerskating rink with his son Shaqir and his friends. Fans are in awe of the NBA legend's smooth moves.
Former NBA player Shaquille O'Neal is a man of many talents but his latest venture left his fans equally amused and impressed as he kept up with his son Shaqir O'Neal and his friends during a synchronized rollerskating routine.
In the video clip, the towering 7-foot-1 athlete was dressed in sweat pants and a T-shirt as he danced smoothly behind a line-up of dancers moving to the beat of a catchy song.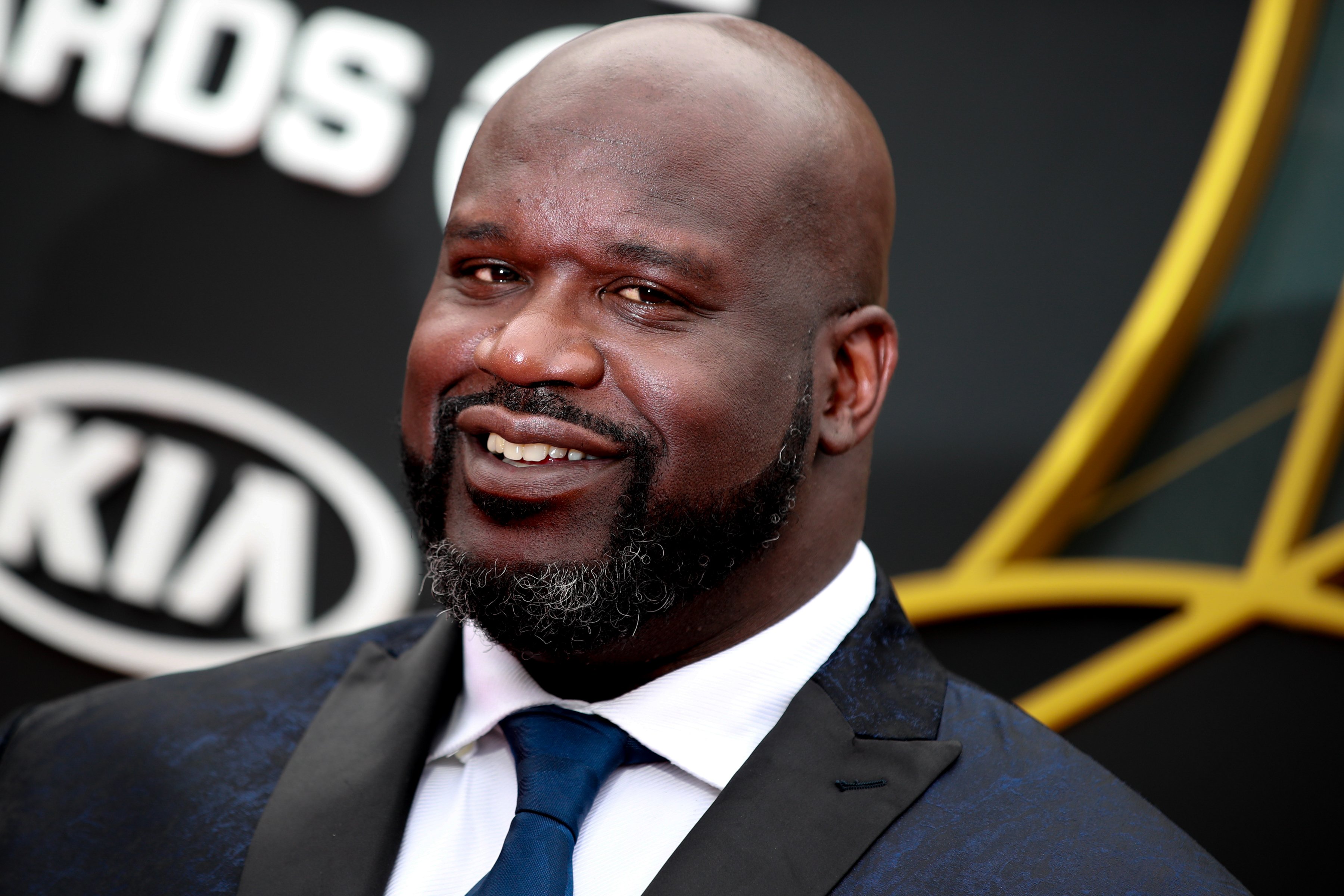 Shaquille O'Neal at the 2019 NBA Awards on June 24, 2019 in Santa Monica, California. | Source: Getty Images
Along with his young crew, who he tagged in his caption, O'Neal casually moved his feet and swayed his shoulders in unison, while occasionally holding on to the dancer in front of him. Tagging a skating instructor named P.U.S.H., he captioned:
"We COMING FOR YOU!"
FANS' AMUSED REACTIONS
The short video clip was a hit with O'Neal's fans who took to the comments section to express their awe that the legendary basketball Hall of Famer was such a good rollerskater.
One fan wrote, "Dope as hell," while another chimed in, "Shaq is a whole mood." A third fan commented, "Shaq can move..he has skills on and off the court."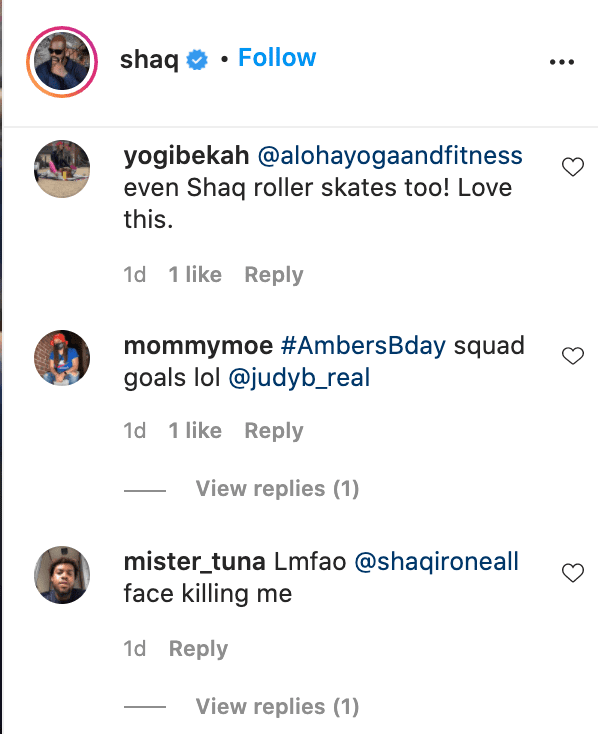 Screenshots of fan comments on Shaquille O'Neal's video. | Source: Instagram/shaq
Of course, many fans were amused at the sight of O'Neal on the skating rink and wondered about his shoe size and his balance. One fan quipped, "What size rims you got on those skates?"
Another fan added, "Shaq standing on some skateboards," while one person wrote, "WHAT? What size skates are those? I always thought skates for Shaq would be 2 convertible Volkswagen beetles lol?."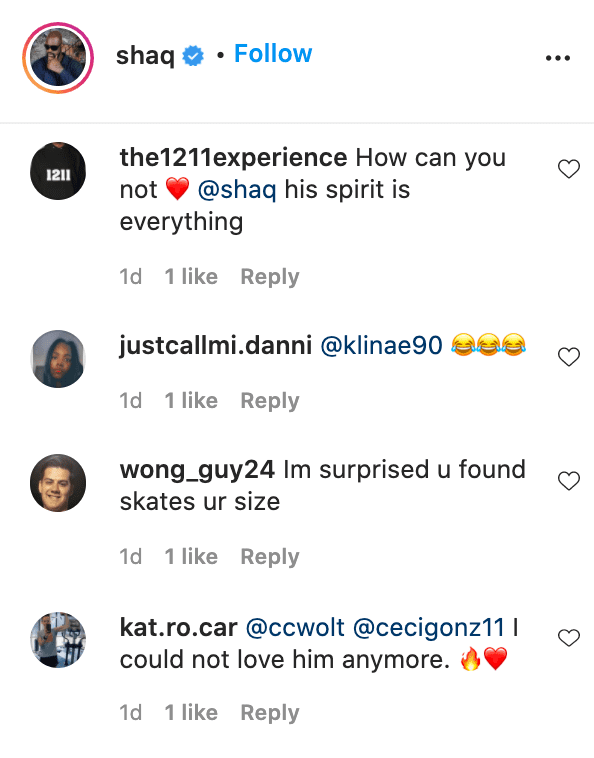 Screenshot of fan comments on Shaquille O'Neal's video. | Source: Instagram/shaq
SHAQ THE DANCER
Despite the jokes about O'Neal's shoe size, all the fans agreed that the 49-year-old star has moves. However, this is isn't the first time that O'Neal has taken one of his experimental hobbies to Instagram.
Just last year, the sports analyst shared an endearing video of himself dancing with his sons, Shaqir and Shareef O'Neal, to the Dem Franchize Boyz's catchy hit song, "Lean Wit It, Rock Wit It."
SHAQ'S MANY CAREERS
Besides dancing, O'Neal has enjoyed a versatile career off the court, with endeavors in the film industry and music scene as well as many successful business ventures.
More recently, O'Neal signed on to star in an upcoming animated kids series titled "Shaq's Garage." The show will focus on O'Neal's car collection and the retired basketball star will voice the lead character named Big Diesel.
Please fill in your e-mail so we can share with you our top stories!