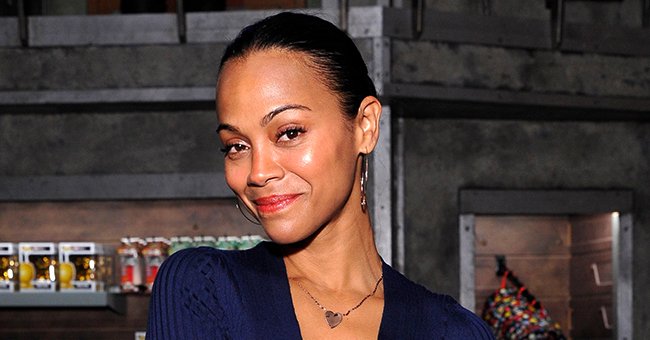 Getty Images
'Avatar' Star Zoe Saldana Glows Showing Bare Face in a Selfie during a Fun Day with Her Boys
Actress Zoe Saldana showed off her glowing skin in a make-up-free selfie she recently shared on social media while enjoying a fun day with her three sons.
"Avatar" star Zoe Saldana gave the world an insight into what it entailed to be a mom to three adorable sons. Taking to Instagram, she shared a picture of herself enjoying a fun day with her boys.
The selfie showed the 42-year-old looking flawless, as she adorned her bare face with a funny-looking smile. Despite having no make-up on, the actress captured hearts with her glowing skin and undeniable beauty.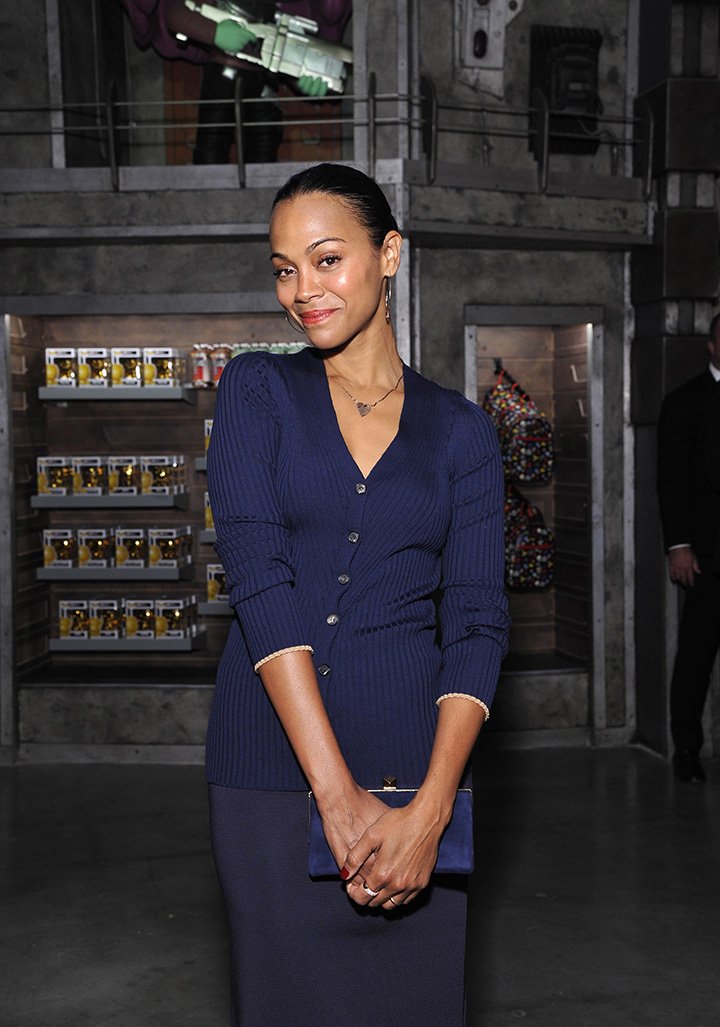 Zoe Saldana attending the Funko Hollywood VIP Preview Event in Hollywood on November 2019. | Photo: Getty Images
Also accentuating the star's looks were her brown locks, which hung loosely down her shoulders. Its ruffled appearance was evidence of how rigorous the fun day must have been for the mother of three.
Saldana's three sons could be seen in the background, frolicking around the couch, with one of them dressed in a number 10 Barcelona jersey. Captioning the post, the icon wrote:
"#Sundayfunday I got you!!!!! #momlife #boys."
Fans took to the comment section to dish out compliments to the actress, with most commending her beautiful looks and glowing skin. Others praised the star for doing a perfect job in raising her kids, while most identified with the challenges of the "mom life."
As challenging as being a mother to three boys could get, Saldana still strived to cope with it while excelling in her entertainment career.
Saldana explained that her commitment to the campaign was a means of protecting her kids' future.
One of her most recent projects, "The Bluff," features epic battles with pirates in the 1800s Caribbean. Yet, those battles were nothing compared to the task of raising her boys, whom she considers her most important priority, the right way.
The "Guardians of The Galaxy" actress shares her sons with her husband of eight years, Marco Perego. In a 2019 interview, the star revealed she and her partner had no plans to welcome additional children, as they did not lead a consistent life. She explained:
"We don't know when we are going to be traveling and for how long. So bringing more children into an already hectic and full life just feels irresponsible."
This is not the first time Saldana would share photos of herself living up the mom life with her kids. Last September, the icon, who prefers to keep her family out of the spotlights, showed off the trio in a rare beach photo on Instagram.
The shot showed the actress making a pinky promise to her sons right after taking a dip in the ocean. The proud mom explained in the caption her decision to take a stand against climate change.
Going further, she noted that the pinky promise was a vow to vote like a madre, urging all the Madres out there to join her course. Saldana explained that her commitment to the campaign was a means of protecting her kids' future.
Having excelled as a mother, an actress, and a climate change advocate, the world can't wait to discover what other feat this remarkable woman has up her sleeves.
Please fill in your e-mail so we can share with you our top stories!