Queen Pays Tribute on National Day of Reflection to the Hospital That Cared for Prince Philip
Queen Elizabeth II is filled with gratitude over the recovery of her husband, Prince Philip. The British monarch extended heartfelt tributes to the hospital, which oversaw his treatment.
Following the successful recovery of Prince Philip, the Duke of Edinburgh, from a medical condition, Queen Elizabeth is basking in gratitude. The Queen, on behalf of the royal family, paid tribute to St. Bartholomew's Hospital, where her husband received treatment as a token of appreciation.
The 94-year-old sent a bouquet, alongside a special note, to the hospital. The royal family announced the grand gesture on Instagram, displaying pictures of healthcare workers at the facility showing off the honorary tokens.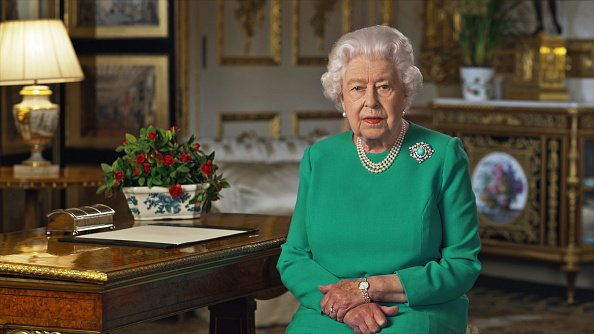 Queen Elizabeth's tribute comes in the wake of the National Day of Reflection, which marks one year since the onset of the new coronavirus pandemic in the UK. Via the note, she paid tribute to those who lost loved ones to the pandemic in the last year. It read:
"As we look forward to a brighter future together, today we pause to reflect on the grief and loss that continues to be felt by so many people and families."
The royal family matriarch also honored all frontline workers for their immeasurable services. Both the note and the glorious bouquet now hangs at the St. Bartholomew's hospital for all to enjoy, the Instagram caption confirmed.
The Duke of Edinburgh, who was hospitalized on February 16 due to a medical emergency, finally reunited with his wife on March 16, after four weeks of treatment.
The royal couple paid a symbolic visit to the site of their 2011 wedding.
Initially admitted to the King Edward VII hospital, he was eventually transferred to St Bartholomew, where he successfully underwent surgery for an underlying heart condition.
The Prince's recovery seems to have made way for more delightful news in the royal family, who recently welcomed Mike and Zara Tindall's son, Lucas.
The newborn would be the Queen's 10th great-grandchild, making the celebration all the more glorious. Confirming the atmosphere in the family, a statement revealed that the new great-grandparents were delighted.
Meanwhile, the Duke and Duchess of Cambridge have also contributed their quota in commemorating the National Day of Reflection. The royal couple paid a symbolic visit to the site of their 2011 wedding, Westminster Abbey, which now serves as a new COVID-19 vaccination center.
During the visit, the two commended staff at the center for their good works while addressing some of the vaccine recipients. Before their departure, the Duke and Duchess paid subtle tributes in their own way, with William lighting a candle, while Middleton left daffodils.
It has undoubtedly been a hectic year for the royals and the rest of the world, but hopefully, their recent stream of good news is a sign of better days to come.