Check Out Olympian Simone Biles' Convertible Car That She Proudly Named 'Tiff'
Simone Biles, considered one of the most brilliant gymnasts of all time, posted a picture of her luxury car on social media. Take a look at her beautiful ride on her Instagram Story.
Olympian Simone Biles has been one of the most hardworking and decorated athletes in the gymnastics community. She recently displayed one of the fruits of her hard work.
In her Instagram Story, the 24-year-old gymnast superstar flaunted her stunning convertible car. Biles also shared in her post the name of her luxurious car. 
The three collaged images show Biles wearing sunglasses while she stood on the car seat and flashed her big smile. She parked her convertible blue Range Rover Evoque in a large open area.
She looked stunning in a pair of dark jeans and a white tube top, which she layered over a brown cardigan sweater. Astonished at her new car, Biles wrote in her post:
"Say hi to Tiff!"
Besides sharing her car's name, she shared recommendations to her fans and followers about buying a convertible car. Many fans expressed their admiration for her stunning vehicle. 
For her extraordinary achievements in every competition that she competed in, Biles was deserving of this kind of luxury. She has previously posted about her gorgeous Houston home, which is another of her luxuries. 
Biles' stunning home had a massive swimming pool and a unique outdoor dining table beside it. Her adorable French Bulldogs named Lilo and Rambo would also lounge around it as well. 
Aside from her latest material possessions, Biles also has a new relationship with football player Jonathan Owens. She confirmed that she was dating the Houston Texans safety since August.
Before Biles posted her convertible car, she also shared with fans another kind of car in October last year.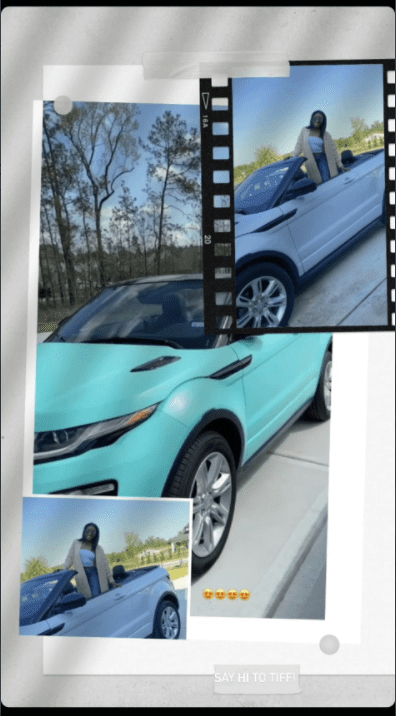 Meanwhile, Biles shared her time advocating a cause near to her heart. In November 2019, she spent her time in a dog kennel to raise money and awareness for the Abandoned Animal Rescue of Houston. 
Biles has been a dog lover since childhood and grew up in a home with many German shepherds. The four-time Olympian expressed hope that the dogs in the kennel would get adopted.
Before Biles posted her convertible car, she also shared with fans another kind of car in October last year. The renowned gymnast displayed her radiant beauty while in front of a vehicle in another IG post.
As she posed beside her car during a gas station trip, Biles flaunted her flawless back while wearing a white tube top. Many fans marveled at her toned figure and her beautiful eyes.