Simone Biles Stuns in a Photo Showing off Her Back in a White Tube Top & Braided Pigtails
Simone Biles is one free-spirited woman. In her latest social media update, the renowned Olympic gymnast showed off her beautiful back in a white tube top and braided pigtails on a sunny day.
Simone Biles is out there fashionably hitting the streets when she's not flipping and doing somersaults on mats. The 23-year-old gymnast has been pulling off stunning looks on social media lately.
Fans have been keeping their eyes on Biles as she is full of surprises not just in the love department but also in her stylish picks as well. On October 14, she took to Instagram to share a picture of herself at a gas station.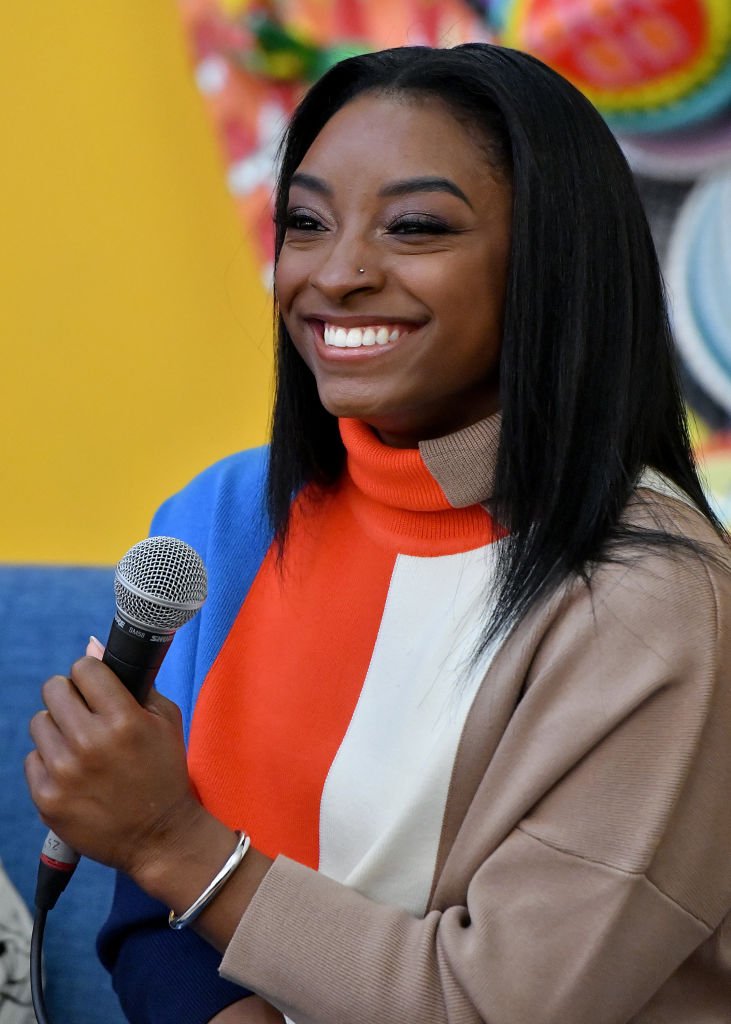 Biles made a trip to the gas station a fabulous one. She showed her fun side in the picture by wearing a white tube top and oversized light blue cardigan which fell down to her back.
The good-looking gymnast posed at the side of her car while refilling it with gas. She turned her back a little bit and sweetly smiled at the camera. She wrote in the caption:
"All gas no brakes."
While serving a look, Biles casually flaunted her toned back and bare shoulders. With only earrings and intricately braided pigtails, the gymnast looked perfect from all angles.
Many fans marveled at Biles' gorgeous and radiant look of the day. Some fans took notice of her braids saying these looked cute while another noted her beautiful eyes. 
Biles has been one of the many sports celebrities with amazing body structures. Her strong image became iconic when she graced the cover of the popular Vogue magazine in August.
An epitome of a strong woman, Biles did not only show off her back; she also flaunted her rock-hard abs in a recent Instagram post. Many envied her fit physique in the jaw-dropping snap.
Her solid abs were on full display while she rocked a green bikini, leaving her fans speechless. It goes to show that Biles' several years of hard work and tough training as an artistic gymnast have paid off. 
Biles and Owens have been inseparable and fans loved how the romantic pair shares sweet moments amid their busy schedules.
Biles has come a long way, having reached unprecedented heights in her gymnastics career. Besides being a famed gymnast and a fashion trendsetter, she is also NFL football star Jonathan Owens' biggest fan. 
Both on top of their game, the couple has been enjoying the spotlight. Ever since they confirmed their relationship in August, they have been supportive of each other's careers.
Biles and Owens have been inseparable and fans loved how the romantic pair shares sweet moments amid their busy schedules. Fans are hoping that the couple's love will become everlasting. 
Aside from Biles being a proud girlfriend to Owens, the world-famous gymnast is also a proud mother of her two adorable French bulldogs, Lilo and Rambo. These dogs make their fur-mom happier every day.
Biles deeply loves her dogs. The doting fur-mom has shared many wonderful moments with her four-legged children, which she compiled in one Instagram post dedicated to Lilo and Rambo.