Firefighter in New York Dies after Getting Trapped in a Blaze — Here's What Happened
A firefighter passed away after getting trapped in a fire while extinguishing the flames in New York. Check out the details of his horrific death below. 
In Rockland County, New York, a volunteer firefighter lost his life while serving his community and helping in the efforts to extinguish a fire. The city supervisor confirmed the news on Facebook. 
A fire swept through an assisted living home, Evergreen Court Home for Adults, in Spring Valley on Tuesday, March 23, 2021. The firefighter was found dead on Wednesday.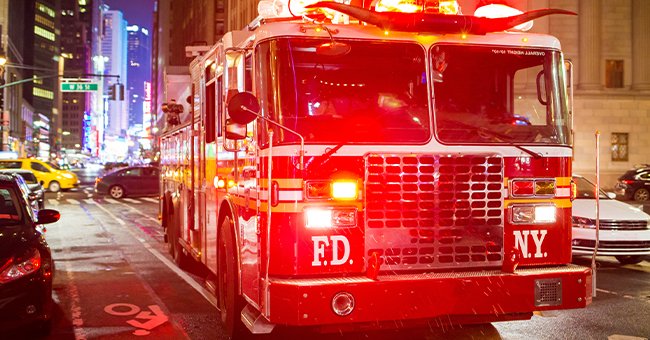 The recovery efforts were hampered on Tuesday as the heat from the coals was too strong. Officials started a rescue plan for the missing firefighter as he was last heard from when he issued a mayday call on Tuesday.
The Clarkstown Supervisor George Hoehmann confirmed the death of the firefighter on Facebook. Hoehmann said this about the recovery of the body in a statement:
"Early this morning the recovery efforts were successful and the body of a fallen firefighter, a hero for all was recovered."
SPRING VALLEY, N.Y. (AP) — Town official: Missing firefighter found dead in wreckage of assisted living home after building collapsed due to a fire.

— Mike Balsamo (@MikeBalsamo1) March 24, 2021
Hoehmann wrote that a briefing on the tragic event would occur on Wednesday, March 24, 2021. The statement read that the community's prayers and thoughts were with the firefighter and his colleagues.
The fire broke out at around 1 AM on Tuesday and caused a partial collapse of the building. The fallen firefighter was one of the first on the scene and a part of the 100 volunteer firefighter crew. 
The Evergreen Court Home staff revealed that all injured residents and survivors were accounted for.
Spring Valley fire: Missing firefighter found dead at Evergreen Court https://t.co/88MYasqybb

— lohud.com (@lohud) March 24, 2021
Many residents and firefighters were injured in the blaze. It was reported that 10 residents went to the hospital as well as two other volunteer firefighters. 
6ABC reported that one of the injured firefighters was being treated for a medical condition, presumably a heart attack and that the other was treated and released. Hoehmann statement shared thoughts for the families affected:
"This is an unspeakable tragedy at Evergreen Court Home and our hearts and prayers go out to all individuals and families who have been impacted."
The brothers in Rockland County have been battling this Nursing Home fire in Spring Valley. Maydays were transmitted. We hope all are OK. pic.twitter.com/2uzOwb5RIm

— NYCFireWire (@NYCFireWire) March 23, 2021
The Evergreen Court Home staff revealed that all injured residents and survivors were accounted for and relocated to a new home. One only resident of the home passed away during the fire.
An investigation is still to be conducted to determine the cause of the fire. This fire comes a few weeks after a home fire in Oklahoma left six people dead, including three children. 
In early March, six people died during a mobile home fire. Joel Cox, his girlfriend, Shanda, and her brother, Kelsey Noreuil, and three children were killed.
Firefighters and a local resident rescued a nine-year-old boy through a window. Fire Chief Todd Finley said that he had never seen a fire of that magnitude during his 22 years in the service.