Thousands of People Forced to Evacuate Amid Large-Scale Cameron Peak Fire and Calwood Fire
Thousands of people have been forced to evacuate their homes in Colorado amid a massive wildfire that overtook the Calwood and Cameron Peak areas and destroyed thousands of acres of land.
The devastating combination of the Calwood fire and Cameron Peak fire has forced thousands of people to evacuate their homes and properties in Colorado and run for safety. 
According to a USA Today report, the wildfire has successfully destroyed hundreds of thousands of acres of wind-blown land in just 24 hours, causing about 3,000 people to flee.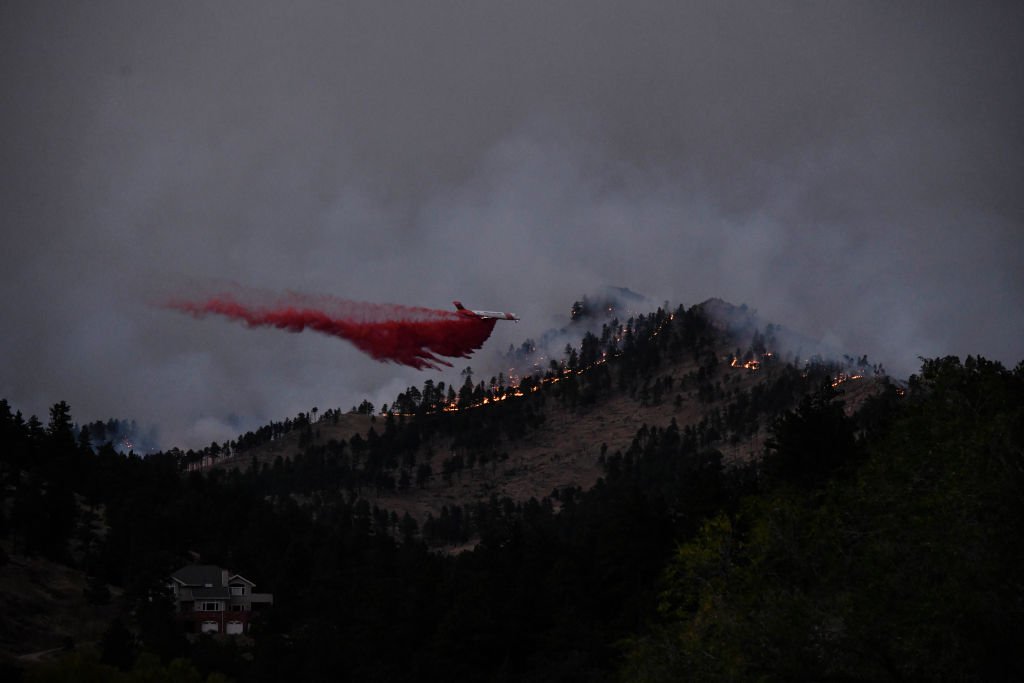 The Calwood fire first began burning on Saturday, October 18, 50 miles east of the Cameron Peak area, and has burned about 9,106 acres. Unfortunately, only been 17% contained.  A resident, Mike Wagner, who is the division chief with the Boulder County Sheriff's Office, recounted how the Calwwod fire began, saying:
"It just exploded. We do believe multiple homes were probably lost. It's still too dynamic to get in and begin to assess."
At least four new wildfires sparked over the weekend in Colorado and Utah during what has been a record-breaking fire season.

More than 8.3 million acres have burned across the country this year, according to the National Fire Interagency Center. https://t.co/Tan8u2nqKu

— CNN (@CNN) October 19, 2020
Other residents took to social media to share their reactions to the wildfire and the extent of damage that has been caused to their properties. One Courtney Walsh posted a heartbreaking photo of her burned-down house while another shared a picture of a burned book page that she saw 8-10 miles away.
The west coast has faced a series of fires, with states like California, Washington, and Oregon, getting hit the most.
it's all gone. I'm gutted. #calwoodfire #boulder pic.twitter.com/MhoHWf7dWG

— Courtney Walsh (@CourtneyWalsh) October 18, 2020
Another resident named Jessica Newman tweeted about her evacuation plans and how she and her family first grabbed their ballots. Unfortunately, authorities haven't been able to find out what ignited the Calwood fire. However, they noted that the area has been characterized by high winds and was critically dry.
On the other hand, the Cameron Peak fire has raved since August 13 and has engulfed about 204,000 acres of land and 100 structures. It started 30 miles west of Fort Collins and kept burning despite the snow on Labor Day. It has been contained 51% as of Monday and broke the record for the city's largest wildfire.
Timelapse footage shows smoke from the Cameron Peak Fire in northern Colorado fill the sky as the blaze continues to burn. https://t.co/subgcKo37q pic.twitter.com/pCwfKe9XZv

— ABC News (@ABC) October 15, 2020
The city is working to douse the fires with 1,500 firefighters at the Cameron peak while 445 officials are battling the Calwood fire. The west coast has faced a series of fires, with states like California, Washington, and Oregon, getting hit the most.
A total of 2.5 million acres have been destroyed in California, while Washington and Oregon have 480,000 and 300,000 acres that have been devastated, respectively.
Cameron Peak Fire is absolutely exploding tonight. Winds are expected to dramatically increase after midnight.

📸: Gaby Harrison, Estes Park #9wx #cowx pic.twitter.com/L5MuNetBzc

— Danielle Grant (@theWXwoman) October 17, 2020
At least seven people have died, of which two are children, a 1-year-old and 12-year-old, and many more fatalities are expected to happen as the weather conditions aren't helping.