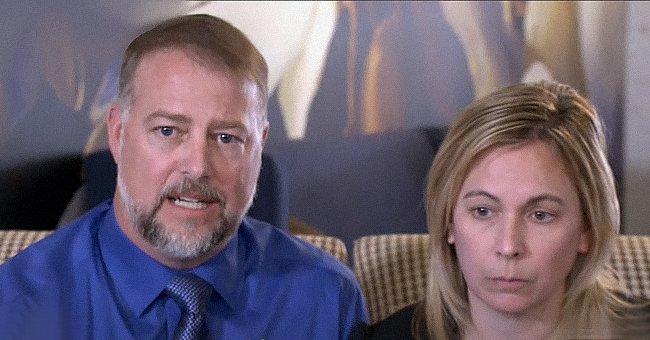 YouTube/GMA
Woman Opens up about Her Heartache after 20-Year-Old Son Died at Bowling Green State University

The parents of Bowling Green State University student Stone Foltz open up about their gut-wrenching loss after he passed away in an alleged hazing incident.
Stone Foltz passed away three days after losing consciousness after an alleged hazing incident in his school, Bowling Green State University. The 20-year-old's parents now demand justice for the death of their beloved son.
Cory and Shari Foltz spoke to "Good Morning America" on Wednesday, sharing their heartbreak with the world. To them, losing their son was "unimaginable." Shari opened up about not having the right words to express how she was feeling.
"There is a piece of my heart that's gone. It's just unimaginable, I can't even explain to you."
On March 4, Foltz was hospitalized after what the university believes was a hazing activity that included alcohol consumption at a Pi Kappa Alpha event. He was rushed to ProMedica Toledo Hospital, where he was in critical condition.
Although the heartbroken parents had conversations with their son regarding the fraternity he wanted to joining, he ended up pushing through anyway. The night of the hazing incident, Shari was still in contact with her son.
According to Shari, her son explained the drinking ritual that pledges underwent, saying that while he didn't want to do it, he had to. Their conversation before the ritual ended up being their last.
The university has stripped Pi Kappa Alpha of its status as one of their official student organizations.
At around midnight, Cory and Shari received a call saying their son was unresponsive after drinking. After he stopped breathing, those at the scene tried to revive him, and he was put on a ventilator to keep him alive.
The frantic parents drove two hours to see their son. After four nights in the hospital, he was declared brain dead. While he willingly partook in the ritual, Shari believes her son was murdered as he was forced into something that he did not want to do.
While the police responsible for investigating the incident have not disclosed how much alcohol the late student consumed, a pledge's roommate revealed that it's not uncommon for them to be given a dangerous amount of alcohol.
According to him, pledges need to finish a handle of alcohol, usually equal to 40 shots, before leaving the place. Following their son's death, the Foltz's are asking educational institutions to enforce a zero-tolerance policy for hazing that dates back to decades of dangerous traditions.
The university has stripped Pi Kappa Alpha of its status as one of their official student organizations. It is also cooperating with authorities to investigate the tragic incident.
With the ongoing investigation, Shari hopes that the fraternity members present during her son's death would ultimately step up and take responsibility for what they've done. Ultimately, while she forgives them, she will never forget what happened.
Just a couple of days prior, a 19-year-old student of Virginia Commonwealth University was found dead. Adam Oakes was discovered at an off-campus residence. Like Foltz, excessive alcohol consumption is suspected of being involved after receiving a bid to join the Delta Chi fraternity.
The family added that Oakes was blindfolded and ended up hitting his head on a tree. The VCU chapter of the fraternity was suspended following the incident, and all members are cooperating with law enforcement to bring justice to his death.
Please fill in your e-mail so we can share with you our top stories!