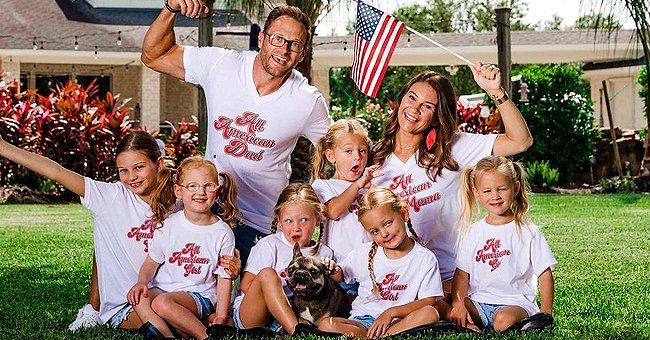 Instagram/adambuzz
Danielle and Adam Busby on Finding Joy in the Little Things in Life Amid the COVID-19 Pandemic
"Outdaughtered" stars Danielle and Adam Busby opened up about parenting their six daughters amid the pandemic and how they managed to find joy in the little things in life.
For reality stars Danielle and Adam Busby, the pandemic opened their eyes and showed them another perspective on life, especially raising their six daughters as the world battled COVID-19.
In a recent interview with US Weekly, the couple, while promoting the upcoming season of their hit show, "Outdaughtered," spoke about how they managed to have their hands full with their girls amid quarantine.
The duo revealed that the pandemic started off feeling like a vacation with their girls — Blayke, Hazel, Olivia, Parker, Riley, and Ava. However, they couldn't keep up due to responsibilities. Speaking about the lessons learned, Danielle said:
"We learned that we have to communicate more than anything. But also really find the joy in small things that we do, like sitting down together as a family."
Adam explained that their "fast-paced" lifestyle slowed down when the pandemic came, and it has been an "eye-opening" experience that caused them to switch up routines and get creative with family time.
One of the quintuplets, Hazel, visited the eye doctor for the first time in almost a year.
The patriarch recalled that they allowed the girls to select dresses for each other and have fun naming hats to match their ensembles. Amid the enjoyment, the couple doesn't forget the importance of discipline.
The pair noted that the girls are at the stage where they have a lot of opinions, and sometimes they don't want to do somethings which often results in them talking back. Nevertheless, they work through it by giving each daughter a set day.
Earlier this month, Danielle updated fans about her ongoing health battle. The matriarch has been open about a mysterious illness that has burdened her with several scary symptoms and hospital visits.
Although the family suspects an autoimmune disease, Danielle has visited several specialists but has received no answers. The 37-year-old shared that she was taken to the ER after feeling like she had a heart attack and couldn't use the stairs.
Danielle noted that although the tests she has undergone have only translated into more examinations, she believes in the power of prayer for a solution. She urged fans to put her in their prayers and thoughts.
As she grapples with her health, one of the quintuplets, Hazel, visited the eye doctor for the first time in almost a year. The 5-year-old who was born with congenital nystagmus had to put off having appointments due to COVID-19.
Although the young girl underwent surgery when she was 1 to correct the condition, she has continual examinations to strengthen the eye and get a more accurate diagnosis about her eye health.
The Busbys rose to fame after they broke records welcoming their quintuplet daughters in 2015, four years after their eldest daughter, Blayke. Despite having a full clan,
Adam and Danielle
are still
open to expanding their family
via adoption.
Please fill in your e-mail so we can share with you our top stories!