Instagram/dbusby
'OutDaughtered' Star Adam Busby Says Wife Danielle Is Undergoing Tests Amid Her Health Battle
"OutDaughtered" star Adam Busby and his wife, Danielle, recently had fans praying for them fervently after Adam revealed that Danielle will undergo her most invasive medical test yet.
TLC's "OutDaughtered" star Danielle Busby and her husband, Adam, are staying hopeful and strong as he recently revealed that she would be undergoing her most invasive test yet. Alongside a photo of Danielle, Adam wrote:
"Today is the day of @dbusby's most invasive test so far. Praying it leads to answers and a clear direction for the doctors."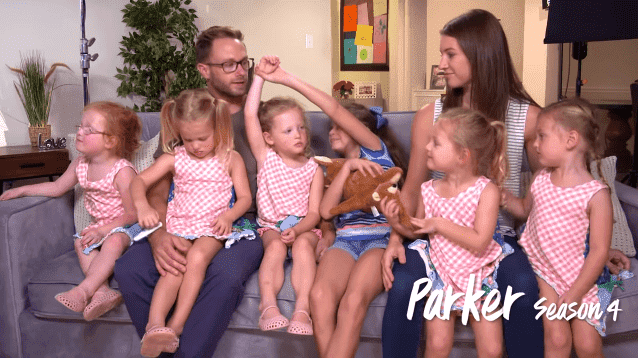 The Busby family in an episode of "OutDaughtered" | Photo: YouTube/TLC UK
His caption further explained that neither he nor Danielle was comfortable with sharing any more information about her health and the procedure at the moment.
Adam urged their fans to respect their decision to keep things private as he described the period as uncertain. He also asked them to refrain from making any speculations and encouraged them to support them in prayers instead.
Adam concluded his message by assuring fans that he would give them updates as soon as his wife gets comfortable. The photo he shared showed Danielle in a hospital bed with a mask over her nose and mouth.
Adam's fans and followers were very touched and concerned with the surprising post. The comments section was filled with love, support, and prayers for the mother and father of six.
This is not the first health scare with unknown origins that the Busby clan, Danielle particularly, has had to face in the last couple of years
Danielle's health concerns did not just rise with the beginning of the new year. In fact, it all started months ago, in November 2020, when she started to observe strange symptoms.
On November 15, Adam revealed that his wife had been admitted to the hospital. The family patriarch shared a photo of Danielle asleep in a hospital bed and informed their fans of what had happened. He explained:
"...if you would, please say a prayer for @dbusby . Currently in the ER running tests for some alarming sensations in her arms and legs."
The father of six marveled at how quickly things changed and added that his wife's symptoms came so unexpectedly. Their sole focus was to find out what exactly is wrong with her and get it treated as soon as possible.
From more updates on social media, the Busby clan's fans learned surprising details about Danielle's unknown condition. According to the couple, they sought help from many people, including a cardiologist and rheumatologist, with no helpful results.
This is not the first health scare with unknown origins that the Busby clan, Danielle particularly, has had to face in the last couple of years. In August 2018, the family put viewers of their show on edge when Danielle suddenly fell ill.
Fans wondered if she was pregnant. They also feared that she was faced with a medical challenge like Crohn's. Upon getting checked, doctors found neither speculations to be true, and the mom of six was advised to control her stress better.
While they wait for results and news of her current condition, the family and their fans can only hope for the best, and as Adam requested, fans will continue to support them with prayers while respecting their privacy.
Please fill in your e-mail so we can share with you our top stories!