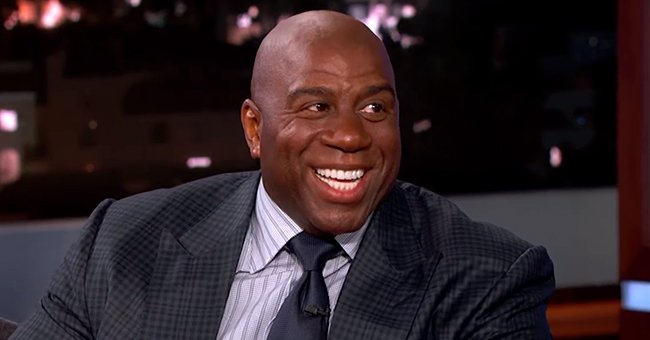 Getty Images
Magic Johnson's Wife of 29 Years Cookie Warms Hearts Cuddling Puppies in This Precious Snap

NBA star Magic Johnson's adorable wife, Cookie Johnson, recently shared a heartwarming image that tugged at her fans' hearts. Cookie took time out to celebrate her puppies in this adorable image.
Cookie Johnson is many things; however, she is more famously known as the woman who stole the heart of former basketball pro, Magic Johnson. One of her other titles is "dog lover."
In a recent snapshot on Instagram, Cookie looked so in love as she celebrated #NationalPuppyDay with her two puppies. The puppy mom was seen sitting on indoor stairs cradling one of her puppies while the other sat comfortably beside her.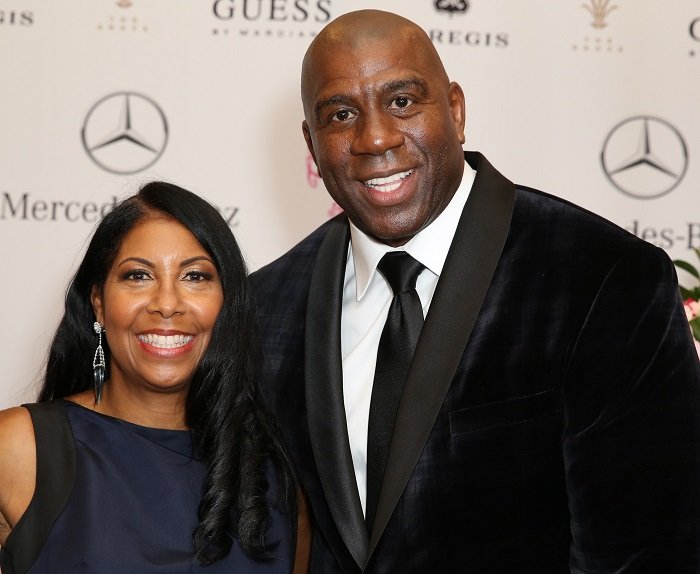 Magic Johnson and wife Cookie Johnson arrive at the 2014 Carousel of Hope Ball presented by Mercedes-Benz on October 11, 2014 | Photo: Getty Images
However, what made most fans lose their cool about this breathtaking image is seeing the love in Cookie's eyes as she held on to one of her puppies.
The image was even more endearing as the fluffy animal Cookie held close to her bosom stared straight into her eyes, and the two not only had a staring contest, but it seemed as if they were staring into each other's souls.
Everything about the image was cute, and she couldn't have picked a better one to celebrate her puppies. And, of course, her fans thought so too.
Fans and celebrities took turns in the comment section to declare their love and admiration for Cookie and her little pets. The caption of the image read:
"Celebrating #NationalPuppyDay daily. ??❤️❤️"
From the image she shared, it is obvious that Cookie's puppies adore her. However, they are not alone. Her husband, Magic Johnson, not only adores his wife, but he thinks she is a gift from God.
Magic said this much in a post he shared to celebrate their 29 years of marriage; everyone can agree that this is no mean feat, and Magic's description of his wife sounds perfect.
To commemorate the day, the basketball legend shared various images of him and his wife in their prime and current years. One of the images shared showed Magic proposing to Cookie decades ago.
However, the sentimental part was the kind and lovable words he shared alongside the post. Although they have known each other for 42 years and have been happily married for 29, like every other relationship, Cookie and Magic have had their fair share of heartbreaks.
During an interview with OWN's "SuperSoul Sunday," Cookie revealed how she and her husband almost called it quits in 2001. At the time, the couple had to separate for two weeks.
Although the separation was very discreet and the tabloids got no wind of it, it was a time in their relationship where Cookie thought things were over for real.
According to Cookie, Magic seemed distant, building a world that she felt she wasn't included in. He was hanging out with people at work more and was going to all sorts of parties.
However, the last straw was on the night he won his Hollywood Walk of Fame star. There was a party, and everyone was having a good time dancing and mingling.
The couple had this understanding where they would go ahead and mingle, and then when it was time to dance, they would come together on the dance floor and dance.
This had always worked well for them, but not that night. That night, Magic did not want to dance with Cookie. After talking it out, they realized they were growing apart and decided to separate.
But like every true love story that had kept movie lovers glued or those that songs have been written about, when he/she is the one, you always find your way back to each other.
This was not the only hurdle they went through in their marriage; they also stayed together through Magic's HIV diagnosis, and to date, they remain one of the loveliest Hollywood couples. Only a gift from God can look this good.
Please fill in your e-mail so we can share with you our top stories!