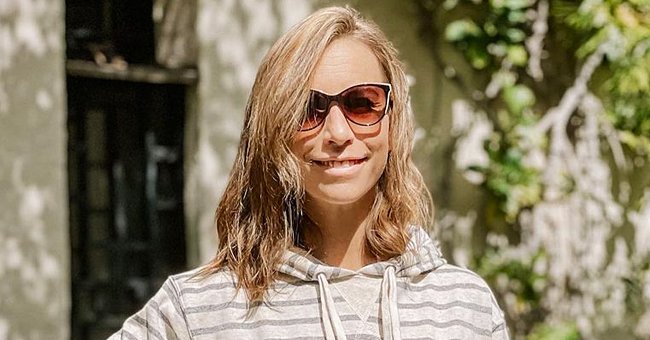 Instagram/mslyssac
Dog the Bounty Hunter's Daughter Baby Lyssa Chapman Posts Rare Pic of Her Grandfather in Hawaii

Duane Chapman's daughter, Lyssa Chapman, recently posted a throwback photo with her grandfather and two parrots in Hawaii.
The Chapman's gradually became famous after the family patriarch, Duane Chapman, had his own American reality show which featured him and his late wife, Beth Chapman, catching fugitives for a bounty.
Some of the couple's children also starred in the series "Dog the Bounty Hunter," including Lyssa, Leland, and Duane Jr. Together, they showed their tight-knit family, determination, and perseverance as they worked as a team.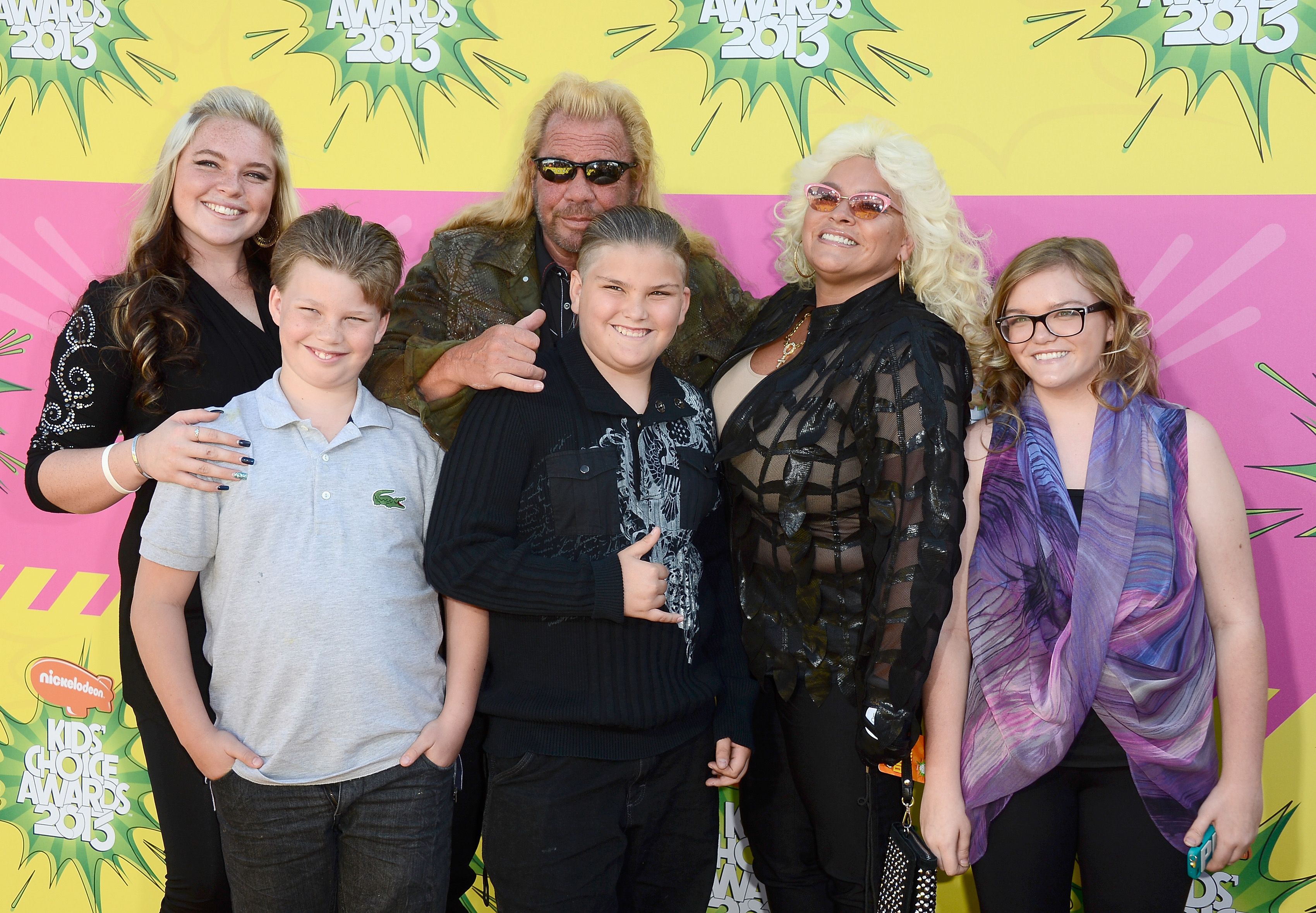 Duane Chapman, Beth Chapman, and their family during Nickelodeon's 26th Annual Kids' Choice Awards at USC Galen Center on March 23, 2013 in Los Angeles. | Source: Getty Images
POSING WITH HER GRANDFATHER
Recently, Lyssa took to Instagram a throwback photo with her grandfather as they smiled by the Hawaiian coast. Lyssa looked adorable, wearing pink swimwear with a yellow lei around her neck and held a red parrot in her hand. She captioned the post:
"Baby, Baby Lyssa #AlohaFromHawaii #MyGrandpa."
Standing tall in a black tank top, black board shorts, and a red lei hanging around his neck was the reality star's grandfather. Similarly, a yellow and blue parrot sat still by his shoulders while he smiled for the camera.
GRANDFATHER-GRANDDAUGHTER RELATIONSHIP
Just as Lyssa seemed to be close to her grandfather, her daughter, Abbie Mae Chapman, also shares a beautiful relationship with Duane. In one of her Instagram snaps, Abbie bonded with her grandpa during a trip to Colorado.
Lyssa recently paid tribute to her father on his birthday, calling him the best dad and grandpa.
The two were joined by television stars Alex and Greg Zecca during their fishing trip at Tarryall Reservoir. However, Abbie's mother was not in attendance as she dedicated time to her fiancee, Leiana Evensen.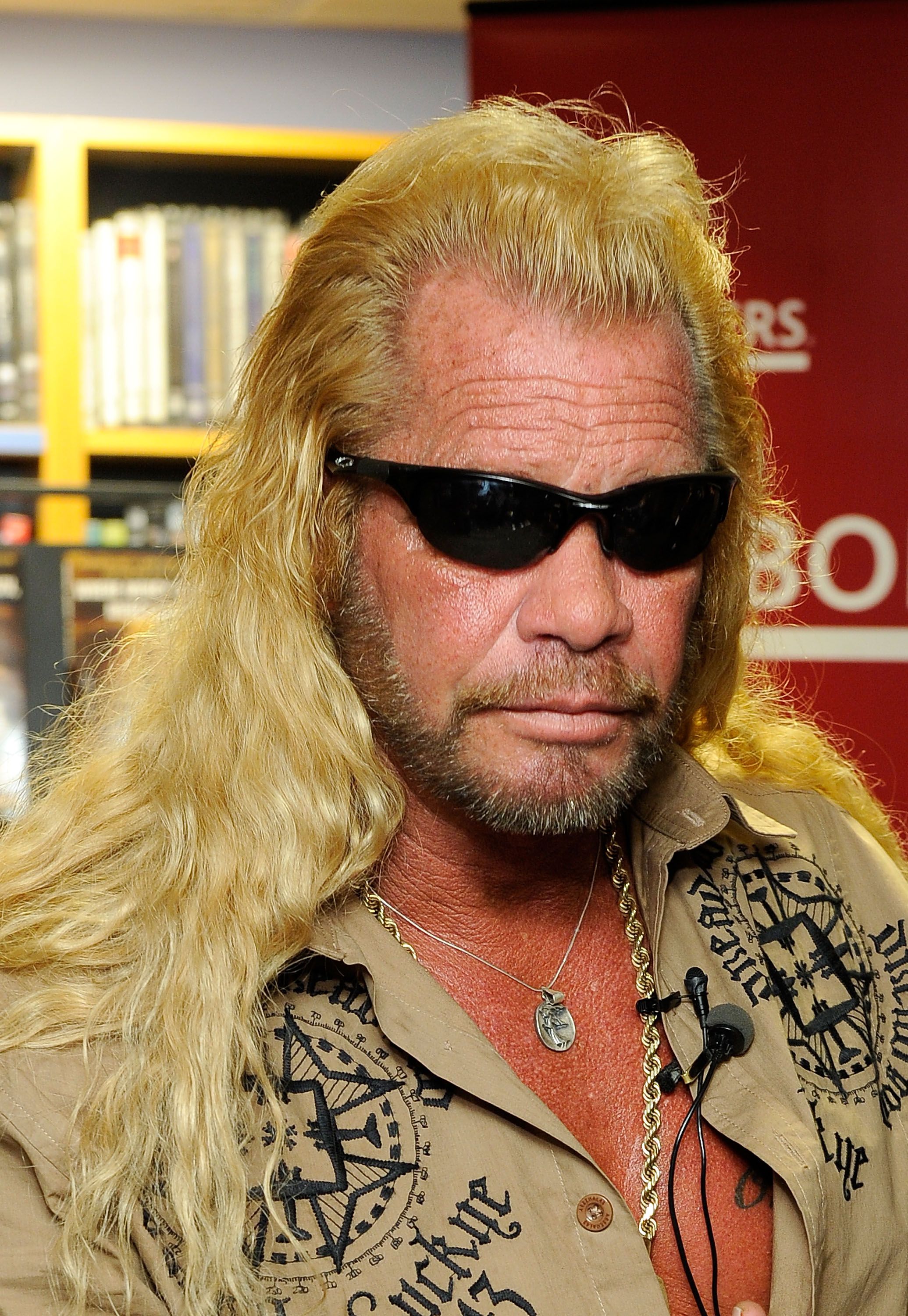 Duane Chapman during his his book promotion "When Mercy Is Shown, Mercy Is Given" at Borders Wall Street on March 19, 2010 in New York City. | Source: Getty Images
DUANE'S NEW LOVER
The pair have been dating since 2016 and got engaged in 2017. However, another Chapman is preparing for a wedding -- the family patriarch, Duane. Last year, the "Dog the Bounty Hunter" star revealed to be in a relationship with Francie Frane.
Soon after, Duane drew criticism from fans after getting into a relationship less than a year after the death of his wife, Beth Chapman. At that time, Duane vowed he would not marry again and later said he was not ready to see other women.
However, he feels that his relationship with Frane is a miracle as they share the same grief of losing a spouse to cancer. "Both of us are allowed to talk about our spouses that are in Heaven," he said. "We console each other."
MEETING FRANCIE
Luckily, Lyssa approves of her dad's fiancee and believes Duane's positive change is because of France. According to the star, her father has committed to a healthier lifestyle since meeting Frane. She said:
"Seeing my dad's health improved was so nice. [...] When he talked about Francie, I did see this little bit of light and gleam in him."
Lyssa recently paid tribute to her father on his birthday, calling him the best dad and grandpa. Before ending the post, Lyssa gave a shout-out to Frane for making her Duane happy again.
Please fill in your e-mail so we can share with you our top stories!