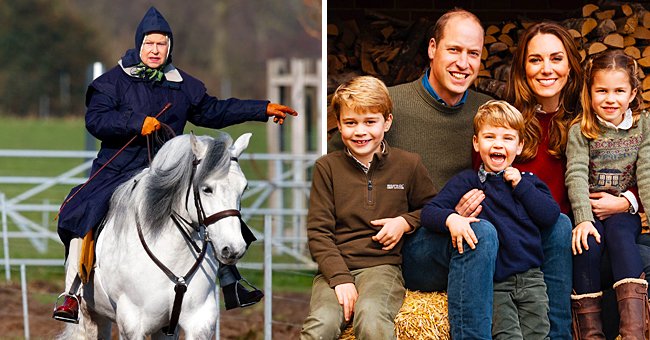 Getty Images
The Times: Prince William's Kids George, Charlotte & Louis Ride Their 1st Ponies like the Queen
Prince William and Kate Middleton's three kids have followed in the Queen's footsteps of horseback riding. The royal great-grandkids have reportedly begun riding their first ponies.
The longstanding tradition of horseback riding in the British Royal family is already being passed to the youngest generation, and Prince William's kids Prince George, Princess Charlotte, and Prince Louis, are at the forefront.
According to The Times, the Cambridge kids are following in the Queen's footsteps and have already begun riding their first ponies. The monarch's great-grandchildren reportedly began honing their riding skills during the lockdown.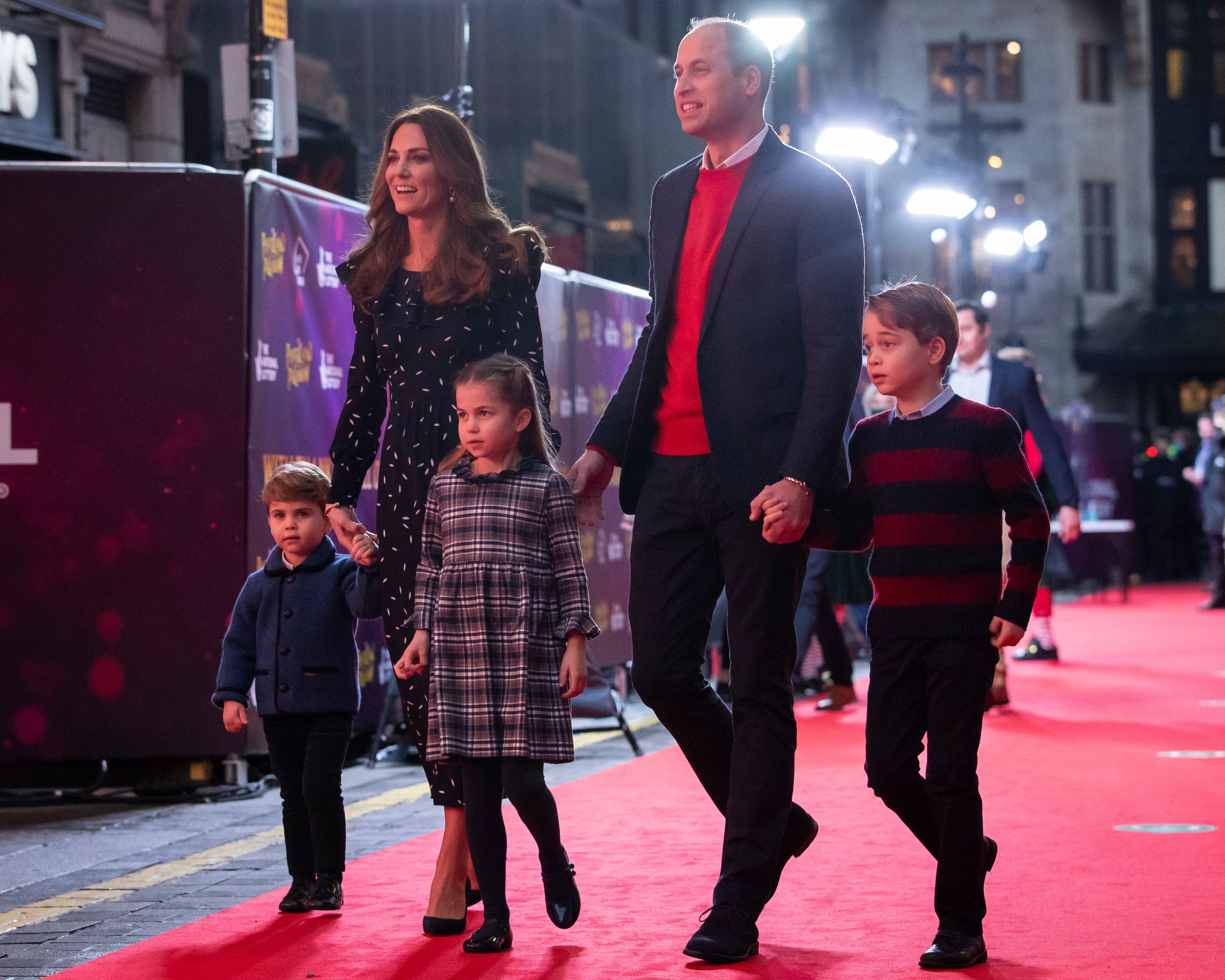 Prince William, Kate Middleton with their children at a special pantomime performance at London's Palladium Theatre, hosted by The National Lottery on December 11, 2020 | Photo: Getty Images
They practiced in their home in Norfolk, and William is proud of his kids' interest in the beloved royal sport. The Queen is also pleased with George, Charlotte, and Louis' riding skills and interested in seeing their progress.
A source revealed that as soon as the United Kingdom's lockdown is eased, George, Charlotte, and Louis are expected to reconnect with Her Majesty, whom they refer to as "Gan Gan," and ride with her in Balmoral.
7-year-old Prince George started taking horseriding lessons when he was just 4, while Charlotte has always had a love for horses since she was a toddler. In 2016, Kate Middleton revealed that her daughter was an enthusiastic rider.
The Queen's love for equestrian activities is no news. She attends the Windsor Horse Show annually.
At the time, Charlotte was just one and a half years old, and the Duchess of Cambridge shared that the toddler was passionate about the sport. Kate mentioned that while she doesn't echo it, she does her best to encourage the little girl.
Queen Elizabeth II began riding when she was four after receiving a Shetland pony on her birthday and has since loved the sport. Last year June, two months after her 94th birthday, the monarch was seen riding.
In her first appearance since the lockdown began in the United Kingdom in 2020, the Queen was seen horseback riding around Home Park next to Windsor Castle. Her Majesty rode her 14-year-old pony, Balmoral Fern.
The Queen's love for equestrian activities is no news. She attends the Windsor Horse Show annually and has been seen getting enthusiastic during horse races. The Cambridge kids aren't the only royal who share the monarch's passion.
The Queen's daughter Princess Anne and granddaughter Zara Tindall have participated in equestrian sports at the Olympic level. Princess Anne competed at the 1976 Olympic Games, while Zara won a silver medal at the 2012 Olympics.
Please fill in your e-mail so we can share with you our top stories!