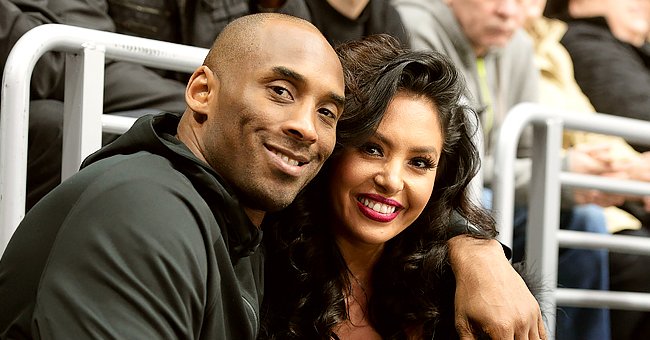 Getty Images
Vanessa Bryant's Daughter Natalia Is All Smiles as She Poses in a USC Sweatshirt & Cap
On Tuesday, Vanessa Bryant's oldest daughter Natalia Bryant delighted many of her followers on Instagram when she shared a picture celebrating her admission to the University of Southern California.
The late Kobe Bryant remains sorely missed, but his wife and surviving children continue to excel in all their doings just as he would have wanted them to.
On Tuesday, the late NBA and former LA Lakers icon's oldest daughter, Natalia Bryant, shared a picture on her Instagram page celebrating another chapter in her life.
In the picture, the 18-year-old posed in a gray University of Southern California sweatshirt and red pants. She also wore the university's red face cap over her long black hair and smiled as she made a peace sign.
The photo showed that Natalia is looking forward to beginning college life, and she expressed the same sentiments in her caption to the post, which read:
"See You Soon @uscedu !❤️? Fight On✌?."
The post pleased many of Natalia's friends and fans, who took turns to congratulate her. Kate Hudson's son, Ryder Robinson, was among those who congratulated her.
Model Bella Harris also congratulated her while Victoria Garrick welcomed the teenager to the trojan family. American designer Jeff Letham expressed pride in Natalia.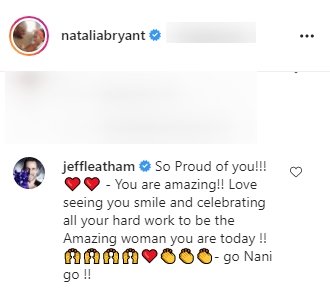 A comment from Jeff Leatham on Natalia Bryants' post on Instagram | Photo: Instagram/nataliabryant
He described her as an amazing person and said he loves seeing her smile. He also celebrated all her hard work to be the amazing woman she is today. Female basketballer Swin Cash gushed over Natalia's smile.
Vanessa was not quite ready to accept Natalia being too far from her.
Natalia's mom Vanessa Bryant is also proud of her daughter's admission into USC. On Tuesday, she disclosed the prestigious university had accepted her oldest daughter.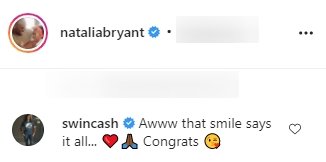 A comment from Jeff Leatham on Natalia Bryants' post on Instagram | Photo: Instagram/nataliabryant
Vanessa shared a video on her Instagram page that showed Natalia reacting to the news of her admission. The excited teenager jumped up and down, celebrating her acceptance into USC. In the post's caption, Vanessa wrote:
"Tears of joy. I'm SO happy for you Nani! I know daddy is so PROUD OF YOU. I am so PROUD OF YOU!!"
The proud mom also praised her daughter for pushing through the most excruciating pain imaginable and still succeeding. She wished Kobe and Gigi were present to celebrate with them but knows they are in spirit.
Natalia's admission to USC is all the more incredible given that she was also accepted into the University of Oregon, Loyola Marymount University, and the University of California. However, she ultimately committed to becoming a trojan.
Earlier in the month, Natalia shared the news that she had been accepted into Loyola Marymount. However, Vanessa was not quite ready to accept Natalia being far away from her.
The doting mom took to her Instagram story to post a picture of the Loyola Marymount campus, adding a caption where she expressed delight for Natalia before joking that the school was too far.
However, with Natalia's acceptance into USC and subsequent commitment to the university, the loving mom will at least be pleased her daughter won't be going too far.
Please fill in your e-mail so we can share with you our top stories!