Kelly Osbourne Looks Unrecognizable in a New Selfie as She Shows off Her Dark Roots
English native Kelly Osbourne took social media to ask her loyal fans if she should go back to her natural dark hair while showing off her dyed hairdo.
Kelly Osbourne took to Instagram and shared an up-close selfie shot of herself and talked about her hair color. The 36-year-old asked for her 2.3 million followers' opinion.
"Do we like the roots, or is it time to dye my hair?" she captioned her post. Osbourne added a thinking face emoji on her post and a picture of herself sitting on top of the bed.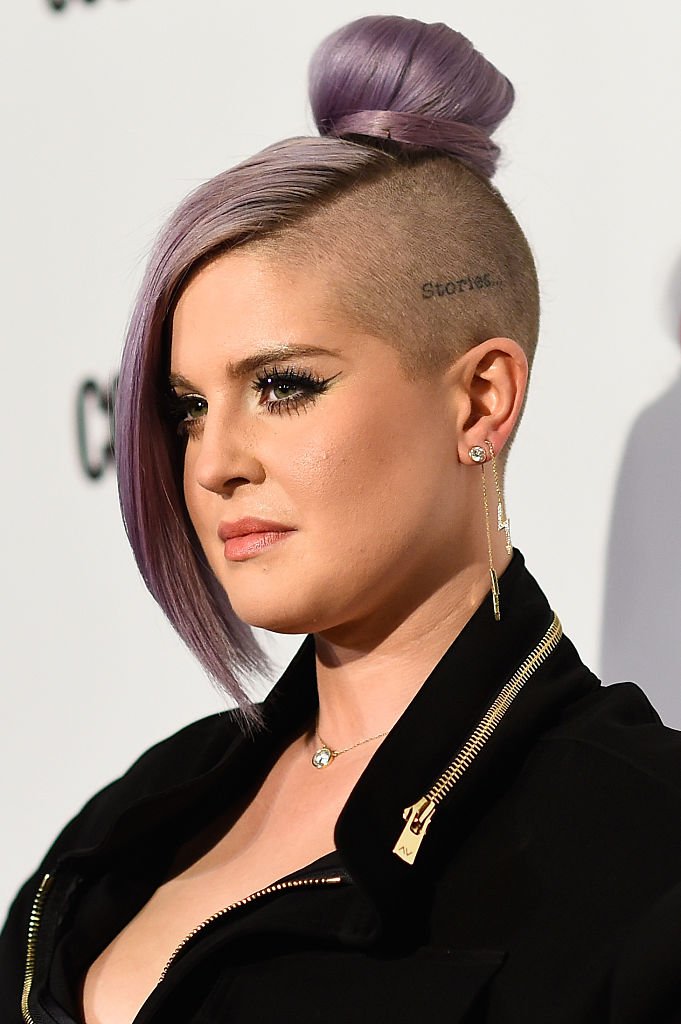 TO DYE OR NOT?
She struck a pose looking right into the camera and gave a serious facial expression. The snapshot showed her with her hair parted from the middle and tied some parts of it in a ponytail.
As she mentioned, her dark hair roots are apparent despite her bright colored dye with a touch of purple and gray tint. Osbourne's green eyes popped out in likeness to the colorful hairdo.
She opted for a heavy makeup look and had glittery eye shadows with elongated eyelashes and an eyeliner touch. The pop-punk singer went for a nude lip.
For accessories, the former reality star wore gold hoop earrings with a matching necklace. Osbourne wore a black top while white cushions are visible behind her.
BODY TRANSFORMATION GOALS
Osbourne is one of the celebrities who have gone through a major transformation during the quarantine in 2020. According to Entertainment Tonight, some stars also took advantage of their isolation to get back in shape.
Quarantine has given several stars, including Tiffany Haddish, Rebel Wilson, and Steve Kazee, some time to focus on their health. Wilson achieved her weight goal of 165 pounds while Haddish and Kazee focused on muscle tone.
Last year, Osbourne took to Instagram to reveal that she lost 85 pounds. At the time, she also admitted to undergoing gastric sleeve surgery and discussed the procedure on "The Talk."
HER MOTHER'S DRAMA
Meanwhile, her mother, Sharon Osbourne, announced that she was exiting the daytime show and is reportedly not taking it well. According to Fox News, a source revealed Sharon is disappointed about how it all played out.
Sharon denied the allegations of being labeled a racist and a bigot. Nonetheless, she is receiving all the support she can get more especially from her family. The 68-year-old's exit comes after a heated argument with her co-hosts concerning her defending Piers Morgan.
OSBOURNE IS IN LOVE
Despite all the scrutiny that her mom is currently facing, Kelly is happy with her love life. According to Hollywood Life, she is thrilled with her relationship with her cinematographer, boyfriend Erik Bragg.
An insider told the publication that she is in the best health she has ever been and that Bragg is fun, relaxed, down to earth, and understands her sense of humor and quirks. His girlfriend loves how he acts around her family.
FACTS ABOUT THE OSBOURNES
The actress and the rest of her family are famous because of their hit reality show "The Osbournes," which aired back in the 2000s. The popularity of the show influenced Osbourne's older sister Aimee to stay away from the spotlight.
While her family filmed the show, she moved out of the house at 16 to avoid the spotlight. The family does not even talk much about her, and people tend to forget about her since they barely see her.