Fantasia Barrino Is Excited for Her Baby – See Her Caressing Her Growing Bump in a New IG Update
Grammy-winning artist and "American Idol" alum Fantasia Barrino gave her avid fans and followers a peek of her growing baby bump on Instagram Story.
"American Idol" champion Fantasia Barrino recently shared on Instagram Story a picture of herself caressing her growing baby bump. The R&B singer kept her style in check.
Barrino, who has been married to her husband Kendall Taylor since 2016, sported a pair of silver hoop earrings and a black facemask. She had a yellow bottle beside her.
STAYING FASHIONABLE WHILE PREGNANT
While comfortably seated, Barrino wore a long-sleeved pink dress, emphasizing the roundness of her belly. She paired her stylish outfit with long manicured nails.
Barrino is making the most of her pregnancy journey. In January, the "Free Yourself" hitmaker announced through an Instagram post the gender of her unborn child. She wrote:
"It's A Girl."
LONGING TO HAVE ANOTHER CHILD
Last November, Barrino announced on social media that she was expecting. She gave thanks to God and Taylor and expressed excitement about how their child would look. 
The acclaimed singer had been longing to have another child. Before becoming pregnant, the "Lose to Win" star opened up in a previous interview about struggling with a fertility issue for three years. 
Barrino earlier shared pictures of herself doing impressive work-out routines while heavily pregnant.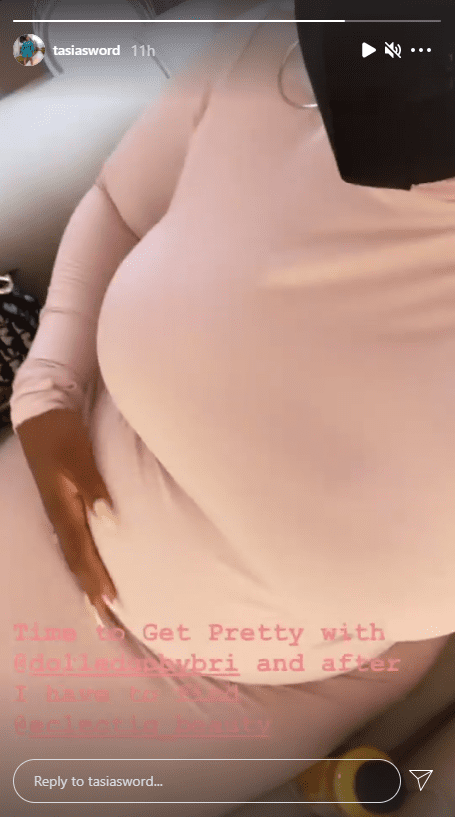 It was a tough journey for the couple. Their doctor told them that one of Barrino's fallopian tubes was closed while the other was open. The situation meant that she had a slim chance of conceiving a child. 
People they know also suggested in vitro fertilization or IVF. For her desire to be pregnant naturally, Barrino turned to the Bible for spiritual guidance.
FIRST CHILD TOGETHER
After Barrino took six pregnancy tests, one of these kits came out positive. As a result, the doting mom and the CEO of Salute1st increased their strong faith in God even more.
Barrino's baby is her first child with Taylor, who she re-married on Christmas Day in 2016. The couple is already parents to three children from their previous relationships.
Barrino is a mother to eight-year-old son Dallas Xavier and 19-year-old daughter Zion Quari from a previous partner. Taylor has a grown-up son named Treyshaun.
While awaiting the birth of their new child, Barrino has been going to the gym. She shared pictures of herself doing impressive work-out routines while heavily pregnant.