YouTube/Newsfirst Sri Lanka
Mrs Sri Lanka Winner Says She Was Injured After Crown Was Forcibly Taken — Here's What Happened
Mrs. Sri Lanka winner Pushpika De Silva spoke up about her controversial win and revealed she obtained head injuries after Caroline Jurie forcefully took the crown from her head.
A big commotion happened on Sunday after beauty pageant contestant Pushpika De Silva was stripped of her title as Mrs. Sri Lanka within minutes from being crowned in front of a big audience.
The incident was made worse after the crown was forcefully taken off her head on stage by 2019 pageant winner Caroline Jurie, who is the current reigning Mrs. World. Jurie also gave a short speech that cited a pageant rule, preventing De Silva from winning.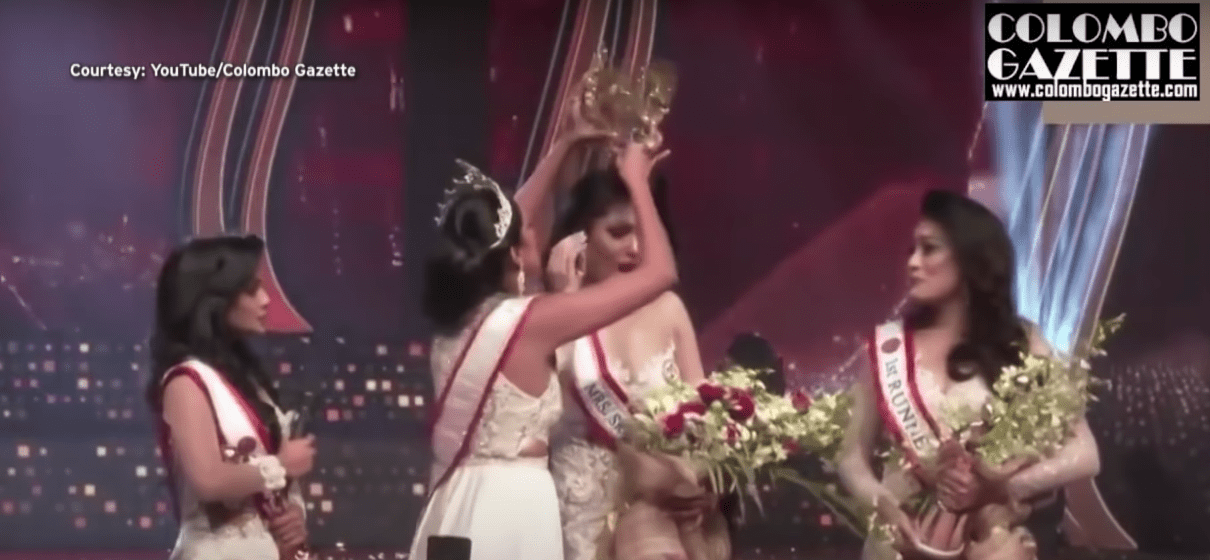 Screenshot of Mrs. Sri Lanka beauty pageant. | Source: YouTube/ColomboGazette
According to the statute, a divorced woman is not classified as married and is not eligible for the title. As such, Mrs. World 2019 crowned the first runner-up as the winner. In a video posted, Jurie walked up to De Silva and took the crown off her head.
As seen in the clip, De Silva was in pain as several hair strands were attached to the crown. Regardless, Jurie declined help from another woman and instead forcefully pulled the crown off while De Silva struggled.
The following day, DeSilva penned a lengthy Facebook post, revealing that she suffered skull injuries during the incident and was indeed in pain while Jurie snatched out the crown. The doting mother wrote:
"If that symbolic crown was snatched from my head, I've already passed the necessary legal action for that injustice and insult."
The crown will be returned to De Silva.
Despite the incident, De Silva assured her fans that she would keep her head up and take pride in being chosen as a winner. She also cleared up that she was not actually a divorced mother.
"I say with great responsibility that I am not a divorced woman even at this moment of writing," she said. "If I was a divorce, I would dare them to submit my divorce scripts. I haven't hidden from the world that I'm with my child [sic]."
Chandimal Jayasinghe, director of Mrs. Sri Lanka World, revealed that they are let down by Jurie's embarrassing behavior and that the issue is already under investigation. Furthermore, the crown will be returned to De Silva.
Several beauty pageant controversies in the past involved legal action, with some more crowned winners more famous than others. Pageants have been prominent in the past years, jumpstarting contestants' careers in the entertainment industry.
Today, some known celebrities started as contestants, including Delta Burke, Oprah Winfrey, Sophia Loren, Chelsea Handler, and Eva Longoria. Hence, it comes as no surprise that many aim to join and win such events.
Please fill in your e-mail so we can share with you our top stories!