Lupita Nyong'o Sits Pretty in a Colorful Top With a Plunging Neckline during a Trip to Tanzania
Lupita Nyong'o's outspoken nature shouts itself out in her writing expressions, taste in roles, as well as her sense of fashion, with her flavor being bold, colorful, and proud. 
Lupita Nyong'o recently took to Instagram to share yet another gorgeous photo. The famed and smart actress 'sat pretty' as she stunned in a colorful top with a plunging neckline, her dark skin glowing through the frame. 
Her top was absolutely shocking and stunning in one go, with its multi-colored stripes pulling the eyes in. The bright yellow, blue, orange, white, and black top gave off a psychedelic African Tiger ambiance.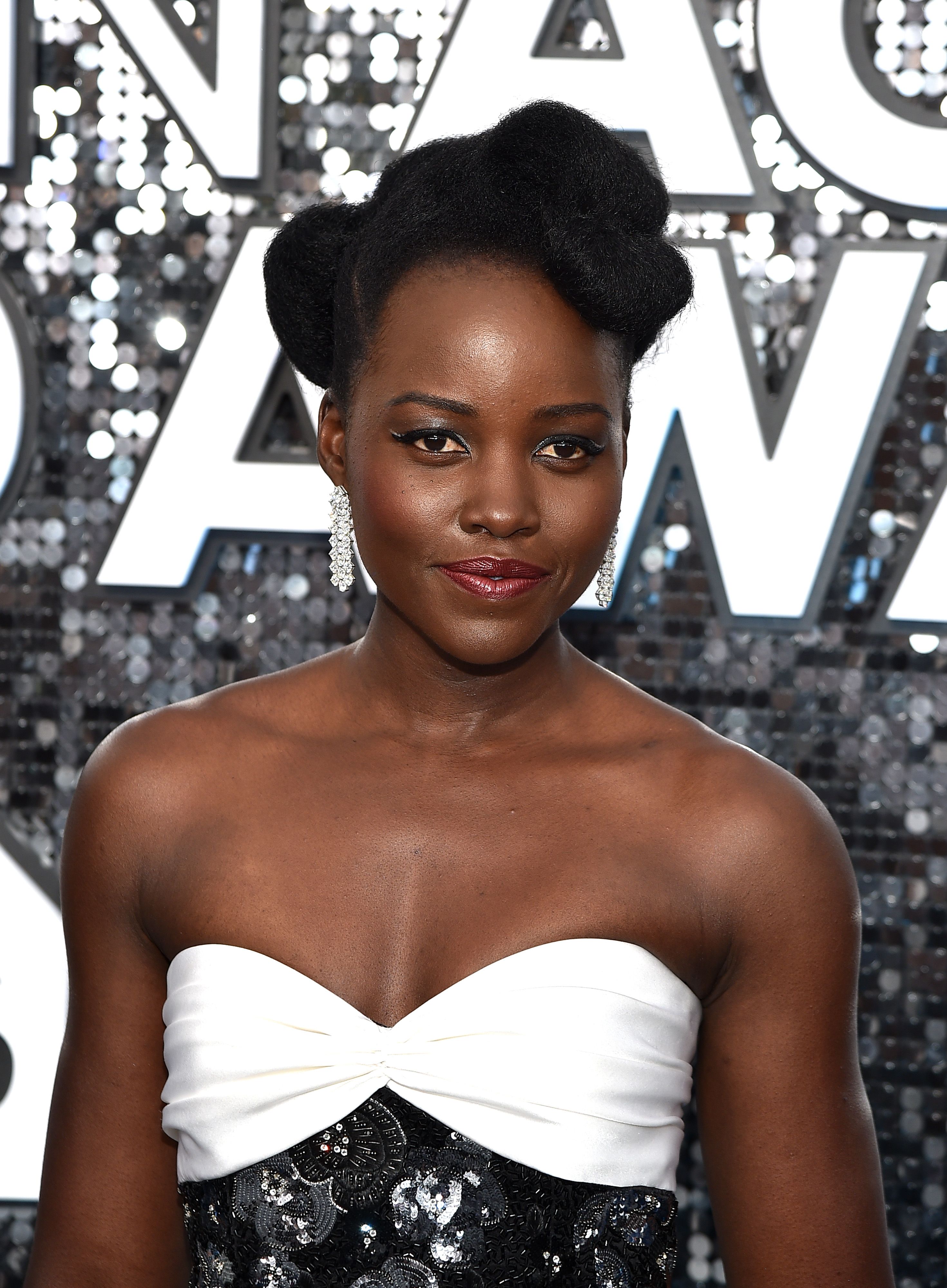 AFRICAN QUEEN
The plunging neckline, combined with a gold necklace, highlighted her glowing skin and elegant bust as well as her collarbones. As she sat in the chair with a wonderful combination of elegance and power, she rightly wrote in the caption: 
"Sitting pretty."
Her army green pants added to the outfit's African bush essence, while her dark shades gave it a modern-day twist. Her white shoes also seemed quite dirty, implying that she had been exploring nature. 
COLOR AND CONFIDENCE
Her hair was absolutely stunning, tied up in a large, brave, and quirky bun, as she stared into the camera with deep and fierce confidence. The chair she sat on, combined with her power stance, also made her appear somewhat regal. 
Nyong'o will also be co-starring in an upcoming limited series with renowned actress Natalie Portman.
The comment section went absolutely wild for her, leaving positive emojis of all variations as well as compliments saying how stunning she is. The post received a total of 198,000 likes overall.  
THE DANGERS OF COLORISM
This very outspoken woman doesn't shy away from controversial topics, opting to speak about the dangers of colorism and how she felt she needed to have lighter skin as a young girl. She continued, saying: 
"I had a sister who was lighter-skinned, and people would coo over her in ways they wouldn't at me, so I definitely internalised that."
Nyong'o has even written a book about a girl who has skin color darker than all the other individuals she knows. She wrote it to inspire children to love themselves as they are. 
POWER TO THE WOMEN
Nyong'o will also be co-starring in an upcoming limited series with renowned actress Natalie Portman. The series is called "Lady in the Lake" and is an adaption of Laura Lippman's novel.
Both will be playing strong women, with Portman taking on the role of a housewife turned journalist. Nyong'o will be a mother who is incredibly industrious while also playing a large role in moving Baltimore's Black progressive agenda forward. 
Nyong'o is amongst many celebrities who bring awareness to Black issues via their artistic talents. Singer and pop-star Maren Morris is only one of them, where she wrote a song which addresses Black Lives Matter (BLM).
The song was co-written by Morris and Jessie Jo Dillon, Jimmy Robbins,  and Laura Veltz. One of the scenes in the music video directed by Gabrielle Woodland shows a Black man facing police brutality.