Meghan Markle's Friend Misha Nonoo Is Expecting a Baby Girl like Her Best Pal
Meghan Markle's good friend, Misha Nonoo, announced she is expecting a baby girl, a few weeks after Markle shared her own pregnancy.
With a gorgeous photo showing off her growing baby bump, Misha Nonoo announced she is expecting her second child, a baby girl, who will make her eldest son Leo a big brother. 
Nonoo is a great friend of Meghan Markle, and her announcement comes a few weeks after Markle revealed she is expecting a daughter while in an interview with Oprah Winfrey.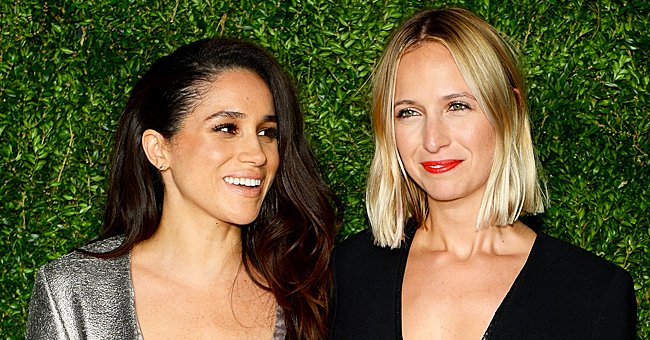 The best friends actually had their sons, Leo and Archie, within a year of each other. There is no doubt both little boys are excited to welcome their little sisters into their respective households.
Alongside the photo of Nonoo posed in a gorgeous maroon maternity shirt, Nonoo wrote that her clothing brand would be releasing a set of maternity clothes in celebration of the news. She shared in the caption:
"We're adding a sweet baby girl to our family, and Leo will soon be a big brother! To celebrate, we're launching a new collection of maternity styles."
She explained that the collection was inspired but the maternity wardrobe heroes she loved and then missed wearing from when she was first pregnant in 2019 to 2020. 
The pieces are designed to be worn before, during, and after pregnancy. Nonoo explained that the garments are made for whatever the wearer's future might be. 
Apparently, Nonoo helped Markle and Prince Harry meet for the first time. 
The pieces, which Nonoo hopes brings comfort, ease and style, are for any mom, either someone who is already a mother or an expectant mom-to-be. She showcased a flowy shirt from the collection in her post.
Perhaps her friend Markle will sample some of her looks. The two have worked together as Nonoo collaborated on Markle's Smart Works capsule collection in 2019. Nonoo said of Smart Works: 
"Their work is incredible, the way that they help women get back into the workforce by dressing them and then helping coach them through interview processes."
Nonoo designed a white husband-styled button-down shirt for the collection. Markle actually wore the piece at her husband, Prince Harry's Invictus Games in 2017. The shirt comes in a variety of colors too. 
According to the Daily Mail, the friends meet in 2014 at a Soho House lunch in Miami during an art fair called Art Basel. The membership director of Soho houses had sat the then actress next to the fashion designer. 
Markle and Nonoo hit it off and became good friends. The documentary "Finding Freedom" detailed some of their friendship. Apparently, Nonoo helped Markle and Prince Harry meet for the first time. 
Nonoo is married to Mikey Heiss, a 33-year-old oil heir. The couple were married in a big ceremony in Rome in 2019 and welcomed their first child Leo in March 2020, less than a year after Archie was born.