Brandy Looks Beautiful With Space Bun Braids in a Selfie on the Set of Her New Show 'Queens'
Brandy gave her fans a new reason to be excited for her upcoming ABC drama, "Queens," when she shared a stunning selfie of herself rocking adorable bun braids. Fans can't get over how youthful she still looks at 42 years.
Grammy Award-winning singer and actress Brandy Norwood had her fans in a frenzy over a recent pic promoting her new ABC show, "Queens," whose pilot she is currently filming.
The "The Game" actress opted to share the beautiful selfie with her 3.2 million Twitter followers and playfully captioned the photo, "Whatchu lookin at Naomi? #Queens."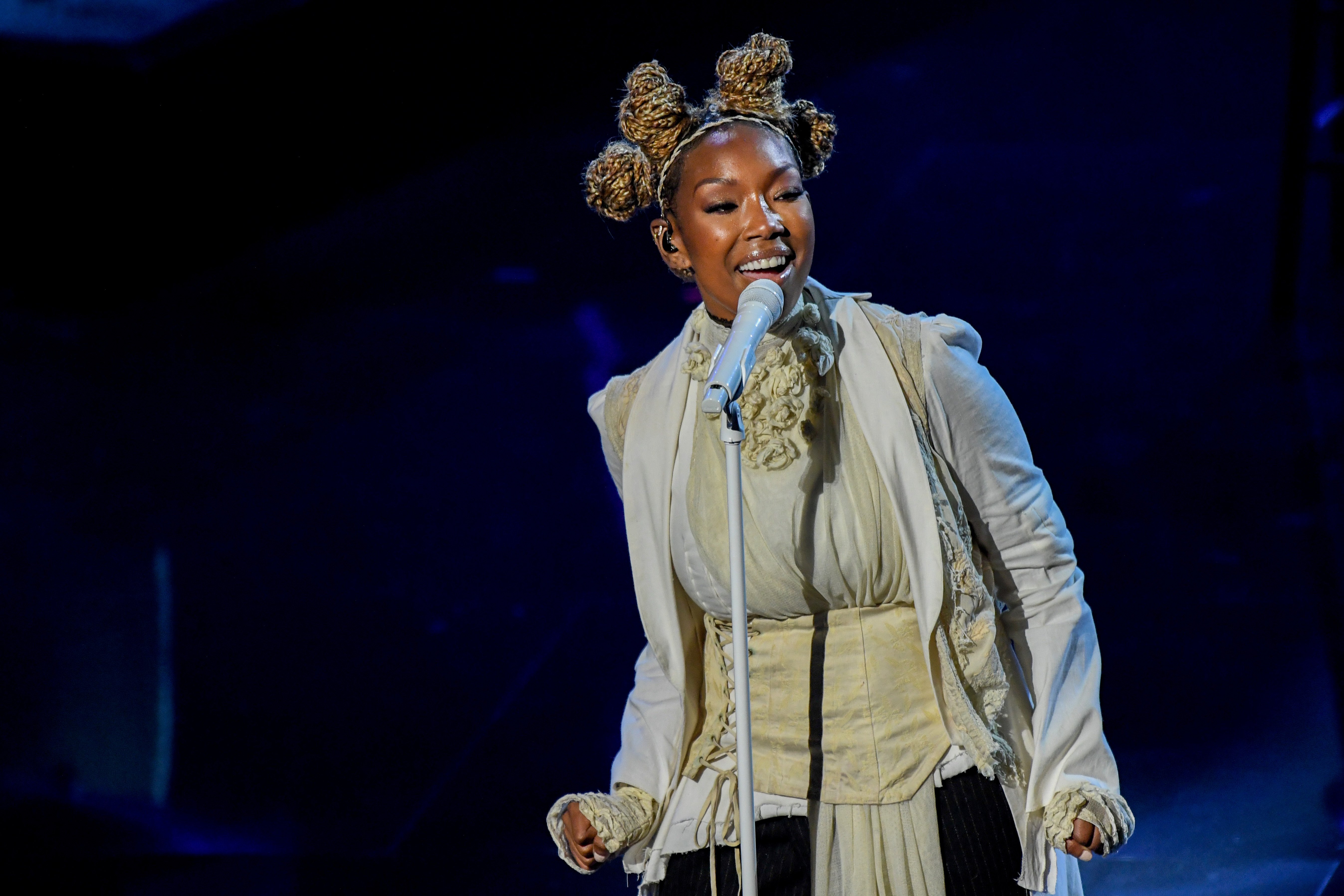 A FLAWLESS QUEEN
In the selfie, Norwood's flawless skin radiated as she looked to the side with her mesmerizing brown eyes, which were enhanced by black eyeliner and subtle gold eyeshadow to match her soft pink lips.
The "The Boy Is Mine" hitmaker styled half her hair in four braided buns while the rest of her curly hair was let down at the back. She accessorized her look with a pair of exquisite silver hoop earrings and a matching neck chain.
Off to Florida to finish this amazing #Queens pilot in my fave #MagnoliaPearl x @FreePeople and of course @Nike and @LouisVuitton ♥️ pic.twitter.com/0e3ePa7In6

— b r a n d y (@4everBrandy) April 5, 2021
Norwood looked breathtaking, and her delighted fans quickly flooded the comments with compliments about her age-defying beauty. "Looking good and young as ever," gushed one fan.
Another person wrote, "I don't understand how you get more beautiful every day!! Please what is this magic?? You're stunning," while a third added, "It's crazy the way ur aging backwards."
Thank you God for empowering me to embrace the love and light guiding my path. As I embark on this next chapter, I now understand the key to happiness is choosing what to accept and what to let go. I appreciate all your beautiful birthday messages 🤍🤍#TwoEleven #DivineTiming pic.twitter.com/GIXRwwhqYu

— b r a n d y (@4everBrandy) February 11, 2021
THE MULTI-HYPHENATE
Norwood may have kept her youthful appearance, but at 42 years old, she has lived an interesting life full of highs and lows, as she juggled between her personal life, romantic relationships, and a demanding career.
Her impressive resumé includes numerous music awards, Broadway appearances, and film and TV credits like "I Still Know What You Did Last Summer," and her most popular show to date, "Moesha."
Whatchu lookin at Naomi? #Queens 👑 #setlife pic.twitter.com/Iv7Db1r1X3

— b r a n d y (@4everBrandy) April 6, 2021
BRANDY'S NERVOUS BREAKDOWN
Norwood was the star of the nineties sitcom, and on the surface, she was at the top of her game. However, deep down, she was unhappy and eventually suffered a nervous breakdown in 1999. In 2002, her mom, Sonja Norwood, told Oprah:
"Brandy became less valuable to herself when she got into relationships. When she focused on her music, she was always on point."
At the time, the "Full Moon" singer was deeply involved with an abusive man, and her self-esteem was at an all-time low. Fortunately, she managed to break free and took some time to heal herself.
"The Love in me shines forth as harmony, peace, joy, freedom, and wisdom. Love binds me to the whole of creation. I find fulfillment through loving." - Ernest Holmes
Love y'all ♥️ -rocka pic.twitter.com/DosG8SeZx9

— b r a n d y (@4everBrandy) February 17, 2021
PHYSICAL AND MENTAL AWARENESS
Since then, Norwood has made more efforts to take care of her physical and mental health. After having her daughter, Sy'rai Smith, finding a balance became a priority of paramount importance.
In 2015, the "Afrodisiac" songstress told HuffPost that she had taken up daily meditation which helped her center her thoughts and kept negativity out of her mind.