Discover behind-the-Scenes Details on 'All the President's Men' since It's Release 45 Years Ago
The 1976 movie "All the President's Men" remains an all-time favorite for fans. Now, 45 years after its release, here's a look into the movie that mixes everything from investigative journalism to political conspiracies.
"All the President's Men" was released 45 years ago on April 4, 1976. Winning four Academy awards and many more awards, the movie is arguably one of the greatest political thrillers of all time.
The film centers around the story of two young reporters, Carl Bernstein and Bob Woodward, who teamed up to crack the Watergate conspiracy, a reference to President Richard Nixon's Watergate scandal in the early '70s.
ALL THE PRESIDENT'S MEN (1976)

Cinematography by Gordon Willis
Directed by Alan J. Pakula
Explore more shots in our database: https://t.co/r4wvBG6m1l pic.twitter.com/NRvVtGfDHJ

— One Perfect Shot (@OnePerfectShot) April 7, 2021
What should have been the reporting of a minor story soon turns into a conspiracy unraveling that would later become one of the greatest investigative works in American history.
Not only did Bernstein and Woodward's interest in the story have an initial effect on their reputations and jobs, they would later discover that their lives were also in danger. Yet, they kept at it.
Robert Redford on life as an activist, fighting climate change and what 'All the President's Men' is really about in our Last Word interview. https://t.co/NtzHULvNDE

— Rolling Stone (@RollingStone) April 6, 2021
With Dustin Hoffman starring as Bernstein and Robert Redford taking on the role of Woodward, fans were treated to 2 hours and 16 minutes of remarkable chemistry between the two actors, giving their roles a perfect delivery.
Holbrook reportedly revealed that he initially turned down the role after reading the script.
'All the President's Men' was released 45 years ago this week, and its director, Alan J. Pakula, was born on this day in 1928. So, you should go watch the film (it's on @HBOMax) and also read this essay by @TomiLaffly from 2016 on its enduring relevance: https://t.co/iei4O0pyvR pic.twitter.com/zoCooOIJNG

— Film School Rejects (@rejectnation) April 7, 2021
While the movie mainly highlighted Woodward and Bernstein's tireless efforts to uncover the conspiracy, it also focused on how their investigation would have been futile without help from different sources.
However, their most mysterious and perhaps most helpful information came from Deep Throat, a government official turned whistleblower who coined his nickname from a controversial adult film at the time.
Today marks the 45th anniversary of ALL THE PRESIDENT'S MEN, the final film of Alan J. Pakula's acclaimed 'Paranoia Trilogy'. 🗞️

Here's some images from the making of the film (and yep – that's @JohnDenverMusic!). #OTD #AllThePresidentsMen pic.twitter.com/Pp7i3AUsNk

— Park Circus (@ParkCircusFilms) April 9, 2021
Played by legendary actor Hal Holbrook, viewers saw how Deep Throat was a subtle yet vital force in Woodward and Bernstein's unraveling of the conspiracy. The actor, however, almost did not take up the role.
Speaking in 2018, Holbrook reportedly revealed that he initially turned down the role after reading the script and seeing that his character would not be seen throughout the film.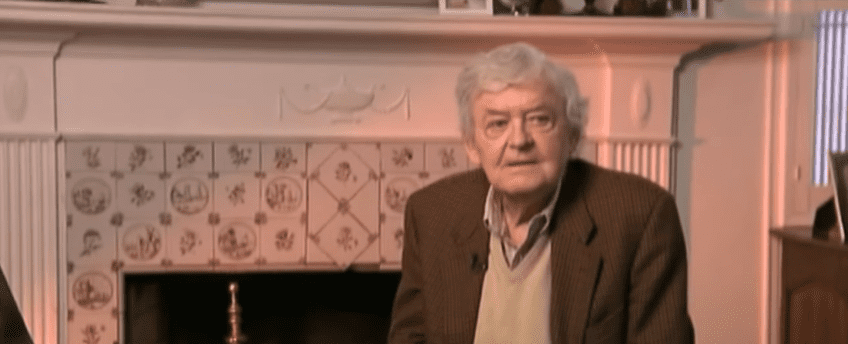 However, Redford's visit was all it took for Holbrook to agree to appear in the movie. Now 45 years after, not only do fans remember the tenacious Woodward and Bernstein, they also remember Deep Throat, the mysterious guy in the dark.