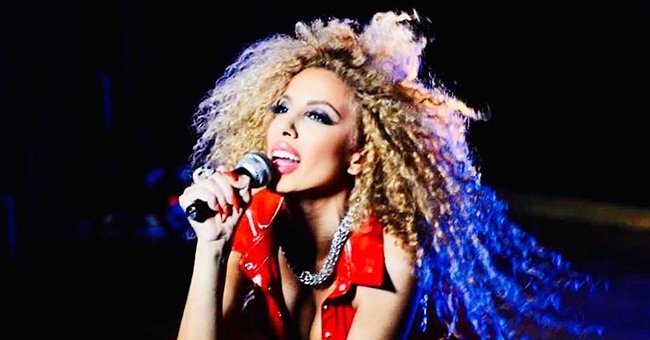 Tina Turner's Daughter-in-Law Afida Puts Her Enormous Cleavage on Display in a Latex Mini Dress
French singer and Tina Turner's daughter-in-law Afida Turner took to social media and showed off her massive cleavage wearing a sexy black number dress.
"What Up" actress Afida Turner does not hold back on flaunting her enormous cleavage. She took to her Insta Stories and shared two snaps of her enjoying her evening in a sexy outfit.
The first shot showed her posing with a glass of champagne in her hand while sitting down on a beige couch. She disclosed that she was at the Versace Hotel Ball Room.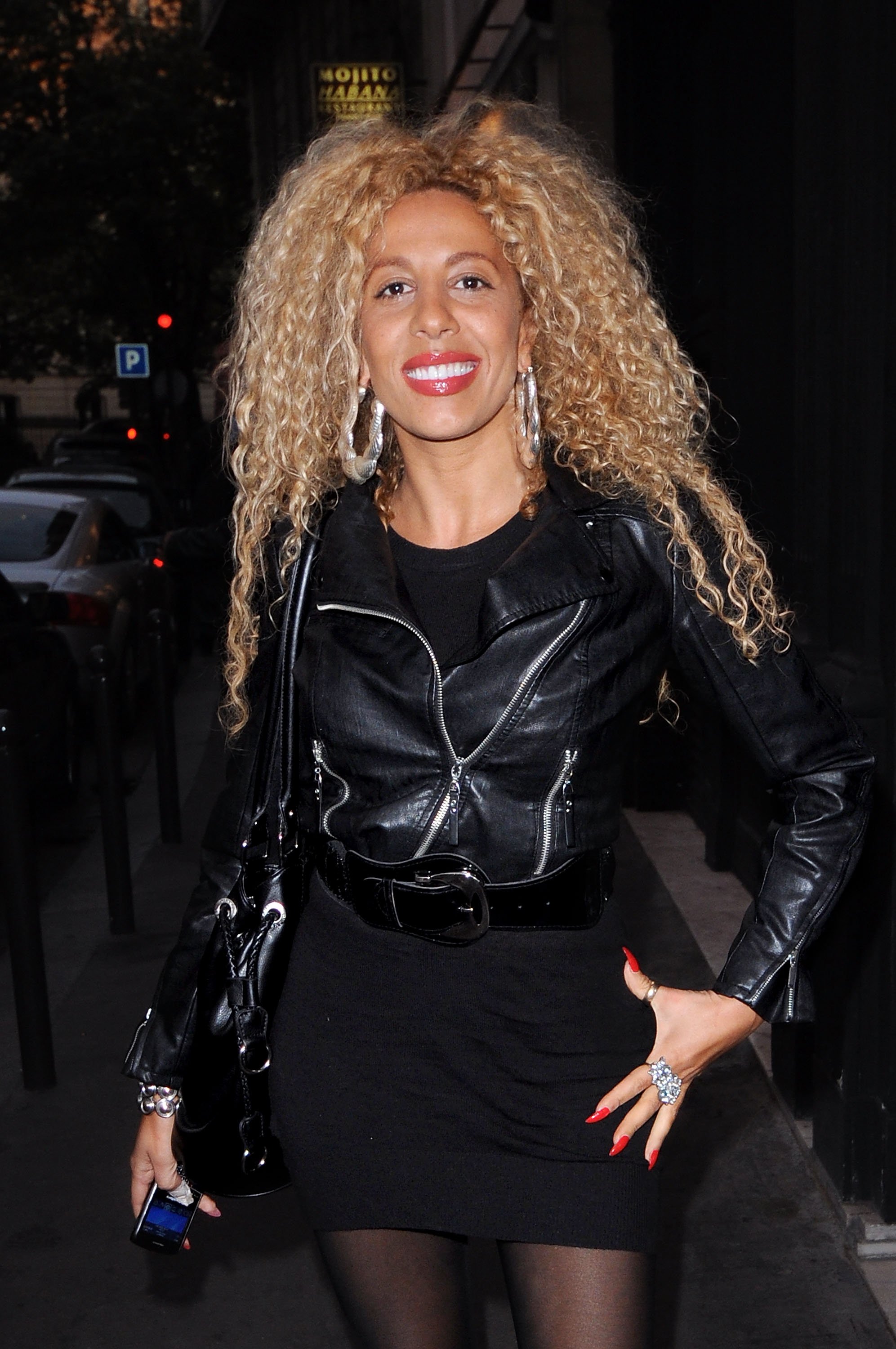 Afida Turner in Paris on June 15, 2010 in Paris, France | Photo: Getty Images
AFIDA ROCKING BLACK DRESSES
Afida posed, giving a broad smile in her black latex mini dress. She went for various colors to complete her look on painted orange and gold nails with a gold bracelet.
The 44-year-old opted for glowing red lip color and a puffed-up makeup look. Afida wore her blonde curly hairstyle down, which accentuated her big gold earrings.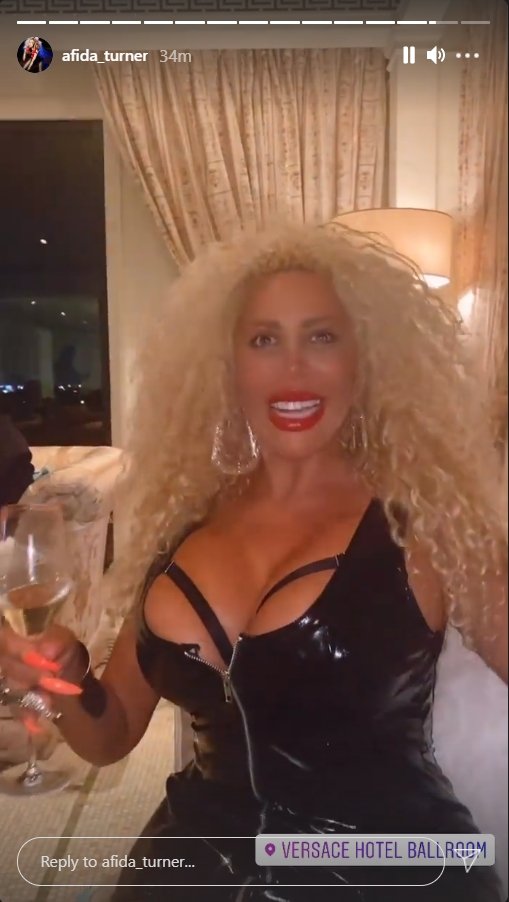 A photograph of Afida from her Insta Stories | Source: Instagram/@afida_turner
Another snapshot showed her sipping on her champagne with one hand rested on her thigh. Behind her, a tall lit lamp is visible in the dimmed lit room.
The curtains have the same color as the couches, together with a brown rug. The backdrop also showed the view of tall lit buildings in the evening.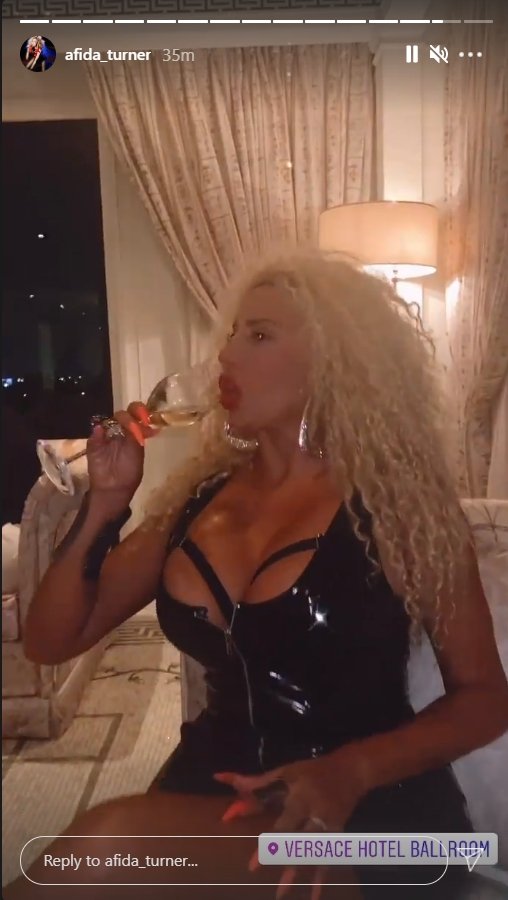 A picture of Afida Turner sipping on champagne | Source: Instagram/@afida_turner
It appears mini black dresses are Afida's go-to as she rocked another one back in February. At the time, she was in Dubai. She shared an image of her posing at the entrance of a very select bar.
The snapshot showed her cleavage in the full display while rocking the black number wearing red heels with matching red armbands. The media personality wore her curly blonde locks down.
Meanwhile, her mother-in-law, Tina Turner, is relatively private about their family. Tina had a famously turbulent family life that she did not talk about in detail often.
The singer was married to Ike Turner for 16 years and then married Erwin Bach in 2013 after a 27-year relationship, but she does not often discuss her children.
She has two biological kids, Craig Raymond and Ronald Renelle, known as Ronnie. The superstar also adopted Ike's children Ike Jr. and Michael, raising them as her own.
In total, the legendary Queen of Rock 'n Roll is a mother of four kids. Tina became a mom for the first time when she was just 18 years old. She and Raymond Hill, a saxophonist, welcomed their eldest son, Craig, in 1958.
However, their relationship did not last long as they broke up shortly after their son was born. She then started dating Ike, and they expanded their family when they welcomed their son Ronnie that same year. Two years after Ronnie's birth, the pair tied the knot in 1962.
ALL ABOUT THE STAR'S KIDS
Tragically, Craig died in July 2018 by suicide at age 55. He worked as a real estate agent throughout his adult life. Following his passing, his mother paid an emotional tribute on social media and said he will always be her baby.
The 81-year-old still has his one biological son, Ronnie, born in 1960. Like his mom, Ronnie also pursued an acting career. To date, his most famous role was alongside his mother in the '90s film "What's Love Got To Do With It."
Now a Swizz citizen, Tina's adopted son Ike Jr. claimed that she had abandoned her family in the US. Back in 2018, he revealed that he had not spoken to her since probably around 2000.
At the time, Ike Jr. said his brothers had not spoken to her in a while either. He said she is living her life now that she has a new husband and is based in Europe. The 63-year-old said his mom does not want anything to do with the past.
Please fill in your e-mail so we can share with you our top stories!