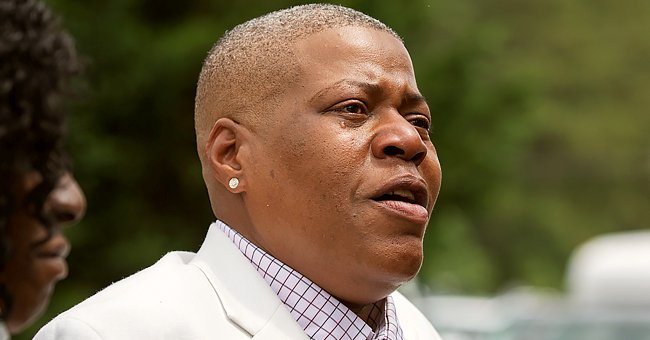 Getty Images
George Floyd's Sister LaTonya Learns More Painful Details about His Death Amid Trial
LaTonya Floyd, George Floyd's sister, has described her brother's death as painful after discovering more details about the tragic incident. This comes amid the trial of Derek Chauvin, the cop accused of his murder.
For many, watching former cop Derek Chauvin's trial is a step closer to justice, but for George Floyds, sister, LaTonya Floyd, it has been anything but easy. Speaking to People magazine, she said:
"It's painful, I cry every day. I cry every hour of the day. I'm about to cry right now."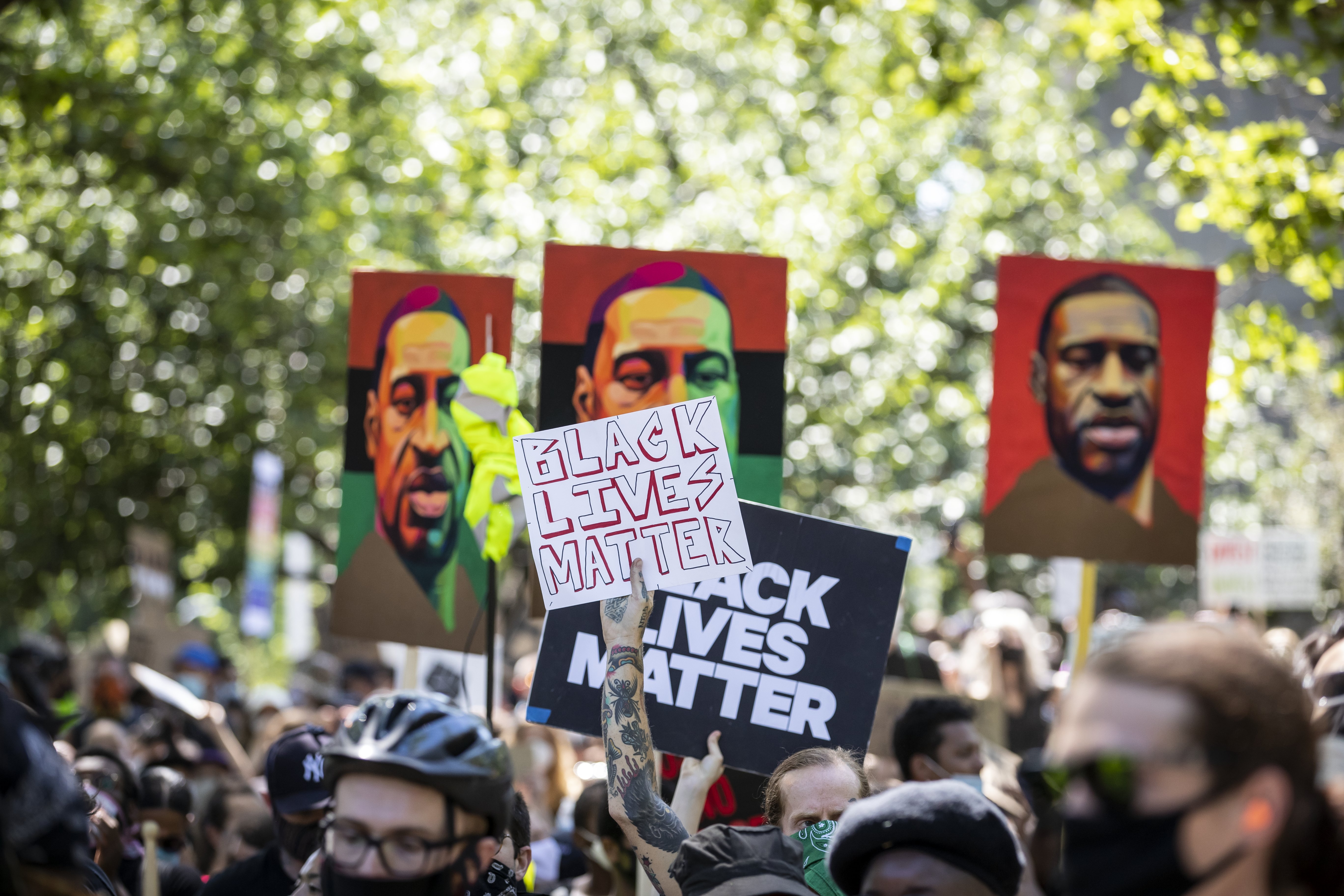 A protester with tattoos holds a sign that says, "Black Lives Matter" with three painted portraits of George Floyd at the Brooklyn Borough of New York on June 19, 2020 | Photo Getty Images
LaTonya admitted that the trial had opened her up to many details about Floyd's death, including the fact that his death took longer and was more painful than she had thought. She said:
"If you want to kill him that bad, why make him suffer? He suffered. He felt every ounce of pain."
In the ongoing trial, Chauvin has pleaded not guilty to charges of second-degree murder and manslaughter levied against him concerning Floyd's death on May 25, 2020.
From videos shared online by onlookers, Chauvin was captured kneeling on Floyd's neck, eventually leading to his death. The clips went viral, sparking global protests against police brutality and racial injustice.
Though medical examiners ruled that Floyd died by homicide, Chauvin's lawyer Eric Nelson insists that the 46-year-old's underlying health issues contributed to his death.
Chauvin's trial began last month with opening statements read on March 29. Though it is expected to go on for another two weeks or more, testimonies have started rolling in.
One notable testifier was an off-duty EMT who revealed that he tried to intervene and check Floyd's vitals, but Chauvin did not stand or budge.
Following Floyd's death, his family and loved ones have dealt with an immeasurable level of grief. Last month, LaTonya called him her best friend while admitting that she misses him every day.
Last year, Bridgett, another of Floyd's sisters, expressed her grief, accusing Chauvin and the other three police officers involved of killing her brother while saying that she hoped they are charged with murder.
Before his death, Floyd was a regular at Cup Foods, the store in Minneapolis where he was accused of spending a fake $20 bill. Consequently, an employee called the police, leading to his arrest by Chauvin.
Speaking in reaction to his tragic death last year, Mike Abdumayyaleh, the store owner, described the 46-year-old as a pleasant customer who never caused any trouble. It, however, remains unfortunate that his life was cut short abruptly.
Please fill in your e-mail so we can share with you our top stories!