Story of the Day: Man Exposes Wife's Lies About Their Infant's Feeding At the Doctor's Office
A man exposed his wife's lies about their infant's diet during a visit to the doctor's office. His wife had not been feeding their child the right foods. 
A dad, Eric, and his wife, Angie, have an adorable baby who was only two months old. Their pediatrician told them that their baby should only be eating formula at a recent check-up until she is about six months old. 
However, Angie disagreed with the doctor. Instead of bringing up her issues with the doctor about their baby's diet, she started introducing normal food to her diet, including mashed potatoes, stewed fruit, and different fruit juices.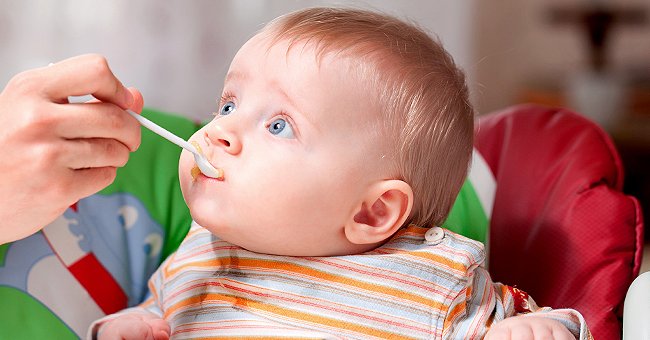 Eric started noticing that their baby was constipated and would cry after Angie fed her. The baby had trouble sleeping and would be up most nights screaming and crying. Angie excused the baby's behavior by explaining to Eric that she was "colic." 
Angie continued to introduce more table food into the baby's diet. Eric told her not to, and only to feed her formula, and to wait until their next appointment to ask if they could introduce new foods. 
Angie was persistent that she was a mother and knew how to care for their baby. She told Eric that their pediatrician only recommended formula and that they did not need to follow it. 
Whenever Eric was home from work and on weekends, he made sure only to feed their baby formula. He would try his best not to allow Angie to feed her normal food. 
One morning, Eric was feeding the baby a bottle. Angie told him not to fill her up on formula as she had just made oatmeal and wanted the baby to eat the oats instead of the formula. 
Eric was just irritated because he knew that Angie was not doing the right thing, but he did not know how to approach the topic so that she would listen to him. 
At the parent's next appointment with the pediatrician, Eric told the doctor the truth. Angie had explained that the baby was colic and have tummy issues. The doctor then asked about the baby's diet. 
Angie was adamant that they had only fed her formula. Eric was angry that Angie had lied, and so he told the doctor the truth. He had tried to only feed her formula, but Angie had been feeding her all sorts of foods. 
The doctor explained that introducing new foods early on in the baby's development could cause the baby discomfort as their digestive systems are not ready for it. Angie was outraged that Eric had ratted her out.
At home, she told Eric to stay with his parents as he had embarrassed her and questioned her parenting skills. However, Eric was more upset as Angie could not see that she was putting their child in danger.