J-Lo Spotted Without Her $1m+ Engagement Ring After Alex Rodriguez Split Rumors
Following speculations that she and her fiancé of two years, Alex Rodriguez, have split up, singer Jennifer Lopez has raised questions with new photos of herself posing without her almost two-million-dollar engagement ring.
Jennifer Lopez is missing her infamous engagement ring, and no, it was not a jewelry theft. The singer recently posted a series of photos of herself looking as fabulous as always. Captioning her post, the blonde beauty wrote:
"Keep calm and work on the weekend ✨ #ShotgunWedding #ProducerLife #SetLife #NuyoricanProductions @egt239 ?: @kateland7."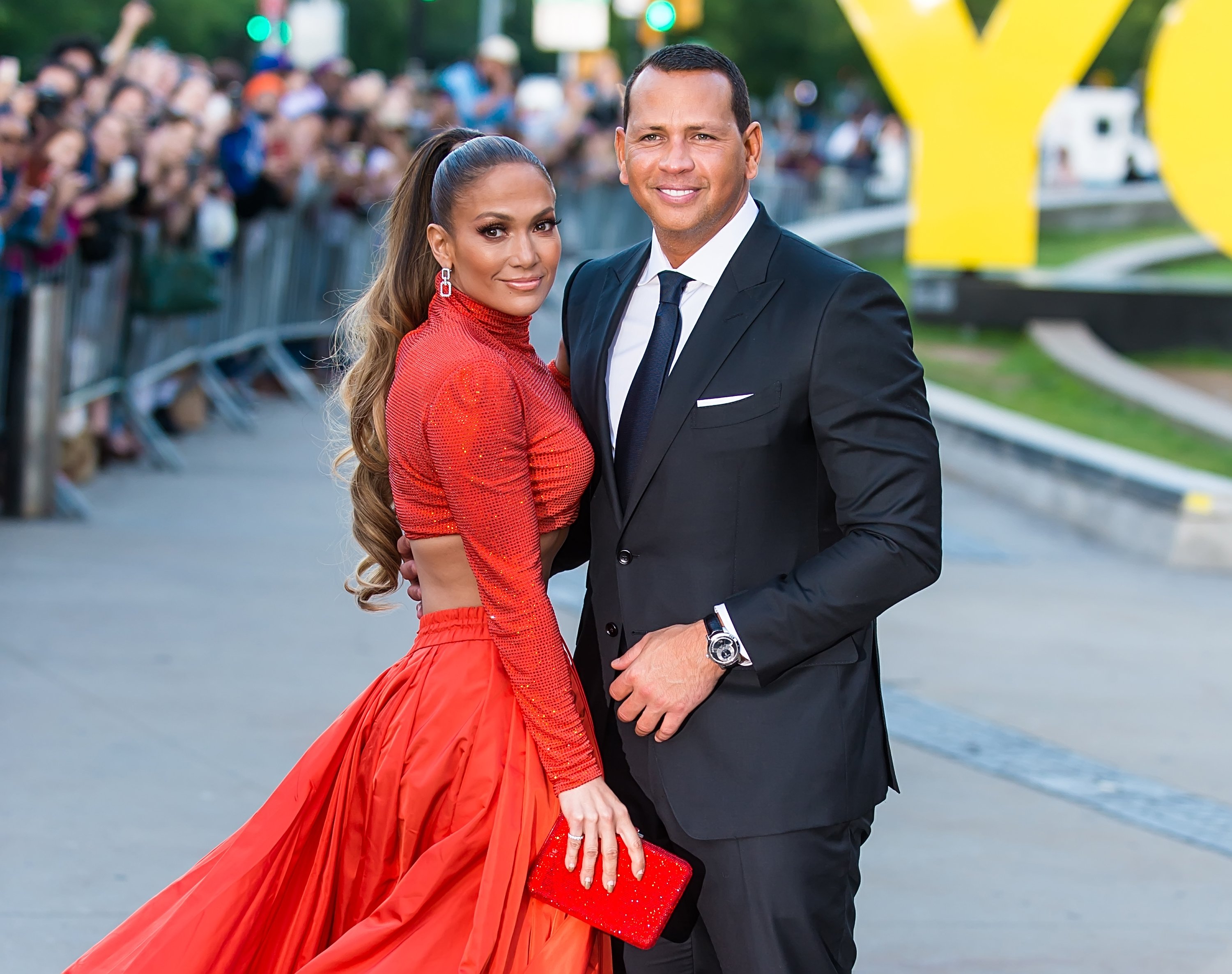 The pictures Lopez shared featured her looking absolutely sensational in a chic and elegant neutral-themed cream and white coordinated outfit on the set of the movie she's shooting in the D.R., "Shotgun Wedding." 
She wore an athletic-looking white sports bra top that effortlessly showed off her incredibly toned midriff, no doubt earned from many hours of exercise. The singer then paired the bra top with a pair of loose-fitting cream sweatpants.
To complete the look, Lopez wore a pair of white sneakers and accessorized with gold jewelry on her neck, wrist, and fingers. The one piece of jewelry her fans were looking out for, though, her engagement ring, was nowhere to be found.
In March 2021, cheating rumors involving Rodriguez's name surfaced due to allegations made by some reality TV show stars.
Her almost two-million-dollar emerald-cut ring with a massive diamond was MIA, causing a huge ruckus among fans as Lopez and her fiancé, Alex Rodriguez, recently hit a rough patch.
Lopez's unforgettable 15-carat ring was given to her by Rodriguez in March 2019, as they prepared for their long walk to the altar. The pair were planning to get married in 2020 but decided to postpone their nuptials due to the pandemic.
In March 2021, cheating rumors involving Rodriguez's name surfaced due to allegations made by some reality TV show stars. Cast members of the Bravo TV show "Southern Charm," alleged that co-star Madison LeCroy has been having an affair with an ex-MLB player.
These unforgiving rumors shook Rodriguez and Lopez's relationship, although LeCroy denied being involved with the former New York Yankees player. The intended husband and wife also seemingly split but recently sparked reconciliation rumors.
Late in March, Rodriguez took to his Instagram and posted their first photo together since the split rumors began. Fans took this as a sign of reconciliation, but with J-Lo's ring missing, there are no more unanswered questions.