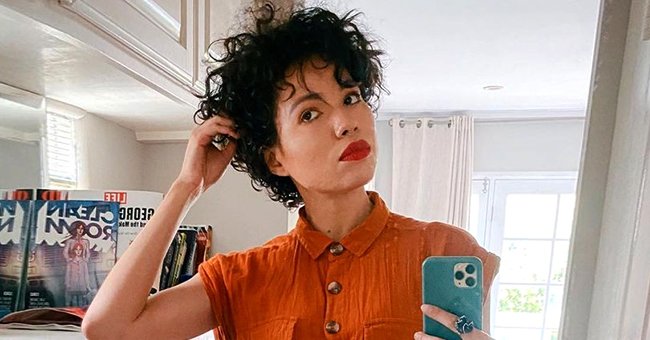 instagram.com/jurneesmollett
Jurnee Smollett Puts Her Slender Leg on Display Wearing a Leather Louis Vuitton Skirt & Jacket
Acclaimed actress Jurnee Smollett looked elegant as ever as she donned a stylish ensemble that highlighted her flawless legs. Delighted fans were quick to praise the "Lovecraft Country" star.
Jurnee Smollett recently dazzled thousands of her fans after sharing on her Instagram two pictures of herself in a chic outfit. The former child star paired her outfit with shiny heeled boots.
Smollett wore a white shirt and a leather jacket in the stunning photos. She unbuttoned her shirt down to her waist and straightened up her collar.
The renowned actress's deeply-plunged shirt looked proportionate to her leather Louis Vuitton skirt with a stylish thigh-high slit on the side. The slit emphasized her slender left leg.
In 2019, Smollett's brother, Jussie, was accused of lying to cops and staging a hate crime.
Fans were quick to comment about Smollet's one-of-a-kind beauty and extraordinary glamour. Some fans were mesmerized by her looks. Another one chimed in to describe the actress as a "queen."

A fan expressing a compliment to Jurnee Smollett. | Photo: instagram.com/jurneesmollett
Smollett's eye-catching red lipstick also stood out in the pictures. Besides looking great in a dark look, she also glowed in stylish couture during the NAACP Image Awards in March.
The veteran actress, who had split from her ex-husband Josiah Bell last year, exuded elegance in an emerald green Alexandre Vauthier gown. Smollett paired her high-slit dress with pink and orange heels.
The actress was nominated for the Outstanding Actress in a Drama Series award for her role in the "Lovecraft Country" series, but she lost to Viola Davis. Nevertheless, Smollett said being nominated alongside Davis was a "legendary moment."
Despite her loss, fans continue to rave about Smollett's acting chops in the HBO series "Lovecraft Country," which has become more relevant in light of the race issues in America.
The critically-acclaimed show, Smollett's latest project with the network, is a mix of horror and sci-fi genre. It is also a period drama featuring the Jim Crow era in the country.
The show premiered in August 2020 during the height of the Black Lives Matter movement in the country. Reflecting on the pressing issue, Smollett couldn't help but feel enraged about racism.
For Smollett, racism hits close to home. The actress, who has five siblings, came from a mixed-race family - her father is of Russian-Polish descent while her mother is Black.
In 2019, Smollett's brother, Jussie, was accused of lying to cops and staging a hate crime. She said it was one of the most painful moments her family has experienced.
She believes that her brother was innocent. The "Birds of Prey: Harley Quinn" star said that it's "maddening" to realize that racism still exists today.
Please fill in your e-mail so we can share with you our top stories!