Fans Are In Awe after Seeing Khadijah & Malika Haqq Posing With Their Beautiful Look-Alike Mom
Malika Haqq shared the most adorable picture on her Instagram page on Tuesday, showing her and her twin sister Khadijah Haqq posing with their mom, Beverly Haqq, leaving many fans in awe. 
Malika Haqq and Khadijah Haqq belong to the most adorable twins on television and have millions of fans who adore them worldwide. The twins are known for their beauty and elegance, which they inherited from their mom, Beverly Haqq. 
On Tuesday, Malika took to her Instagram page to share the most adorable picture, showing her and Khadijah posing with Beverly. Malika wore a pink long-sleeved leopard-print jumpsuit in the snapshot, flaunting her perfect smile and long brown hair.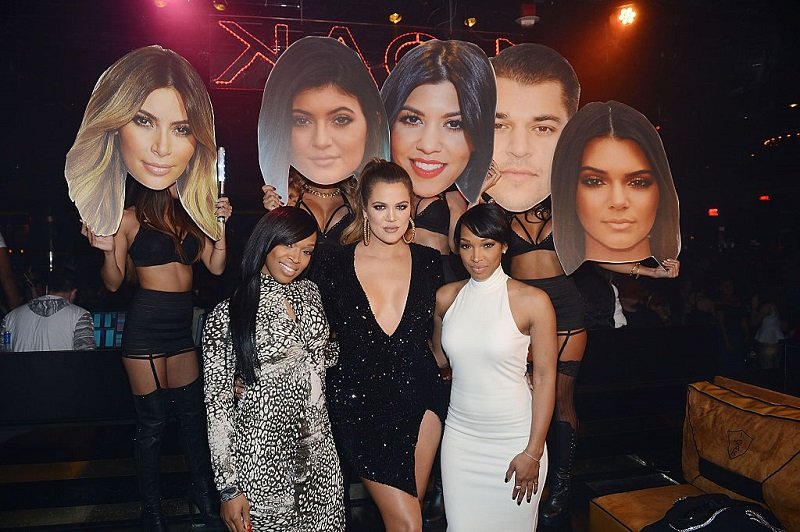 Khadijah wore a black suit jacket over a black inner dress. She paired the top with black leather pants and flaunted her long black hair. Beverly posed between her twin daughters. 
She wore a white long-sleeved top with open sleeves and paired it with black pants. She smiled most adorably, flaunting her short wavy hair. 
Malika also shared a video from the latest episode of her and Khadijah's web show, "Side By Side," with her mom speaking about finding love again and remarrying after being single for 30 years. 
In the post's caption, Malika wrote that there is always a journey before one arrives at their destination, adding that her mom would tell her and Khadijah how she found love after 30 years of being single. 
Many fans thought it would be like "Keeping Up With The Kardashians" due to the twins' friendship with the Kardashian family.
It would be recalled that Malika shared the most beautiful pictures from her mom's wedding last October, expressing happiness for the love God placed in Beverly and her husband's lives. 
Following Malika's picture post of herself and Khadijah posing with their mom, many of her fans took turns gushing over the snap and the video. 
Khadijah's BFF, Khloé Kardashian, reacted to the post with four red heart emojis. Shideh Kaviani also expressed love for the snap before describing the women as beautiful ladies. 
One fan described Beverly and her twin daughters as pure beauties, while another user said they looked like triplets. A third person noted that Malika and Khadijah look like their mom.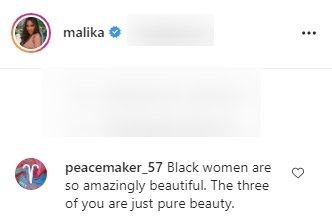 When Khadijah and Malika's web show, "Side By Side," premiered in November 2019, many fans thought it would be like "Keeping Up With The Kardashians" due to the twins' friendship with the Kardashian family. 
However, Khadijah told People that she and her sister had watched "KUWTK" for the good and bad and that it made them realize what they wanted and did not want to do.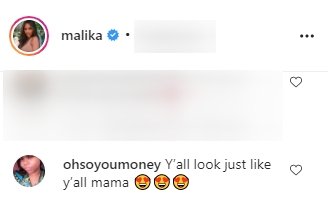 She said the show would not be one for showing anything dramatic, adding that they would sit down, be vulnerable, and share the things they love so that other people could identify with them. 
The twin sisters found fame when they debuted in the feature film, "Sky High" together. They reflected on their appearance on the Disney movie during a chat with E! News.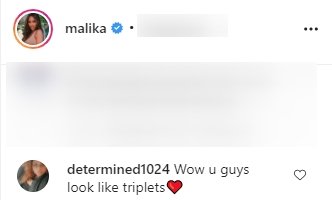 They narrated how they felt during the film's auditions and expressed gratitude that things went up for them in their careers following the film's success. 
In January, Khadijah gave birth to her third child with husband Bobby McCray after announcing her pregnancy last August. The couple also shares a 10-year-old son Christian and a daughter, Celine, 6. 
Meanwhile, Malika has dated quite a few celebrities, including Khloe's brother Rob Kardashian, and shares a one-year-old son Ace with her ex-boyfriend, O.T. Genesis.