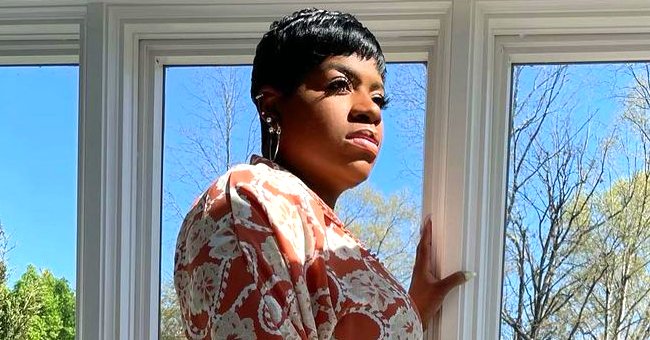 instagram.com/tasiasword
'American Idol' Alum Fantasia Posts Snaps Of Son Dallas & Daughter Zion Rocking Bomber Jackets
"American Idol" star Fantasia Barrino recently gushed about her charming son Dallas Xavier and stunning daughter, Zion Quari, on her Instagram Story.
Acclaimed singer and songwriter Fantasia Barrino does not shy from expressing her love and admiration for her children - 19-year-old Zion Quari and 9-year-old Dallas Xavier Barrino. She shared two photos of her children on her Instagram Story.
In Zion's picture, she wore tattered jeans and a black crop top, which she topped with a blue bomber jacket. She paired her cool-girl outfit with high-cut sneakers.
Zion, whom Barrino welcomed in August 2001, posed for the camera while sitting on a swivel chair. She appeared to be in a walk-in closet, as there was a shelf of shoes behind her. The R&B superstar wrote:
"Mine. Forever. Oldest. Family."
Barrino described Zion as her twin. But while they have a striking resemblance, they also have differences. Unlike the R&B icon, her daughter is more comfortable living a private life than living life under the spotlight.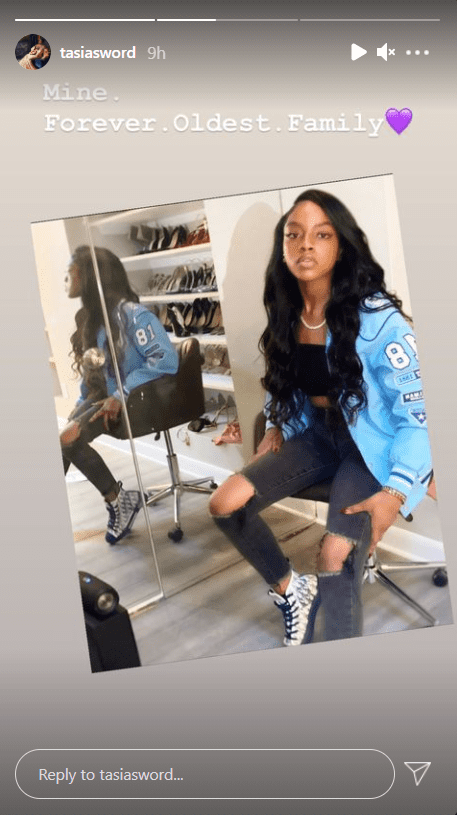 Fantasia Barrino expressing pride for having Zion Quari as her daughter. | Photo: instagram.com/tasiasword
The singer also shared on the online platform an adorable photo of Dallas who looked dapper in a green jacket, a dark gray shirt, and tight-fitting dark blue jeans.
Dallas, who was born in December 2011, appeared to be heading out as he carried a brown backpack and wore a pair of yellow sneakers. Although he has grown big, Barrino still described him as her "baby boy."
Barrino revealed in a past interview that she struggled with fertility issues for three years.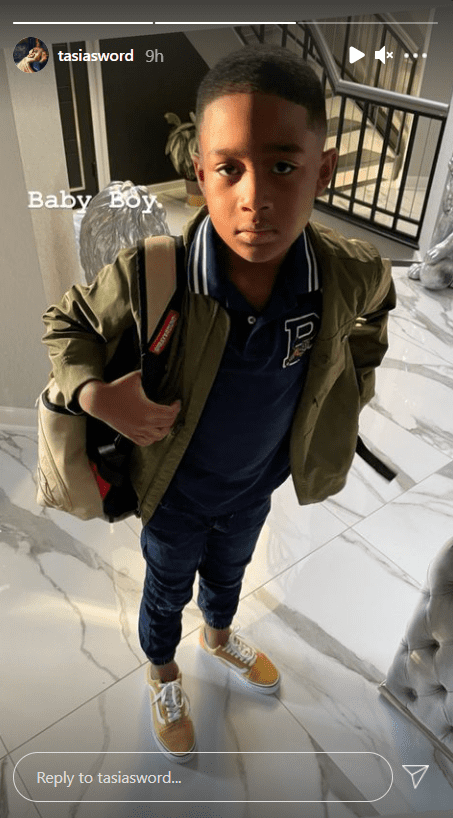 Fantasia Barrino gushing about her son, Dallas Xavier, on her Instagram Story. | Photo: instagram.com/tasiasword
Besides gushing about her two grown children, Barrino feels excited about the arrival of their family's latest addition. The Grammy-winning singer is expecting a baby girl.
Six months into her pregnancy, she was rushed to the hospital after she experienced contractions. She said it was as if her baby wanted to be born earlier than her due date.
Barrino later updated her worried fans that her contractions had decreased and she thanked her husband Kendall Taylor for staying by her side throughout the frightening situation.
The couple has been going to great lengths to protect their unborn child as it took them years to get pregnant. Barrino revealed in a past interview that she struggled with fertility issues for three years.
Barrino sought help from a doctor who informed her that one of her fallopian tubes had closed. The couple took a break from seeking medical advice and turned to God for spiritual guidance.
The soon-to-be bundle of joy will be Barrino's first child with Taylor. Her husband, whom she married in 2015, has a grown-up son named Treyshaun from a previous relationship.
Please fill in your e-mail so we can share with you our top stories!