Cardi B Shows off Blue Ombré Locks Dressed in a Tiny Corset Top With a New $79K Birkin Bag
"Bodak Yellow" star Cardi B was all shades of gorgeous in a new photo that saw her flaunting new ombre tresses and a new Birkin bag. This comes only a few weeks after the rapper opened up about life before she got famous.
When it comes to fashion, there is no holding back for Cardi B. The rapper recently added a new $79,000 Birkin bag to her already impressive collection and took it to social media to show off.
In a recent post shared on Instagram, Cardi was pictured wearing dark skinny jeans and a white corset top, showing off her cleavage. She accessorized with a pair of white pumps and gold statement earrings.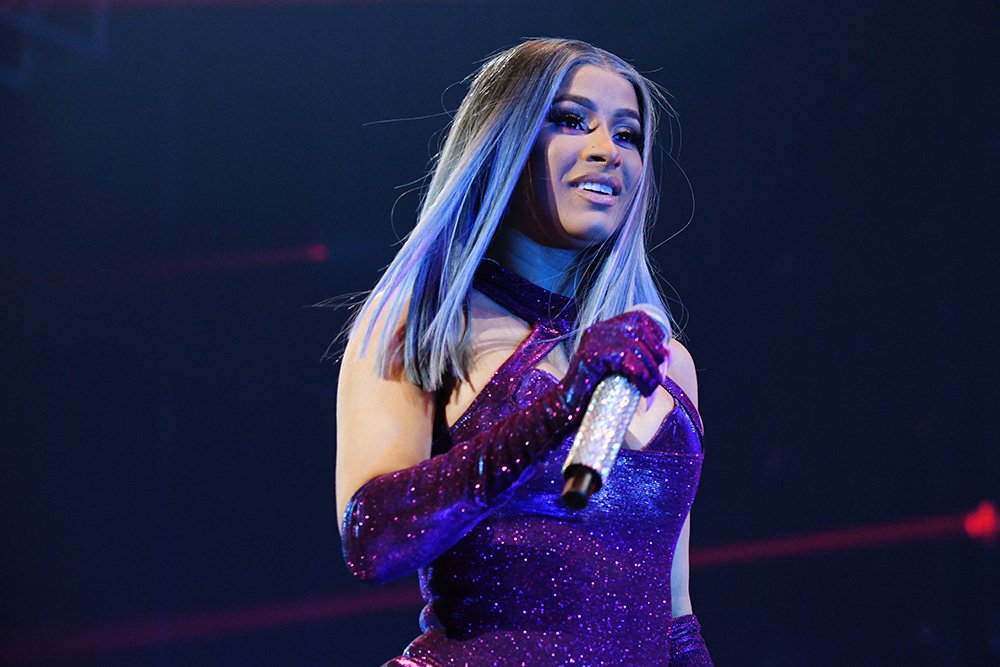 With the jeans hugging her curves and the top stopping right above her waist, Cardi showed off her flat tummy and a cute tattoo peeking through.
The most significant part of her look was, however, her choice of hair. The rapper rocked a waist-length three-toned wig with the color matching her expensive bag.
Her lush wavy hair started off as a crisp platinum blonde on the roots, transitioning to a teal mid-way and ending with a dark blue color similar to the Birkin bag.
Cardi finished off the look by sitting in the chair of Erika La' Pearl Roman for glamorous makeup, accentuating her facial features and complementing her skin tone. 
The rapper recently opened up about how much her life changed following the release of her 2017 hit single, "Bodak Yellow."
She accompanied the image with a simple caption that read, "Azul,💙" Shortly after, fans and followers took to the comments section gushing over her look. 
One user wrote that she loves the rapper's hair, while another called her a beautiful woman. Some simply complimented Cardi's fashion style, while many left heart and fire emojis in admiration.
Cardi gave fans an up-close look of the luxury bag and another pink variant from the Birkin brand in a separate post. She shared the portrait alongside a caption proudly stating:
"My new babes. 💗💙"
But while Cardi is one to spoil herself with expensive fashion items, she has remained focused and motivated on the one true thing that matters — her career.
The rapper recently opened up about how much her life changed following the release of her 2017 hit single, "Bodak Yellow." Cardi revealed she now has a large appetite for food, admitting that she was never as hungry before breaking into the limelight a few years ago.
Expectedly, Cardi has experienced tremendous changes over time but in true goddess style, she has handled fame and success in the most incredible way. Little wonder fans love her!