Cardi B Unpacks a Lavish Hermès Birkin Handbag with Cool Pockets on It — See Her New Accessory
Cardi acquired yet another Hermès Birkin handbag and showed it off to her fans on Instagram in a couple of video posts she made on Tuesday.
If there is one thing female rapper Cardi B's fans know about her, it is that she loves Hermès Birkin bags. She has a large collection of these bags and usually shows off each new purchase to her adoring fans.
Cardi B recently acquired yet another Birkin bag and kept to the usual status quo by showing it off on social media. Taking to her Instagram page on Tuesday, the rapper celebrated her newest win.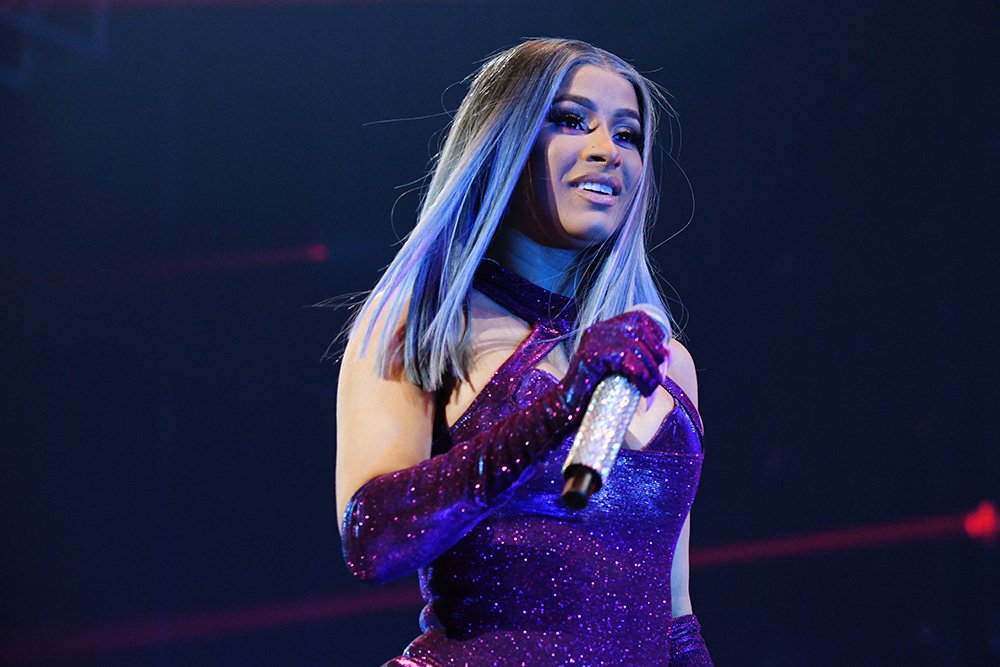 Cardi revealed that her newest single, "Up," has risen to the top of Apple's music charts, which she wanted so much, and it did despite the negative talk from some of her haters trying to bring her down.
In the video, the "Bodak Yellow" rapper donned a green strap bodysuit that flaunted her cleavage. In front and on a table before her was a yellow box.
Towards the end of her video, she revealed the box containing her new Birkin. She opened the box to reveal a beautiful brown Birkin bag with pockets.
Excited about her new acquisition, the rapper began to sing the lyrics of Stevie Wonder's hit song, "Isn't She Lovely." She smelled the bag and joked that it smelled like 2020, adding that her haters should not mess with her because God loves her so much.
Cardi shared another video on her Instagram page, where she gave a closer view of her new bag. She revealed she wanted it so much and called every Hermès store in search of it as it just came out this year. 
Cardi's fans also know her for her rants on social media and witnessed yet another outburst from her recently.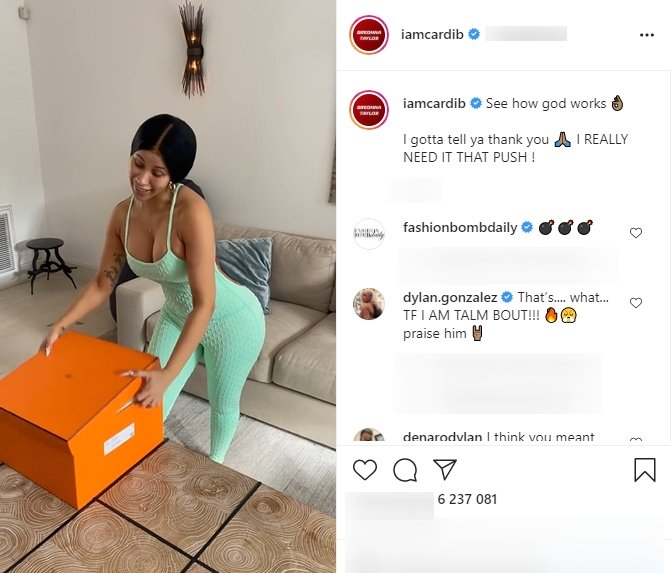 The mother of one expressed her delight that she finally found it, adding that even though it cost her triple to get it, she just loves it and could not wait to wear it.
Cardi's newest Birkin bag will add to her epic Hermès Birkin collection, which she displayed to her fans in a picture she shared in October 2020, showing an array of luxury bags in different colors.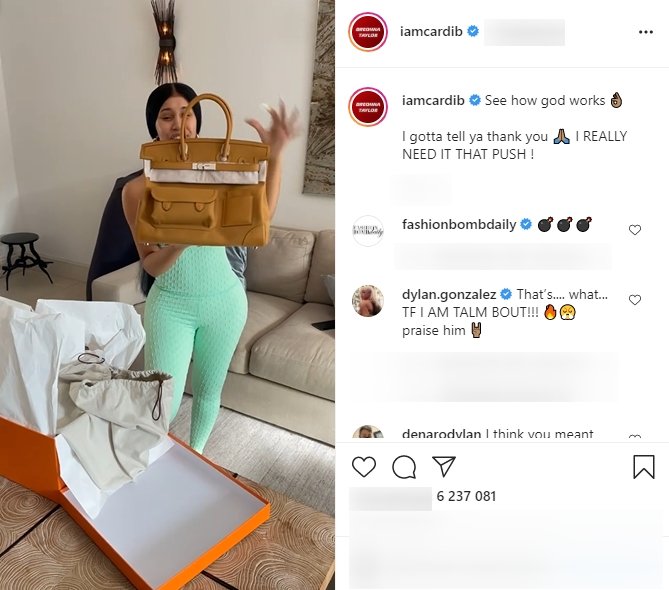 Days before she shared the picture, she received a pale blue Hermès Birkin bag from cosmetics mogul Kylie Jenner, who spared no expense as she celebrated the rapper's 28th birthday.
Cardi's love for Birkins and her constant display of her collection came into the spotlight after a racist social media post claimed that the luxury bags had lost their value because Black female rappers make them easy to get and less exclusive.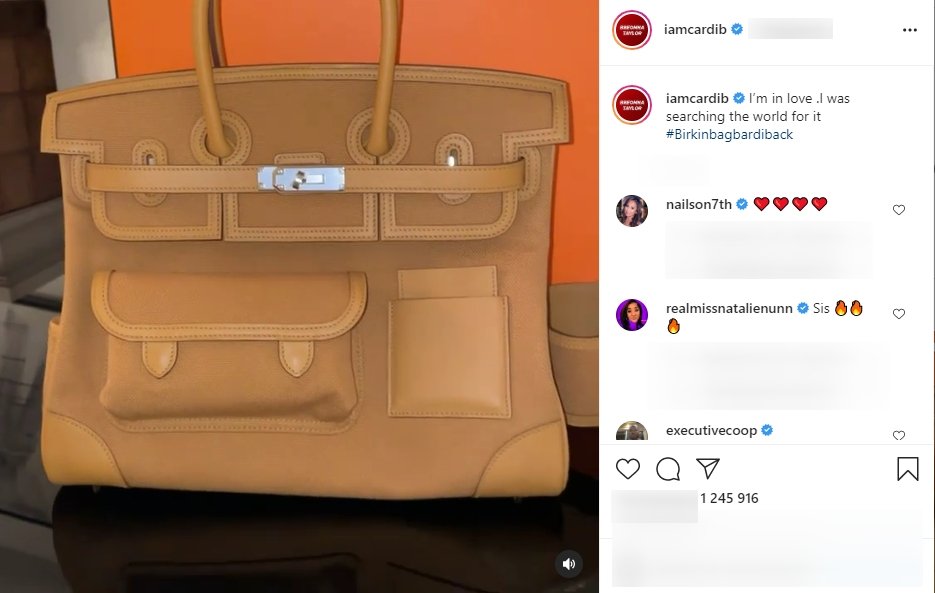 However, the rapper's husband, Offset, leaped to her defense, saying people should not let others on the internet dictate to them who can get a Birkin at the store and how many they can have.
The Migos rapper added that Black people having access to luxury should not be a debate and emphasized that hip hop usually starts a trend.
Besides her love for luxury bags, Cardi's fans also know her for her rants on social media and witnessed yet another outburst from Cardi recently when she proudly displayed her unfiltered, makeup-free face. 
In a video shared on her Twitter page, she sent a message to her haters, saying she is confident in her skin. Cardi added that they can no longer put her down because they do not want to see her succeed.
From the way she lives her life, it is obvious Cardi B ignores the haters and will continue to show off her luxury bags, other new acquisitions, and career successes no matter whose ox is gored. And that is why her fans love her.