Anderson Cooper & Son Wyatt Look Identical In a Photo He Shared on 'Live with Kelly and Ryan'
Proud dad Anderson Cooper is preparing to mark his son Wyatt's first birthday and recently shared a cute picture of his little one, and they looked identical.
Show host Anderson Cooper recently appeared on "Live with Kelly and Ryan" and spoke about the upcoming first birthday of his son Wyatt, whom he welcomed last year via a surrogate.
When quizzed on his preparations for his little one's big day, Cooper explained that he had a little cake-cutting party planned. He then extended an invitation to Ryan Seacrest and Kelly Ripa.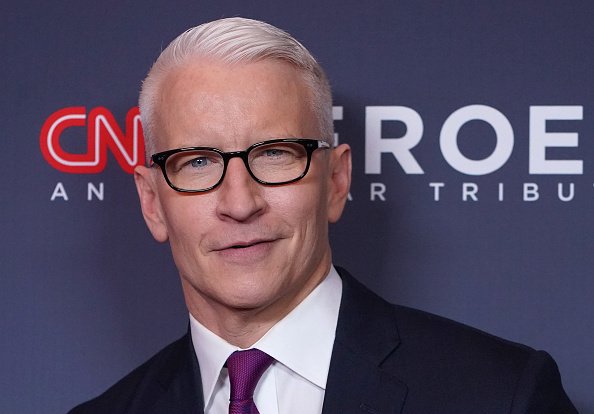 The CNN anchor, during the show, revealed that Wyatt had just discovered balloons. A sweet picture of the toddler holding a balloon was shared on the screen, leaving the hosts wowed.
The soon-to-be one-year-old held what his dad called his first balloon. Wyatt already has a reputation of being photogenic, so it was no surprise to see him looking superb.
More striking in the picture was the pure resemblance between the renowned journalist and his little son. Wyatt's soft gaze, a simple smile, and facial structure all point to his resemblance to his dad.
Cooper continued his conversation with Ripa and Seacrest, and the trio talked about their childhood. The 53-year-old spoke about growing up and how kids lived a more unsupervised life than what is obtainable today.
The duo is forging a sweet friendship just like their dads.
Ripa agreed with him, noting that they lived in different times. Cooper shared a funny story his mom told him about their dog preventing his brother from falling on the stairs. The trio laughed hard at the story, agreeing that no parent of this time would leave a baby under the safety of their dog on the stairs.
While most parents' opinions might differ on having your dog walk your kid on the stairs, they all would agree that having your son named People's 'Cutest Baby Alive' is something to cherish for life.
Cooper's joy knew no limit after his then six-month-old son Wyatt was named People's 'Cutest Baby Alive.' Just like his famous dad, Wyatt shows that he just might be a man for the awards.
What made the award special for Wyatt was that his close buddy, Benjamin, son of Cooper's close pal Andy Cohen, had won the award a year before he did. The duo is forging a sweet friendship just like their dads.
Wyatt and Benjamin get to spend time together frequently, but sometimes, their playtime could go a little bit extreme. Recently, the 53-year-old CNN anchor revealed the moment Cohen's son microwaved Wyatt's talking teddy bear.
During an appearance on "Jimmy Kimmel Live!," Cooper explained that Benjamin dropped Wyatt's new bear, which he hadn't played with, into the microwave and turned it on.
Since he became a dad, the new "Jeopardy!" guest host has experienced a love he never thought possible. The 53-year-old never fails to gush over his bond with his little one.
Recently, an excited Cooper took to his Instagram to share a picture of the moment little Wyatt sat on the bed watching him deliver his duty as the new guest host of the iconic quiz show. The moment was both memorable and lovely for Cooper.