Brad Pitt Spotted at the Oscars Rocking a Little Ponytail & Stylish Black Tuxedo — See His Look
Brad Pitt has left the public in awe after showcasing his fashion game by wearing a black tuxedo with a properly styled ponytail at the 2021 annual Academic Awards.
Brad Pitt has enjoyed a prolific career as an actor with many awards to his name, which has earned him lots of respect and admiration from his fans.
As one of the most stylish actors, it is not a strange sight seeing the 57-year-old looking stunning in appearance. He made sure not to disappoint during the 2021 Oscars.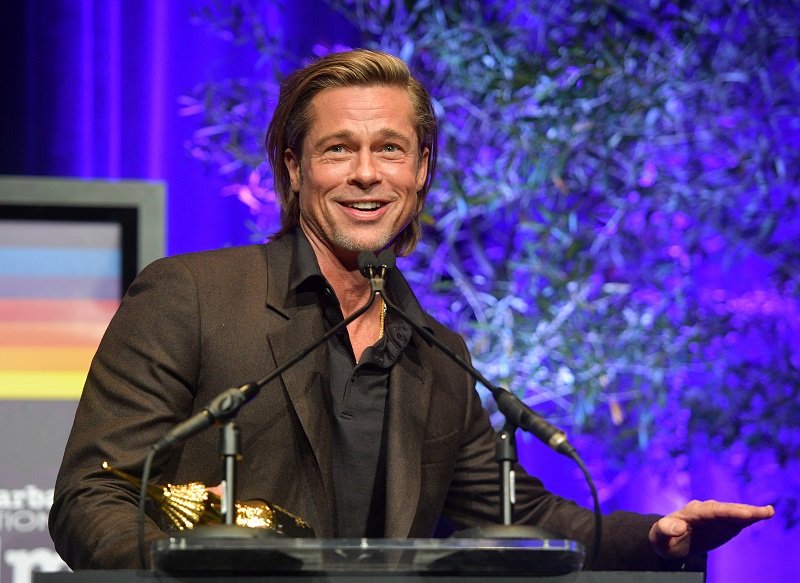 During the ceremony, Pitt was responsible for presenting the award for the Best Actress in a Supporting Role. The actor rocked a black tuxedo, black trousers, and a black bow tie over a white T-shirt.
His light brown hair was properly styled in a little ponytail pattern. He accessorized his look with a gold wristwatch and a bracelet. He topped it off with a little ring which was a perfect size for his finger, as he graciously stood while holding a brown envelope.
Being a stylish actor is an understatement for the father of six as he has proven beyond doubt to be more of a fashion enthusiast. The movie star recently launched a clothing capsule with the popular Italian menswear label Brioni.
Despite having all the fashion glamour and boldness, Pitt has an emotional side to him.
BREAKING: Yuh-Jung Youn wins @TheAcademy Award for Best Actress in a Supporting Role, presented by Brad Pitt.#Oscarshttps://t.co/ScDUrk0xaG pic.twitter.com/4IyZO2KeWt

— Good Morning America (@GMA) April 26, 2021
Pitt serves as a brand ambassador for the label. Despite having all the fashion glamour and boldness, Pitt has an emotional side to him. He showcased his soft side after giving the award to Youn Yuh-Jung. 
Pitt appeared to be watching Yuh-Jung give her speech with tears in his eyes when the cameras flashed over to him. He later applauded Yuh-Jung, who was the first Korean actress to win the category.
The producer has been known for his many achievements, but under every successful achievement are challenges, and Pitt was not exempted.
Marriage has not been the star's strongest point. His present relationship with his ex-wife, Angelina Jolie is considered to be complicated. The duo split in 2016 and have since been fighting for the custody of their children.
The duo share six children, Maddox, Pax, Zahara, Shiloh, Vivienne, and Knox. Maddox, Pax, and Zahara were adopted, while Shiloh, Vivienne, and Knox are their biological kids.