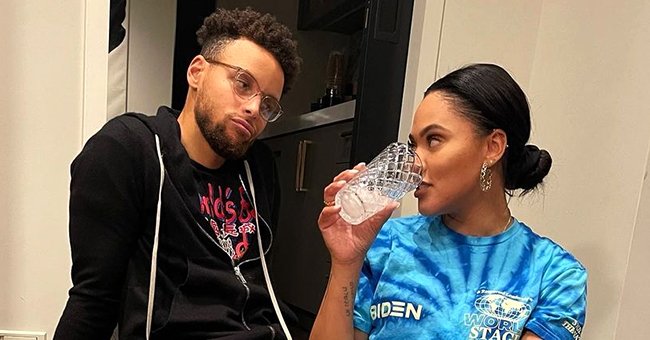 instagram.com/ayeshacurry
Steph Curry Poses With His Adorable Family at the Beach — Fans Think Eldest Daughter Is His Twin
Cookbook author Ayesha Curry has the most adorable little family, and she loves to show them off. In the latest clips she shared, it was glaring that her husband, Steph, and their eldest daughter are twins.
The Currys are undeniably one adorable family. Ayesha Curry and her basketball star husband, Steph Curry, share three kids, Riley, Ryan, and Canon. In recent photos shared on Ayesha's Instagram page, the family was having a good time on the beach.
One of the posts consisted of two images; one of Canon, who seemed ecstatic to be at the beach, and another of Riley and Ryan having fun standing in the middle of a love symbol drawn on the sand.
From the images, it was clear that the kids were having a good time hanging out as a family. However, the second post was even more heartwarming. In the second image, the whole family was present.
Ayesha and Steph joined their kids for a group selfie, and they were the most adorable little family. Even though they all looked happy and had huge smiles on their faces, one little detail did not get past Ayesha's fans - the uncanny resemblance between Steph and Riley.

A fan's comment on Ayesha Curry's post of her family | Photo: Instagram.com/ayeshacurry
Riley, who is the couple's first child and oldest daughter, stood beside her dad with her head rested on his shoulder. There was no denying that the father-daughter duo who wore huge smiles on their faces could pass for twins. The image was captioned:
"I love themmmmmm! My little family! It was such a chilly bay day this day!"

A fan's comment on Ayesha Curry's post of her family | Photo: Instagram.com/ayeshacurry
Fans of Ayesha took to her comment section to gush about the uncanny resemblance between the father and daughter. One fan said: "Your oldest is your husband's twin," while another quipped: "Riley & Steph really twins ???."
The Currys are one close-knit family, and this is not the first time fans are blessed with rare images of the family. Earlier this month, Steph shared a snap of his kids looking adorable during the Easter holiday.
The kids were dressed in what seemed like their Sunday best; Riley and Ryan wore floral dresses while Canon wore a more formal outfit adorned with a pink bow tie.
Steph is a doting father, and his kids know and appreciate this. To celebrate his 33rd birthday earlier this year, his kids went all out and got him a unique gift; personally designed sneakers.
Steph's greatest gifts are his kids, and according to him, they give him a reason to wake up every day. With a daughter who looks exactly like him and an adorable clan like his, it is obvious why.
Please fill in your e-mail so we can share with you our top stories!