Joe Biden Addresses Kamala Harris & Nancy Pelosi as First Female Leaders of the House and Senate
Vice President Kamala Harris and House Speaker Nancy Pelosi became the first women in America's political history to sit on the dais behind the President during a congressional joint session.
April 28, 2021, marked the historic day in the U.S. when Vice President Kamala Harris and House Speaker Nancy Pelosi became the first women to lead the Senate and House during a presidential address to Congress.
The footage of the remarkable day which has been released on social media captured Harris and Pelosi looking gorgeous in stylish pantsuits and glossy hairstyles while staying safe with chic nose masks.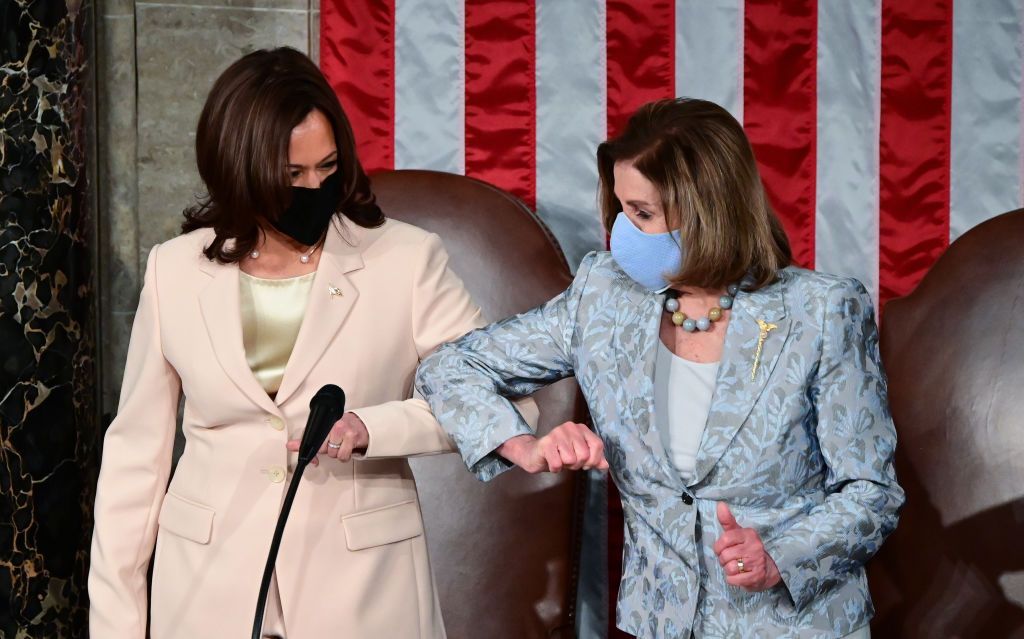 The women stood tall and proud behind President Joe Biden at the podium, a phenomenal event in U.S. history that even Biden had to take a moment to acknowledge this long-overdue achievement.
The 46th U.S. President stated that no other president had ever uttered the words "Madam Speaker" and "Madam Vice President." Biden went on to state that it was about time this historic event occurred.
President Biden's address to a joint session of Congress tonight is the first time in American history that the two officials standing behind the president are women — Vice President Kamala Harris and Speaker Nancy Pelosi.

Follow our live coverage: https://t.co/1SuiQEInMd pic.twitter.com/bIEKeUxQCP

— The New York Times (@nytimes) April 29, 2021
It appeared the President wasn't alone in that thought, as Harris's entrance into the House Chamber on that fateful Wednesday night was welcomed with a round of applause as she made her way to the podium.
A historic event deserves a phenomenal outfit and neither Harris nor Pelosi disappointed their fans.
Madam Speaker. Madam Vice President. No president has ever said those words from this podium — and it's about time. pic.twitter.com/w8yeiJlhfD

— President Biden (@POTUS) April 29, 2021
Upon reaching the dais, the 49th U.S. Vice President greeted her fellow congresswoman, Pelosi with a sweet elbow bump. When asked about the significance of two women behind the President, Harris stated it was "normal."
However, this special occasion was far from the U.S. normal routine as no woman had ever achieved such a milestone. In 2007, Pelosi became the first woman to serve as Speaker of the House.
In a historic moment before President Biden's first address to Congress, Vice President Kamala Harris greets House Speaker Nancy Pelosi. https://t.co/WcfE9N3DGi pic.twitter.com/UVgwOPJAZU

— NBC Bay Area (@nbcbayarea) April 29, 2021
In January 2019, the 81-year-old female politician regained this position. On the other hand, Harris is not only the first female Vice President but also the first woman of color to hold this esteemed position.
Civilians and celebrities alike took to social media to congratulate the women on their achievements. The majority left positive remarks about the female politicians while some couldn't help but gush over their outfits.
House Speaker Nancy Pelosi is renewing her push for a bipartisan commission to investigate the Jan. 6 Capitol insurrection, floating a new proposal to Republicans that would evenly split the panel's membership between the two parties.https://t.co/XJ3twnWgnf

— FOX Baltimore (@FOXBaltimore) April 22, 2021
A historic event deserves a phenomenal outfit and neither Harris nor Pelosi disappointed their fans as both women chose to mark their achievements with intricately designed pantsuits matched with simple but gorgeous accessories.
Most notably was Harris's outfit, which consisted of a cream-colored pantsuit, paired with a champagne gold satin camisole. She accessorized with a gold and pearl cuff necklace, as well as a black nose mask.
The first, but not the last. Last night for the first time in US history, the president addressed a joint session of Congress with two women seated behind him. Vice President @kamalaharris wore @prabalgurung hand crafted in NY. Photos c/o Prabal Gurung and @gettyimages pic.twitter.com/XiNu34vARD

— Fashion Week (@FashionWeek) April 29, 2021
The stunning outfit was designed by Prabal Gurung, who also styled the Vice President on her first day in office. The Nepalese American immigrant took to his Instagram stories, where he proudly celebrated Harris's achievement.