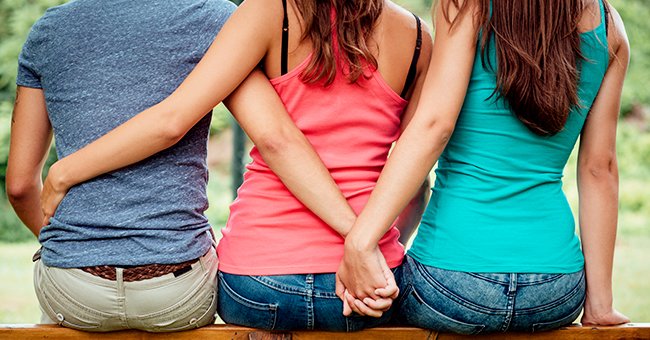 Shutterstock
Story of the Day: Man Lives in a 'Magical' Throuple with Ex-wife and New Girlfriend
Today's #storyoftheday is about an unconventional relationship that seems to work for those involved. However, it is one that many would not pursue.
Life certainly did not come with a handbook. The rules pertaining to how one interacts within a society are subjective and remain dependent on the law imposed on a nation, if not social acceptance.
Specifically, there is no written guide in marriage as to who, where, when, and how to choose a partner, and it is instead solely dependent on the person. While the majority commit themselves to one person for life, the case differs for a minority.
Today's story is focused on Lorenzo's pursuance of a polyamorous relationship with Andie and Marla. Although their choice to have a serious triad relationship is unconventional, their system seems to bring out the best in each person.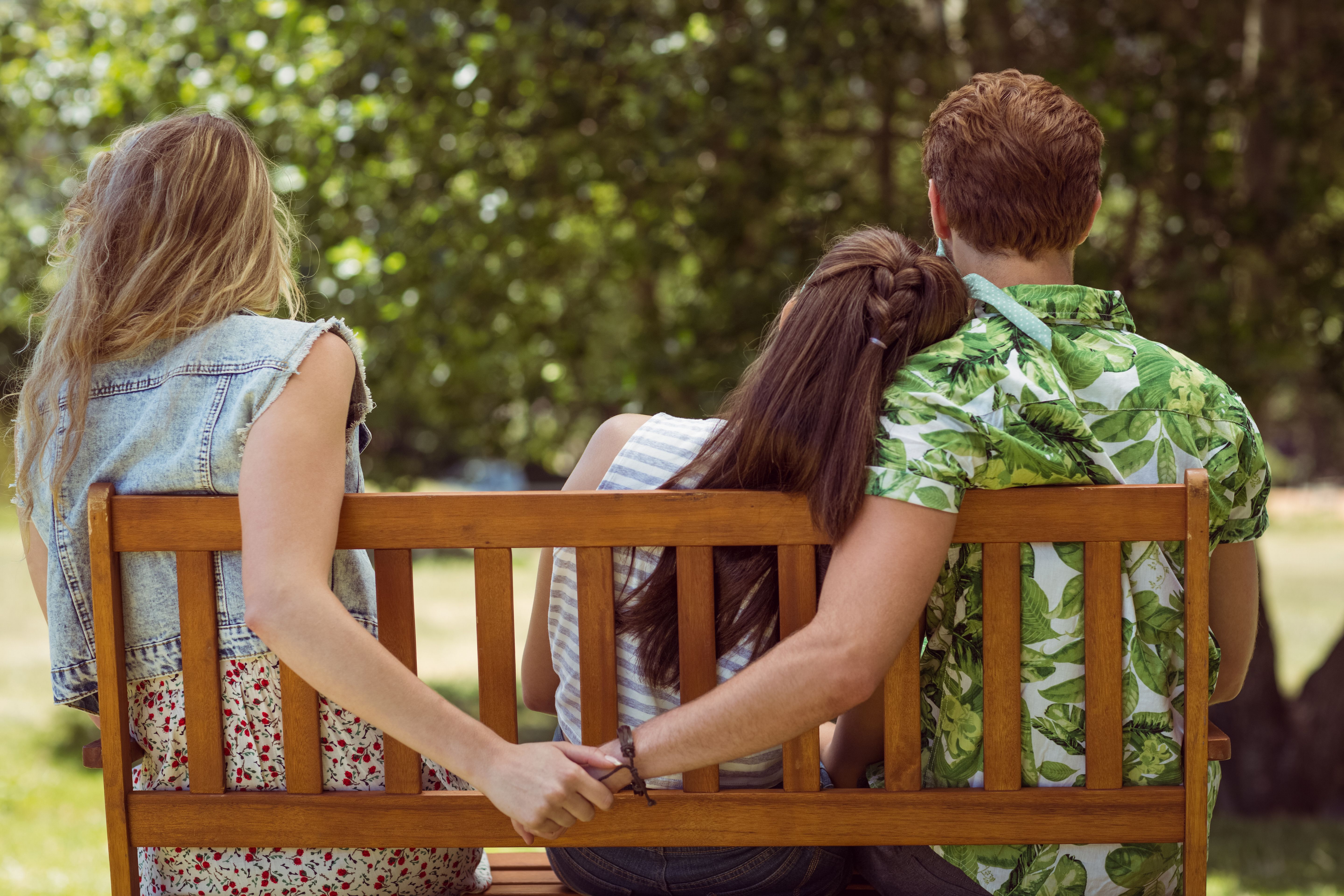 A man holding hands with another girl behind his girlfriend. | Source: Shutterstock
Lorenzo grew up as a Catholic with parents who were quite conservative and religious. He was molded to treat women with respect and practice chivalrous gestures, such as opening the door for women and such.
His parents were always loyal to each other but never showed affection at home or in public. It seemed that the pair only co-existed as partners, bound by marriage to take care of their children and lead as examples.
When Lorenzo was only ten years old, he met Andie at one of their religious gatherings. She was thirteen at that time and had an angelic smile that pleased everyone. Unlike his parents, Andie's mom and dad were not strictly practicing their religion.
When the pair met, conversations easily followed about their parents. Lorenzo found out that Andie's parents were practicing an open marriage, where they were committed to one another but are allowed to see other people.
It was Lorenzo's first time hearing such and left him curious about the different kinds of marriage because, for his household, there was only one kind of union -- a husband and a wife and their eternal commitment to loyalty.
After a few years and their maintained friendship, Lorenzo was sure that Andie was the woman he would one day call his wife. They were best friends and got along well despite their differences and disagreements.
The setup also prevents jealousy between each other and promotes work-life balance.
Luckily, Andie felt the same way towards Lorenzo and waited for the right age to unite with him. The couple had multiple conversations about different topics throughout their relationship but never talked about their expectations of marriage.
When Lorenzo turned 21, he proposed to Andie and they had a small church wedding with their close friends and family in attendance. Seeing as both the bride and the groom never experienced dating anyone else, they felt that they were destined to be each other's first and last.
Eight months after moving in together, Andie began feeling platonic about their relationship and noticed that the romance was gone. Although she was mature enough to understand that marriage was not all about romance, it felt like falling out of love came too early.
For a few weeks, Andie tried to force happiness and romance into the relationship to no avail. At that point, she knew she needed to talk to Lorenzo, so she sat him down at breakfast and said:
"I think I want an open marriage."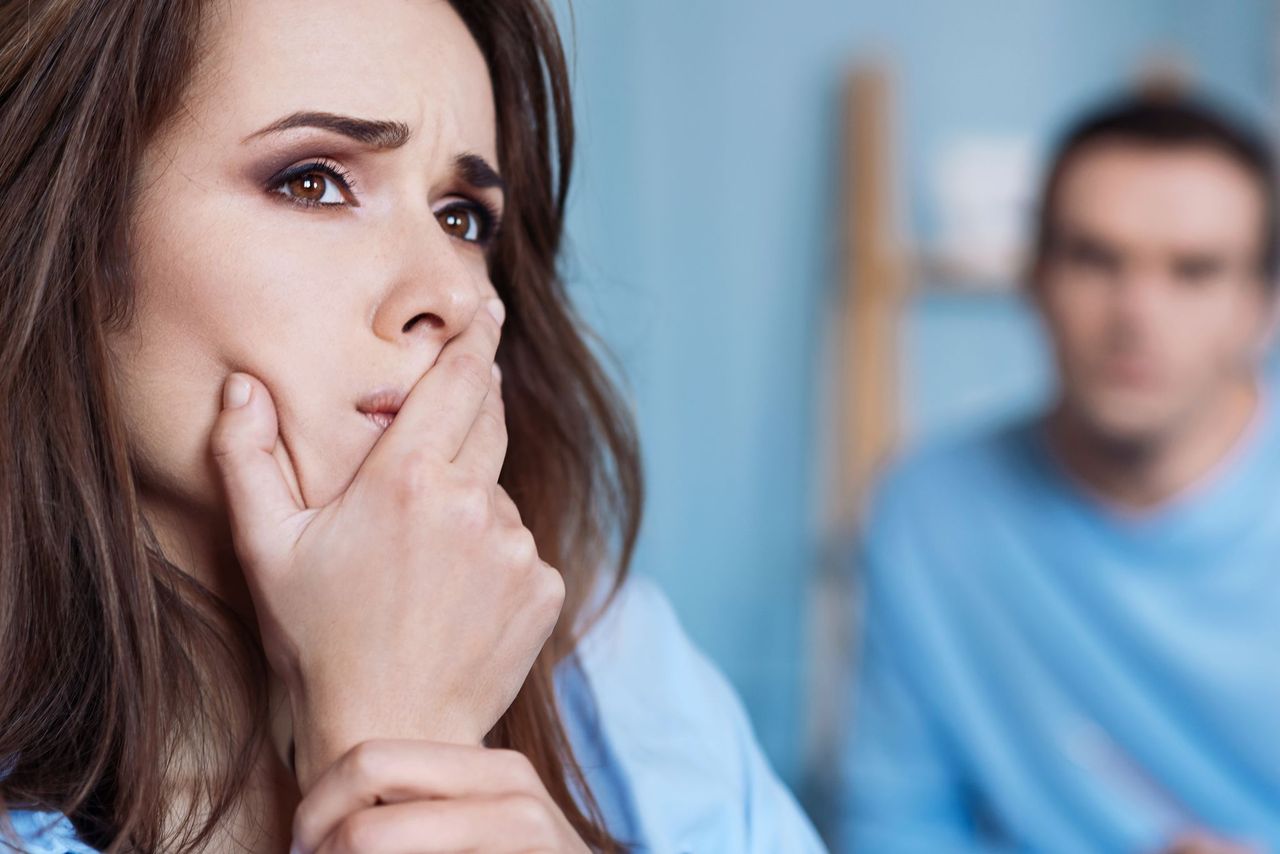 A woman stares into space while her partner watches from behind. | Source: Shutterstock
Lorenzo was taken aback at his wife's words as he knew that an open marriage was not the kind of union that should be. After calmly explaining that Andie's suggestion hurt him, she replied:
"I'm no longer happy in this marriage, and perhaps it's because we never dated anyone. It worked for my parents and I think it will work best for us."
Sadly, their conversation turned sour, and it seemed the only solution was to get a divorce. Although Lorenzo did not want to separate, he did not want to lock Andie in a relationship she did not want to be in.
The pair ended up going separate ways but ultimately stayed in touch through virtual means. While building his own life, Lorenzo came across a life guru, Marla, with whom he instantly connected.
For two weeks, he would seek advice from Marla, who somehow convinced him about life in an open marriage. Their sessions together paved the way for Lorenzo to develop strong feelings for Marla until forming a relationship with her.
According to Marla, there are no exact rules about marriage and are solely based on what a person wants, given that they won't be hurting anyone in the process. Similarly, Andie went on to meet other men casually.
However, it seemed she was not satisfied with her dates and turned to Lorenzo for help. When he heard her problem, Lorenzo referred Marla to his ex-wife to better understand her feelings.
In a crazy turn of events, Andie's meeting with Marla cleared her mind and made her realize that she was not satisfied with other men because she was already content with Lorenzo. Instead, it was her curiosity about women that made her want to explore the possibility of an open marriage.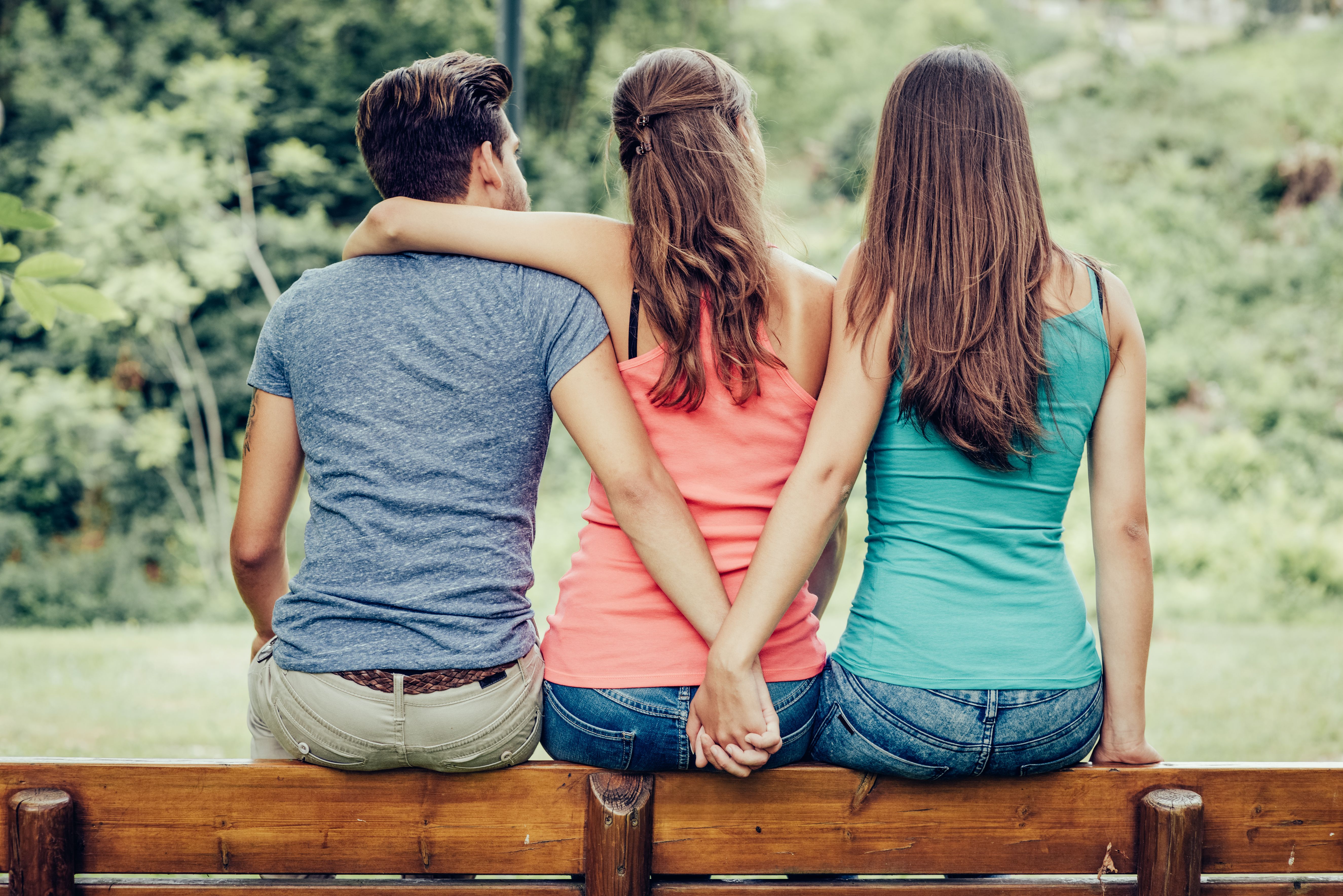 A man holding hands with another girl behind his girlfriend. | Source: Shutterstock
After understanding her feelings, Andie contacted Lorenzo and asked if he still loved her, to which he said yes, but at the same time, he loved Marla. An idea sparked in Andie's head and she asked Lorenzo if he wanted to try being a throuple, explaining that it was nothing like an open marriage.
To her surprise, Lorenzo was open to the idea of being in a polyamorous relationship with her and Marla, knowing that they would be loyal to him, while Andie would satisfy her curiosity with Marla.
The trio's relationship has worked since Lorenzo's setup spends two days of the week with Marla and another two days with Andie. On weekends, when he has to work elsewhere, Marla and Andie get to have their alone time.
Their marriage system has worked for over two years, causing less argument and more understanding. The setup also prevents jealousy between each other and promotes work-life balance.
Although their relationship has been perfect, the triad often finds themselves criticized by others, with many staring at them when they all hold hands in public. What do you think marriage is supposed to be like? For another relationship story, find out what a boy's mother did to break up his relationship.
Please fill in your e-mail so we can share with you our top stories!